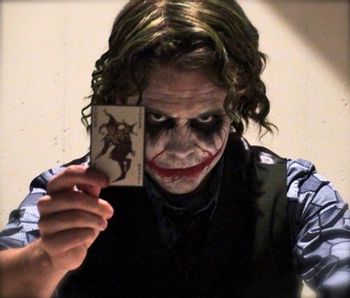 Joker: Y'know, there are three kinds of people in this world: The optimistic who find the glass half full, and the pessimistic that see it as half-empty. Then there's the paranoid; they just think someone's drinking out of their glass.
Corrigan: Which one are you?
Joker:
I'm the one that knocks the glass over.
— "
Two Cops, A Clown & A Police Department (9)
"
"The Joker Blogs
" is a YouTube web series created by a user of the same name. The series is set between The Dark Knight and The Dark Knight Rises, depicting the time The Joker spends in Arkham Asylum. The videos are framed as taped recording sessions between the Joker and his therapist, Dr. Harleen Quinzel and tapes shown as evidence after the Gotham police capture Joker. Throughout the series is a parade of fan service for Bat-fans everywhere while still connecting thematically and visually with Christopher Nolan's movie series and working incredibly well as a result. Although the earlier episodes still had the actor trying to find his definitive voice and makeup style, the atmosphere very quickly developed into something genuinely eerie. As a whole, the series is a very professional fan project with excellent writing and acting.
After being captured and put into Arkham to determine his sanity, Joker decides he likes being in Arkham, but seems to realize under current management he's more likely to be sent to Blackgate with the large selection of criminals he tried to kill in the movie. So he starts sucking up to Dr. Harleen Quinzel and preparing a plan. For her part, Quinzel tries to get a handle on the Joker's psyche while he makes her and everyone he meets more and more unnerved, beginning with him mentioning how the session tapes will end up on YouTube. After murdering a guard and seemingly starting to 'make progress' with Harleen, he learns that she is getting married and moving away to Metropolis, which will ruin his plan. This starts a chain of events that will engulf many lives, and perhaps all of Gotham, in a whirl of violence and mayhem.
On October 21st 2012, the "mini-series" Further Evidence began; each episode centered on a different character and laid groundwork for the events of Series 2. The first episode focuses on Mr J early in the series, revealing exactly when and how he came up with his plan. The following episodes establish the other major players, including Jeremiah Arkham, the Phantasm, and Lock-Up. It also dropped the In-Universe Camera entirely and switched to short movies with frequent perspective changes.
Series 2 aired its first episode
on May 6th, 2013. It had a mixture of In-Universe Camera footage and regular movie footage. Following a three year hiatus, Series 2 resumed on April 4th, 2017. It was announced that it — and the show overall — would conclude in Summer 2018 to mark the tenth anniversary of The Dark Knight. As of March 2022, the final three episodes have yet to be released.
See also Batman Puppet Master.
---
The Joker Blogs provides examples of:
---