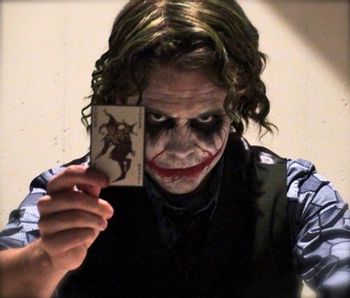 Joker: Y'know, there are three kinds of people in this world: The optimistic who find the glass half full, and the pessimistic that see it as half-empty. Then there's the paranoid; they just think someone's drinking out of their glass.
Corrigan: Which one are you?
Joker:
I'm the one that knocks the glass over.
— "
Two Cops, A Clown & A Police Department (9)
"
"The Joker Blogs
" is a YouTube web series created by a user of the same name. The series is set between The Dark Knight and The Dark Knight Rises, depicting the time The Joker spends in Arkham Asylum. The videos are framed as taped sessions between the Joker and his therapist, Dr. Harleen Quinzel, with the tapes shown as evidence after the Gotham police capture Joker. The series is thematically and visually tied to Christopher Nolan's movie series, but with plenty of references to other Batman properties.
After being captured and put into Arkham to determine his sanity, Joker decides he likes being in Arkham, but seems to realize under current management he's more likely to be sent to Blackgate with the large selection of criminals he tried to kill in the movie. So he starts sucking up to Dr. Harleen Quinzel and preparing a plan. For her part, Quinzel tries to get a handle on the Joker's psyche while he makes her, and everyone he meets, more and more unnerved. After murdering a guard and seemingly starting to "make progress" with Harleen, he learns that she is getting married and moving away to Metropolis, which will ruin his plan. This starts a chain of events that will engulf many lives, and perhaps all of Gotham, in a whirl of violence and mayhem.
On October 21st 2012, the "mini-series" Further Evidence began; each episode centered on a different character and laid groundwork for the events of Series 2. The first episode focuses on Mr J early in the series, revealing exactly when and how he came up with his plan. The following episodes establish the other major players, including Jeremiah Arkham, the Phantasm, and Lock-Up. It also dropped the In-Universe Camera entirely and switched to short movies with frequent perspective changes.
Series 2 aired its first episode
on May 6th, 2013. It had a mixture of In-Universe Camera footage and regular movie footage. Following a three year hiatus, Series 2 resumed on April 4th, 2017. It was announced that it — and the show overall — would conclude in Summer 2018 to mark the tenth anniversary of The Dark Knight. As of January 2023, the final three episodes have yet to be released.
See also Batman Puppet Master.
---
The Joker Blogs provides examples of:
Gory Discretion Shot: In Season 2,

The Joker kills a security guard with an axe just off screen, though we see the pool of blood.
Hypocritical Humor: In episode 6, Scarecrow and Joker sit next to each other in the Arkham cafeteria for a while before a ticked-off Joker orders "Mr. Potato Head" to leave.

Joker: (muttering after him) Freak.

I Call It "Vera": Scarecrow's latest fear toxin formula, which he named "The Valley of Fear", because, as he explains to

Harleen

, "if you somehow manage to crawl out of it, you won't ever be the same person again".
I Have Your Wife:

How the Joker is able to make Dr. Arkham do his bidding.

In Medias Res: The second half of the first season starts with a police tape of the Joker after his recapture - the last of eight tapes being kept as evidence. Apart from the Grand Finale, the rest of the season consists of the other seven tapes (taken by the Joker himself), which show what the Joker got up to.
Improbable Age: Though family connections probably had a lot to do with it, Dr. Jeremiah Arkham looks way too young to be a hospital administrator. Lampshaded in Further Evidence 2, wherein he mentions that his youth makes people question his authority a lot. Then again, remembering Arkham Asylum's reputation, few else may be interested.
Improbable Aiming Skills:

Joker manages to shoot McHale right after the "speak now" bit. While Harley and Kopski are standing in front of him.

Ironic Echo: "A method... to the madness?"

The very first lines of the series are repeated

with the roles reversed in Season 2, Episode 3.

Irony: In Car Trouble (10) a guard of some sort stops Dr. Arkham on his way off the hospital grounds and asks if there's been any developments on patient 4479's whereabouts. Arkham says no and that "hopefully the worst is behind us."

When he says this, Joker is behind him in the back seat, gun to Arkham's neck.
---