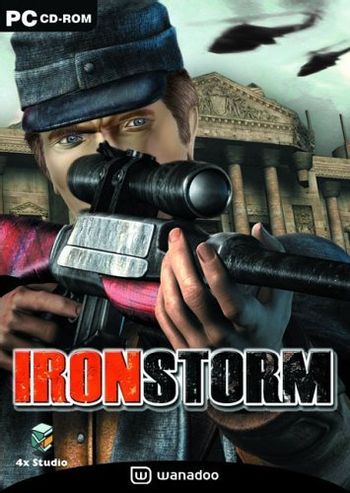 "This delightful and cheery war started in July 1914. It is now February 1964, and believe it or not... it's still being waged..."
Iron Storm is a 2002 First-Person Shooter / Third-Person Shooter game, created by French developer 4x Studios (their only game, they closed after its release and some developers joined Kylotonn) and published by the defunct Wanadoo in France and Dreamcatcher Interactive elsewhere. The game is a fairly typical war FPS, but offers lots of good level design and a huge amount of intelligent opponents. What sets it apart from most games of the genre, is its very unique Alternate History setting and engaging atmosphere.
In the game's Backstory, World War I never ended in 1918 and dragged on well into the 1960s. The reason behind this was a charismatic White Russian general, a certain Baron Ugenberg. He managed to unite lots of former Tsarist soldiers and warriors from Siberian and Mongolian tribes under his banner during the Russian Civil War. With the help of their constantly growing numbers, he succeeded in crushing the Bolshevik Revolution, preventing the birth of the Soviet Union and reuniting former Tsarist Russia, grandiosely renaming it "the Russo-Mongolian Empire." But his conquest didn't end there, as he decided to build a mighty pan-Eurasian empire, having delusions of being a modern day successor of Genghis Khan. He succeeded in claiming the entire eastern half of Europe. The front lines between his newly founded empire and the remaining western democracies came to a halt in the late 1920s, cutting Germany in half. The game starts in early 1964, when the United States of Western Europe manage to discover information about a secret Doomsday Device being built by the baron's scientists. Enter you, lieutenant James Anderson, an aging Shell-Shocked Veteran, sent on a suicide mission behind enemy lines in order to locate and neutralize the secret weapon project.
Sounds like a fairly straight-forward action and espionage story? Well then, expect a few interesting twists on your way...
You can find a Let's Play of it here
or buy the game on GOG.com or Steam.
A Playstation 2 port of Iron Storm was released in 2004, named World War Zero. Made by Rebellion, it was a complete rebuild of the game from the ground-up in a new engine designed to run on console, with new weapon and character models, simplified levels, and much more forgiving combat. The changes were significant enough that it feels like an entirely different game, and it was ported back to PC in 2005 as a completely seperate game from Iron Storm, though only sold in the UK market (until 2019, when it became available on Steam). The box arts is what's used to tell them apart.
Bet on Soldier is a Stealth Sequel to this game.
---
Iron Storm Provides Examples Of:
War Is Hell: It doesn't get more hellish and crapsacky (at least visually) than in this game.
What the Hell, Player?: In the USWE trench in the beginning of the game, the briefing room is set above most of the trench, so going in the trench requires to go down a ladder. If Anderson jumps down in the trench instead of using the ladder, he will be chewed by the Mission Control. It is actually part of the short Forced Tutorial of the beginning of the game, as falling damages are one of the game's features (although this specific fall isn't high enough to damage the player character).
Your Mom: One of the voice files for alerted Russian soldiers features the angrily pronounced "Tvoyu matz !".
Tropes specific to World War Zero:
---