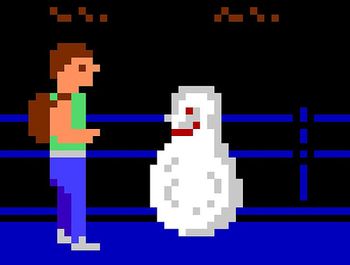 Released by Absolute Entertainment in 1989 for the Nintendo Entertainment System, A Boy and His Blob: Trouble on Blobolonia (yep, that really is the game's subtitle), features the adventures of our eponymous hero (the Boy) and his friend Blob (full name Blobert) as they race to Blob's home world to defeat the evil emperor.
The main draw of this platforming game (which was created by David Crane of Pitfall! fame) is that Blob has the uncanny ability to change into different shapes/objects depending on what type of jellybean the boy feeds him. From licorice to ketchup, each flavor turns Blob into a different shape, allowing the boy to overcome obstacles and complete each level.
Numerous remakes were rumored since its release, but for twenty years the series consisted of only the original and a 1990 sequel for the Game Boy, The Rescue of Princess Blobette.
It was finally resurrected on the Wii in 2009 by WayForward Technologies, makers of Shantae and a bunch of licensed stuff, as a level-based puzzle platformer. The two main characters among with others were redesigned too. A high-definition update of this game was released for Windows (via Steam and GOG.com), PlayStation 4, PlayStation Vita, and Xbox One on January 19, 2016 and Nintendo Switch in fall 2021.
---
Both games provide examples of:
The 1989 game and Game Boy sequel provide examples of:
The 2009 game provides examples of:
Temporary Platform:

Small floating platforms will shake and fall when you step on them, but they respawn, too.
The final challenge level (1-12) has one room where a basic enemy Blob moves back and forth across a Pressure Plate, toggling between two sets of platforms that are form your only way of crossing a bed of spikes (and a hill).
There Was a Door: Your first appearance in the World 3 hub involves crashing through the roof.

Averted when going from World 4 back to World 1, since the boy and the blob just fly in through the open window instead.
Unexpected Genre Change:

Level 14/2-4. It's the first level you can use the Cola Bubble jellybean in... and it plays more like something out of Sonic the Hedgehog than the other levels.
The World 2's Challenge level #10, which involves flying the Root Beer Rocket through a massive labyrinth full of Deadly Walls.

Video Game Caring Potential:

There's a "Hug" button; yes, you read that right.
The fourth world also has a number of caged blobs in the Emperor's citadel. Feeding them a Berry Balloon bean will free them, but you get nothing for doing so beyond warm fuzzy feelings (and achievements for each level cleared out in the rerelease.)

Video Game Cruelty Potential: The game has a "Scold" button. Not that it does much beyond making the Blob stay in place until you call him.
---