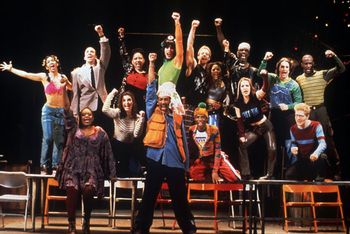 "Five-hundred twenty-five thousand six hundred minutes,
five-hundred twenty-five thousand moments so dear,
five-hundred twenty-five thousand six hundred minutes,
how do you measure, measure a year?"
A 1994 Rock Opera adaptation of Puccini's La Bohème, written by Jonathan Larson, RENT depicts a group of New York bohemians coping with the modern and postmodern condition. The cast includes:
Mark Cohen: A film maker. He is Maureen's ex-boyfriend and Roger's roommate. As a documentarian, Mark serves as a pseudo-narrator at several points of the play.
Roger Davis: A musician and former drug addict. Prior to the events of the show, he and his girlfriend April were diagnosed with HIV, driving her to commit suicide shortly after.
Mimi Marquez: An exotic dancer. Like Roger, she has AIDS and a drug problem. She tries to pursue a relationship with him, but their respective pasts get in the way. She and Angel are best friends.
Tom Collins: An HIV-positive philosophy professor and former roommate of Mark and Roger. He has a sexual relationship with Angel.
Angel Dumott Schunard: A mischievous, HIV-positive drummer who falls in love with Collins. Debate rages over whether Angel is a pre-operative transgender woman, just likes the clothes or is gender non-binary, even on this very wiki.
Maureen Johnson: A free-spirited, bisexual performance artist. She left Mark for Joanne.
Joanne Jefferson: A Harvard-educated lawyer. She is Maureen's girlfriend, the most straight-laced of all the characters.
Benjamin "Benny" Coffin III: Mark and Roger's landlord and Mimi's ex-boyfriend. He used to be their roommate, until he married into money and "sold out". He has something of a Frenemy relationship with the others.
Notable for its revitalization of the musical theatre genre among young people, its ground-breaking portrayal of people with AIDS, and its obsessive fanbase. Also notable for being one of a select number of musicals to win the Pulitzer Prize for drama.
Like many stage musicals, RENT was adapted into a feature film. Directed by Chris Columbus, the 2005 film adaptation featured most of the original Broadway cast reprising their roles, with the exceptions of Rosario Dawson as Mimi and Tracie Thoms as Joanne. It was almost made a period piece, specifically set over a year from 1989 to 1990, whereas the original musical wasn't placed in any particular time period.
The original cast would later reunite for a one night 10th Anniversary benefit concert on April 24, 2006.
The original Broadway production was a Long Runner having a healthy 12 year run from April 29, 1996 to September 7, 2008; the final performance was filmed for home video, and was notable for having Tracie Thoms reprising her film role of Joanne.
A live television production, RENT: Live, aired on Fox in January 2019, a little over a decade since the initial Broadway run ended. Among the cast of this production were Jordan Fisher as Mark, Tinashe as Mimi, Valentina as Angel, Vanessa Hudgens as Maureen, Kiersey Clemons as Joanne, and Keala Settle as the "Seasons of Love" soloist, while some of the original Broadway cast made cameo appearances in the final number. Co-star Brennin Hunt (Roger) broke his ankle during the prior night's dress rehearsal, and there was no understudy prepared to take over from him. Since the show must go on, however, he was still able to perform in modified segments using a wheelchair on the actual night, but the television broadcast consisted mainly of footage from the dress rehearsal until the aforementioned grand finale.
The poor reception of the special — including the aforementioned lack of understudies and the resulting lack of live RENT, and how it had to be heavily bowdlerized to make it suitable for broadcast TV — resulted in NBC dumping its plans to broadcast a live version of another "mature" musical, Hair, in May, electing to focus more on "family-friendly" works instead.
---
This musical provides examples of:
---