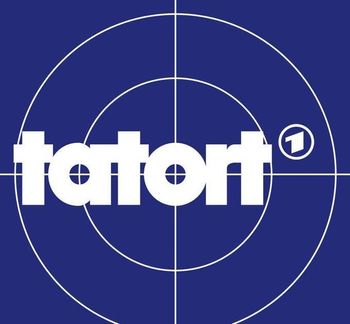 "Ta-daaa... Ta-daaa.... Ta-daaa...!"
—
Intro sequence
Tatort ("Crime Scene") is a German Police Procedural series. Even after more than 1000! episodes, having started in 1970 (making it the oldest still going crime show in the world), it's still one of the most popular German TV series and regularly wins the battle for the highest Ratings.
An especially noteworthy feature of the series is the fact that there isn't just one single core cast of protagonists. Instead, it features many different teams of police investigators who take turns from episode to episode. Imagine CSI, CSI: Miami and CSI: NY, but with a lot more teams, different locations and less Hollywood Science.
Each team is based in a different city, representing many different settings all across Germany, Austria (since 1971), and German-speaking Switzerland (since 1990). Of the current teams, these five have been active the longest time:
Ludwigshafen (Lena Odenthal and Mario Kopper) since 1989
Munich (Ivo Batic and Franz Leitmayr) since 1991
Cologne (Max Ballauf and Freddy Schenk) since 1997
Bremen (Inga Lürsen and Nils Stedefreund) since 1997
Vienna (Moritz Eisner and Bibi Fellner) since 1999
The series is usually broadcast on Sundays during Prime Time on the German channel Das Erste, the Austrian channel ORF 2, and SRF 1 in German-speaking Switzerland. You can expect to see reruns of older episodes on some of the regional tv stations about every other day.
The series is described as "the last great campfire of television"note meaning a series where most viewers still gather regularly and where the newest episode will then be a big topic for conversations at work etc. the next day and has a cult following in German-speaking countries. In many cities, groups of people will gather in a bar every Sunday at 8:15 p.m. to watch the screening of the latest episode together. One particularly bizarre aspect of Tatort fandom is that despite the self contained nature of the individual episodes (you can really watch any given Tatort on its own), there are almost no casual viewers. People usually watch (and love) every single one of them or don't watch any at all. Some people have switched from the former to the latter within mere weeks. To fans missing "even one episode" is Serious Business
---
Tatort provides examples of:
---