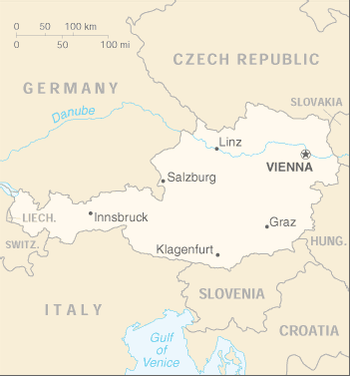 "There are no kangaroos in Austria".
Many, many T-shirts,
all of which tell lies.
Austria (German: Österreich), officially known as the Republic of Austria (German: Republik Österreich), is a small, Central/Western European republic ("The Danube Republic") shaped vaguely like a Schnitzel that was once one of the leading Empires of Europe.
History
In 1278, the House of Habsburg, originally hailing from rural Switzerland, acquired rulership of the Duchy of Austria (the name Ostarrichi deriving from "Eastern Realm", being a former eastern province of the Margraviate of Bavaria), which lay at the eastern edge of the Holy Roman Empire and form the North of the modern republic. Through marriage, the Habsburgs spread their control over large parts of Europe, including Spain, the Netherlands and large parts of Italy, and became Holy Roman Emperors. In 1522, the sprawling and difficult-to-defend Habsburg empire was divided by Charles V, who assigned its eastern half to his younger brother, Ferdinand I. However, following the disastrous Battle of Mohács (1526), an early victory in the Ottoman Turks' Hungarian campaign which led to the occupation of most of Hungary and several sieges of Vienna, Ferdinand I would claim the kingdoms of Bohemia and Hungary for the Austrian Habsburgs. War between the Austrian and Ottoman Empires continued on and off until the end of the seventeenth century, when the Ottomans ceded most of Hungary.
The Habsburgs were Holy Roman Emperors, Kings of Bohemia (Czech Republic) and Arch-Dukes of Austria within the Empire, and Kings of Hungary (including Croatia, Slovakia, and Transylvania) without it. In 1806, Napoleon decided that this was just too confusing and abolished the HRE. From then on, the Habsburgs were to be Emperors of a single united Austrian Empire, within which were Austria, Bohemia, Hungary, and The Rest.
In 1848, the Hungarians revolted, as did the Czechs, Italians, and substantial portions of the German-speaking working and middle classes. The Hungarians and Czechs wanted national recognition within the Empire (very few wanted independence, at least at first), with the Hungarians in particular demanding full internal autonomy; the Italians sought unification with the other Italian states into a united Italy; the Germans sought greater links with the rest of the German world (and some wanted German Austria to slough off the non-German parts of the Empire and join a united Germany); and all demanded liberal political reform. These uprisings were eventually crushed by force of arms, with particular assistance from other Slavs (especially the Croats) and Romanians, who saw the situation less as a struggle for liberation and more a choice between domination by the Habsburgs, domination by the Russians, or domination by the Turks. However, it was the Russian intervention that sealed the fate of the Hungarian War of Independence.
In 1866, the notorious Bismarck tricked them into declaring war on Prussia and their arses were promptly handed to them in the Austro-Prussian War. In the chaos that ensued, the Hungarians managed to gain autonomy for their half and the Empire became Austro-Hungarian.
In 1914, all hell broke loose over a little place called Bosnianote Famously predicted by Bismarck when he said it would come about from "some damn fool thing in the Balkans", then a part of the Empire. At the same time, the Austrian half of the Empire had become more and more decentralised, while the Hungarians were determined to remain top dogs over the Slovaks, Ruthenians, Transylvanians and Croats. This led to the Empire breaking down and being divided, according to the Treaty of Trianon (1920), between Italy, Poland, Romania, Yugoslavia and the new independent nations of Czechoslovakia, Hungary and Austria.
"Austria" had always been simply the name of a place, and what bound the nation together had been loyalty to the Habsburgs. As an ethnicity, the Austrians had always thought of themselves as German. Almost immediately after the war, Austria attempted to unite with Germany, even naming the newly independent state "German Austria." The Entente vetoed this, and actually forbade Austria from referring to itself as "German." Austria remained independent for 20 years, until it finally did reunite with Germany in 1938.
Following the Second World War, Austrians became much more keen to distance themselves from Germany for... obvious reasons. Whether Austria was a Nazi conquest or willing Reichsgau is a sore issue, especially given Adolf Hitler was originally Austrian. Many would like to present Austria as "Hitler's first victim," but when looked at historically it just doesn't hold up. There is still a certain amount of denial going on about it. This was in large part because with the concept of Austrian nationalism being such a new thing, it was widely felt that acknowledging how many Austrians had been willing collaborators would tear their fragile national identity apart.
After the war, the country was divided like Germany into zones, but the British, US, French and Soviet armies all agreed in 1955 to leave if the newly-reconstituted Austrian Republic swore to remain neutral. Following the end of the Cold War, Austria joined The European Union in 1995.
Austria Today
Austria is most famous for its mountains, the western part of the country being Alpine. The capital, Vienna, however, lies on a wide plain that takes up most of the northeast of the country - this only increases the sense that Vienna is somehow "foreign" and "alien" to the rest of the country.
Austrians are often regarded as "Laid-back Germans", sharing their larger neighbours' love of neatness and orderliness, but with a more relaxed, friendly air (and a certain amount of bureaucratic inefficiency). They also do not, ever, like to be called German these days anymore. There is no nobility in Austria any more, all titles have been abolished. If someone is a "von" they are most likely German (In Germany nobility was abolished 1918, but they were allowed to keep their names).
Yet, Austrians are generally considered to be more right-wing than Germans, both socially, culturally and politically. In reality, however, the strongest party is the social democratic SPÖ, as opposed to the conservative CDU in Germany. This is mainly caused by the fact that most cities, especially Vienna, have been prime examples of social welfare done right in the past, which lead to left-winged parties, like the SPÖ or Die Grünen gaining power, while the countryside kept their more conservative world view, which lead to right-winged parties, like the ÖVP and FPÖ, keeping the majority.
A large portion of income in many parts of the country is tourism. Having both a rich history and beautiful nature (and skiing slopes) to show off, this is both understandable and a bit annoying for those Austrians who do not want to be associated with Dirndls and Lederhosen and Yodeling (for that, see Switzerland or Bavaria), yet are backstabbed by their own tourism board. Curiously enough, many younger Austrians in rural areas go back to wearing lederhosen when going out drinking. The reason? They are durable and it is completely accepted if you smear your dirty hands all over them. It is even said that a lederhosen is only a real lederhosen when it is dirty and grimy enough to stand up for its own...
Yet, one should not forget the feud that is going on between southern Germany (Especially Bavaria) and eastern Austria. Well yes, it is usually a rather mild-mannered feud (shining through mainly in sports and other competitions)... but its origins can be traced as far back as the Thirty Years' War. It's a Long Story. The long and short of it is that neither side likes it to be compared to its counterpart.
The biggest newspaper is the "Kronen Zeitung", which is rather right-wing (but it depends on the whims of their owner; recently, said owner Hans Dichand who had run it for half a century died) and pretty influential. How influential? It sells one million copies in a country with eight million people. - That means it reaches almost three million people each day.
States
The republic of Austria consists of the capital of Vienna and nine federal states (Bundesländer). These states are:
Sport
Austrians have two main sports:
Football (Soccer for Americans), in which they are less than stellar, though they are getting better (previously qualifying for the Euro for the first time) and Skiing. Skiing is extremely popular and Austrians are usually among the best skiers in the world. This leads to giant expectations by the public, going as far as calling everything but a top-three-position a failure.
Other sports practiced and supported in Austria are:
Military
As Austria is under obligation to remain neutral, there is not a big need for a standing military. Still, all male adult Austrians are required to absolve 6 months of military training ("Präsenzdienst") or 9 months of civil service (ambulances, nursing) if they refuse. The main rifle of the military is the Steyr AUG (STG77) [i.e. the guns used by Hans Gruber's men in Die Hard], the service pistol the Glock 17, both being Austrian products. After working with wildly outdated SAAB Draken for decades, Austria has now bought Eurofighter jet airplanes. Despite frequent jokes to the contrary, they actually are able to start, turn around and land again without violating foreign airspace.
Austria In Fiction and Media
Whenever Austria turns up in a movie, it is also prone to having Television Geography as both the directors and the tourism board have an interest in showing off the beautiful and well-known tourist places. This can greatly annoy people who know the geography in some cases. If it's not the Austrian Alps (as seen in The Sound of Music), it's usually Vienna, either as the stage for Cold War intrigue in shady alleys and the U-Bahn, or as a showcase of classical music concerts and noblemen going from the opera to palace feasts in carriages on cobblestone streets.
Few Austrian productions make it abroad, those that do are usually the ones dealing with more serious themes like historical movies. There are many lighter-hearted productions, often recorded in the regional dialect, which range from ironic and socio-critical to silly-humorous. If more lighthearted Austrian productions have a foreign fanbase somewhere, it's usually Germany, because of the common language.
Austria itself is part of a thriving circuit of European musical theatre, along with Germany. Much of the non-English repertoire done in the rest of Europe originated in either Austria or Germany, and some musicals started out in one country to move to the other. Shows that have become well-known (and merited their own pages here on TV Tropes) include Elisabeth, Mozart!, and Tanz Der Vampire.
Recently, several Austrian movies have found critical acclaim, earning a Best Foreign Movie Oscar and other titles. As usual in Austria, the films are likely to become famous after that fact. Indeed, people are more likely to know its aristocratic personification than those movies.
Maybe surprisingly, Austria has a tradition of Black Comedy, like the movie Muttertag.
Famous Austrians
See also:
The Austrian Flag
The flag's colors — white stripe on a red field — originated from the arms of the House of Babenberg, the first royal family of Austria, later adopted by the House of Habsburg, Austria's ruling family from the thirteenth to nineteenth centuries; the flag's origins are also tied to a fanciful tale about how
Leopold V
, a Babenberg, then Duke of Austria, and a crusader, fought so fiercely during the Battle of Acre that, when he removed his surcoat, he found it entirely bloodstained save for where his belt was placed, inspiring him to use that image for personal banner.
---