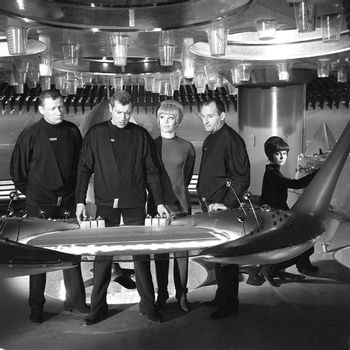 "What still sounds like a fairy tale today could be reality tomorrow. Here's a fairy tale from beyond tomorrow: There are no more nation-states, there is just humanity and her colonies in space. Distant planets are being settled, the sea bottom has been won for habitation. With as yet unimaginable velocities spaceships speed through our galactic system. One of these spaceships is the Orion, a tiny part of a gigantic defence system that protects Earth from threats from outer space. Let us accompany the Orion and her crew on their patrol duties on the edge of infinity!"
One of three series internationally known as Space Patrol is the 1966 German TV show Raumpatrouille - Die phantastischen Abenteuer des Raumschiffs Orion (Space Patrol - The Fantastic Adventures of the Spaceship Orion), which was produced in collaboration with French TV, where it was entitled Commando spatial. It consists of seven one-hour episodes (no commercials) and practically impossible to find outside of its mother country. Like a certain concurrent American TV series, it was about a bunch of people that actually patrolled space. For connoisseurs of science-fiction and the related tropes, Raumpatouille is of interest because in some respects it enables one to test the popular hypothesis of how "cutting-edge" Star Trek really was at the time. Most notably in the field of gender roles, Raumpatrouille showed that more substantial female roles than Bridge Bunnies actually were possible on TV in 1966.
Raumpatrouille was produced at the Bavaria film studios near Munich on a limited budget - for Star Trek they spent about 75 percent of the total Raumpatrouille production costs just on the pilot episode. To save costs the series was shot in black and white. But although they had to economize it looked pretty good as the people in charge were very competent. Set designer Rolf Zehetbauer won an Oscar for Cabaret, while special-effects man Theo Nischwitz had already worked on F.P. 1 antwortet nicht (1931) and Münchhausen (1942); the two would go on to collaborate on Das Boot. Still, they had to use quite a few futuristic looking, but commercially available household implements etc. in building the Orion bridge; keep your eyes open for the famous handle of an electric flatiron.
The fast space-cruiser Orion and its close-knit crew originally belong to the the rapid space unit commanded by General Lydia van Dyke, but because of their continual habit of disobeying orders and regulations, they are transferred to the lowly space patrol that belongs to General Winston Woodrov Wamsler's reconnaissance command. To ensure that henceforth Major Cliff Allister McLane sticks to regulations, stern Lieutenant Tamara Jagellovsk of the Galactic Security Service is assigned to the Orion as a watchdog with the authority to give him orders if need be.
The seven episodes of the TV series are:
1. Angriff aus dem All (Attack from Space): A First Encounter of the deadly kind. Introducing the major recurrent threat of the series, the alien "Frogs".
2. Planet außer Kurs (Planet off Course): The Frogs send a fiery planet on collision course with Earth. The crew succeeds in destroying it, but the Orion VII is destroyed in the process.
3. Hüter des Gesetzes (Guardians of the Law): The first mission of the Orion VIII is a robot story set on a mining colony.
4. Deserteure (Deserters): The Frogs have a mind-control device, but the Orion has Overkill.
5. Kampf um die Sonne (Fight for the Sun): An encounter with a matriarchal former rebel colony.
6. Die Raumfalle (The Space Trap): An outing with a science-fiction author runs into trouble when he is captured by a Mad Scientist who has taken over a penal colony.
7. Invasion: A Manchurian Agent sabotages Earth's defenses and comes close to making the Frog invasion a success. But the Orion saves the Earth (again), and in the end it is transferred back to van Dyke's force, and Cliff and Tamara finally get to kiss.
The series was very successful in Germany and also exported to a number of other continental European countries. Still the executives of German (public) television decided against producing a second season. The more popular theory is that it was because they thought the series was too "militaristic", which in postwar Germany was something quite serious, although some also say that the real reason was that series creator Rolf Honold had run out of good story ideas.
However, that was not the end of it, as the series was spun off in print media:
Moewig Verlag produced 35 Orion paperback novels (1968-1970), which with one exception were written by veteran Perry Rhodan author Hanns Kneifel. The first seven were novelizations of the seven television episodes and have been reprinted a number of times.
Pabel Verlag produced 191 Orion pulp novels (1972-1984), Hanns Kneifel writing 111 of them.
Rolf Honold, the original creator of the series, wrote thirteen short stories that appeared in the 1970s in the soft-core sex magazines Freitag and Praline. There was often talk of a relaunch, but that never materialized as long as the actors were still alive. In 2003 an anthology movie, Raumpatrouille Orion — Rücksturz ins Kino, was released. It consists mostly of material from episodes 1, 2, and 7, linked by "newscasts" by actress and journalist Elke Heidenreich as anchorwoman Helma Krap.
There is an Orion-related website (mostly in German, but with English features), Starlight-Casino
.
---
Raumpatrouille contains examples of:
---