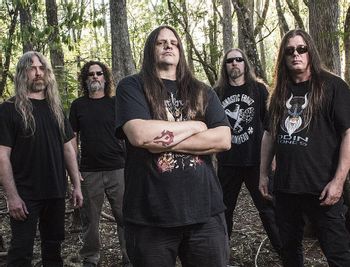 Influences:
Metallica, Megadeth, Slayer, Anthrax, Black Sabbath, Motörhead, AC/DC, Deep Purple, Judas Priest, Iron Maiden, Accept, Anvil, Exciter, King Diamond, Venom, Kreator, Dark Angel, Exodus, Testament, Overkill, Vio-lence, Morbid Angel, Death, Autopsy, Immolation, Atheist, Sepultura, Possessed, Sodom, Destruction, Sacrifice, Sadus, Wehrmacht, Razor, Infernal Majesty, The Accüsed, Dirty Rotten Imbeciles, Bathory, Pestilence
"They think they know who I am
All they know is I love to kill!
Face down, dead on the ground
Find me before another is found!"
— "Stripped, Raped and Strangled"
Cannibal Corpse is an American Death Metal band formed in 1988. They are one of the few death metal bands known in the mainstream; this is due to their extreme, Gorn-filled lyrics, which have caused immense controversy in several countries. They have had little TV or radio exposure, but remain one of the most popular (if not the most popular) death metal bands. They are certainly among the top-selling, and are considered one of the most influential death metal bands of all time, pushing forward the subgenre of "brutal death metal."
---
open/close all folders
Band members
Current members
Alex Webster – bass (1988–present)
Paul Mazurkiewicz – drums (1988–present)
George "Corpsegrinder" Fisher – vocals (1995–present)
Rob Barrett – rhythm guitar (1993-1997, 2005–present)
Erik Rutan – lead guitar (2020–present)
Former members
Jack Owen – rhythm guitar (1988–2004)
Chris Barnes – vocals (1988–1995)
Bob Rusay – lead guitar (1988–1993)
Jeremy Turner – rhythm guitar (2004–2005)
Pat O'Brien - lead guitar (1997–2020, was on indefinite hiatus from 2018 until his formal departure)
Discography
Studio albums
Eaten Back to Life (1990)
Butchered at Birth (1991)
Tomb of the Mutilated (1992)
The Bleeding (1994)
Vile (1996)
Gallery of Suicide (1998)
Bloodthirst (1999)
Gore Obsessed (2002)
The Wretched Spawn (2004)
Kill (2006)
Evisceration Plague (2009)
Torture (2012)
A Skeletal Domain (2014)
Red Before Black (2017)
Violence Unimagined (2021)
Chaos Horrific (2023)
EPs
Hammer Smashed Face (1993)
Sacrifice / Confessions (2000)
Worm Infested (2003)
Live, compilation and video albums
Deadly Tracks (1997)
Monolith of Death (1997)
Live Cannibalism (2000)note
15 Year Killing Spree (2003)
Centuries of Torment: The First 20 Years (2008)
Global Evisceration (2011)note
Dead Human Collection: 25 Years of Death Metal (2013)
Torturing and Eviscerating Live (2013; originally released as part of the Dead Human Collection box set)
Demos
Boxed sets
Classic Cannibal Corpse (2002)
Digital Box Set (2009)
Dead Human Collection: 25 Years of Death Metal (2013)
When Death Replaces Life (2017)
The Undead Will Feast (2019)
---
IF YOU WANT TO LIVE, YOU HAVE TO TROPE OR BECOME! THERE'S NO OTHER WAY, YOU HAVE TO TROPE OR BECOME!:
#-H
I-Z
---