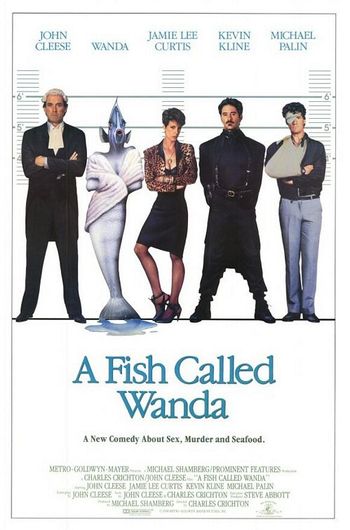 Otto: You know your problem? You don't like winners.
Archie: Winners?
Otto: Yeah. Winners.
Archie: Winners like... North Vietnam?
A Fish Called Wanda is a 1988 British comedy film starring Kevin Kline, Jamie Lee Curtis, John Cleese, and Michael Palin. The film is the final (and best known) film of legendary British comedy director Charles Crichton, and its screenplay was written by Cleese. Cleese also served as co-director, since studio executives were worried about the advanced age of Crichton, who would retire after this film, his first since 1965.
London Gangster George Thomason (Tom Georgeson) and his right-hand man Ken (Palin) have enlisted the services of American criminals Wanda (Curtis) and Otto (Kline) as partners in a jewel heist. Once the jewels are safely hidden, Wanda and Otto, who are lovers but are pretending to be siblings, betray George to the police so they can steal the loot for themselves, but they find he has moved the jewels without telling them. Knowing only that they are in a safety deposit box (the key to which George gave to Ken, but which Wanda soon retrieves), Wanda gambles on George having revealed its location to his defence barrister, Archie Leach (Cleese), and tries to seduce the information out of him. Things get complicated when Wanda finds herself falling for the unhappily-married Archie, to Otto's jealous rage; meanwhile, Ken is trying to arrange the death of the only witness against George, but he keeps killing her Yorkshire terriers instead...
Nominated for the Oscar for Best Original Screenplay and Best Director, the film is literally lethally funny (see below). Kline, who plays the eccentric thief Otto in the film, won the Academy Award for Best Actor in a Supporting Role, a rare accomplishment for a comedic performance.
There are actually two characters called Wanda in the film. One is a fish. The other is Jamie Lee Curtis.
Later followed by a not-sequel with the same cast, Fierce Creatures.
---
This f-f-film contains e-e-examples of:
---
My stutter! It's gone! How many tropes would a troper trope if a troper would trope tropes?
---