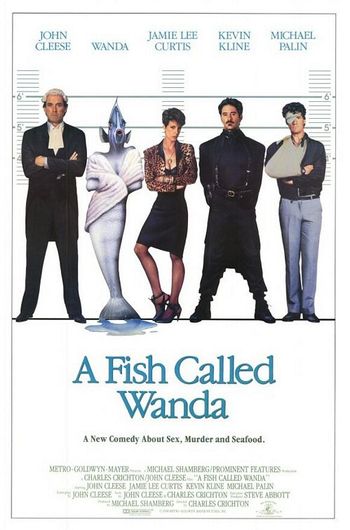 Otto: You know your problem? You don't like winners.
Archie: Winners?
Otto: Yeah. Winners.
Archie: Winners like... North Vietnam?
A Fish Called Wanda is a 1988 British comedy film starring Kevin Kline, Jamie Lee Curtis, John Cleese and Michael Palin. The film is the final (and best known) film of legendary British comedy director Charles Crichton, and its screenplay was written by both him and Cleese. Cleese also served as co-director, since studio executives were worried about the advance age of Crichton, who would retire after this film, his first since 1965.
The film features a gang of criminals who double-cross each other and involves the comedic use of a steamroller.
Nominated for the Oscar for Best Original Screenplay and Best Director, the film is literally lethally funny (see below). Kline, who plays the eccentric thief Otto in the film, won the Academy Award for Best Actor in a Supporting Role, a rare accomplishment for a comedic performance.
There are actually two characters called Wanda in the film. One is a fish. The other is Jamie Lee Curtis.
Later followed by a not-sequel with the same cast, Fierce Creatures.
---
This f-f-film contains e-e-examples of:
---
My stutter! It's gone! How many tropes would a troper trope if a troper would trope tropes?
---