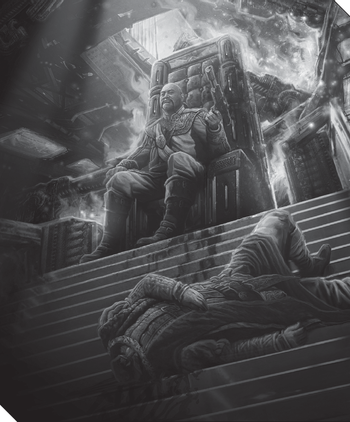 "As a citizen of the Outworlds Alliance and a descendant of the Rim Worlders, I had hoped that in the course of our research on this volume I might find some mitigating factor to modify history's judgement of my most famous countryman. I regret to say that I have found none. As far as Amaris is concerned, the ancient slogan applies: Ig fallou blaos, dem ressensu glottuo. ('What you see is what you get,' or, literally, 'if you catch this, you will have to eat it.') Amaris may have been worse than even past historians have claimed."
—
Anastasia Marcus
, on
Stefan Amaris
,
BattleTech: House Davion (The Federated Suns)
Even in the world of tabletop gaming, there still exists some completely despicable villains. Below are some of the worst and most atrocious bastards ever to roam the table top. Hope you roll well.
---
open/close all folders
The following have their own pages
Examples
Other examples
# - E
F - Z
Feng Shui:

69 AD juncture: Ming I, the worst of the Four Monarchs, is a user of warped shadow magic who willingly replaced her arm with an Artifact of Doom to hurt people more. In her native timeline, she ruled over the Aztecs and then took Human Sacrifice to heights even they found abhorrent, learning how to use the blood of virgins to extend her youth, only being allowed to remain because she cowed them into believing she was a god who killed or enslaved all of theirs. Worst of all is her mass Mind Rape.
2056 AD juncture: Curtis Boatman is described in-game as a bloated, corrupt, and utterly selfish jerk whose own motive is his own profit, and is personally responsible for several sadistic experiments. His laundry list of crimes includes the Uber-kids; tricking normal people into accepting The Corruption of Arcanotech and then accelerating it deliberately so he can have perfectly loyal super soldiers; keeping an entire greenhouse complex of Black Market Produce for himself; planning to betray his boss Bonengel because Boatman likes the Crapsack World with himself at the top of the pyramid as it is; and despite the Buro wanting equality at all costs, he's a huge bigot responsible for the rampant homophobia in the 2056 juncture.

Freedom City: This default setting of Mutants & Masterminds is home to some fairly repellent villains, but none quite as bad as this duo:

Wilhelm Kantor, aka Overshadow, is a Nazi war criminal and Evil Sorcerer turned international terrorist. As a member of the SS and the Thule Society, Kantor learned that he was the reincarnation of Tan-Aktor, a Treacherous Advisor to the Egyptian Pharoah Heru-Ra. Sacrificing twelve of his men, Kantor regained his past memories and powers, then went onto become the true mastermind behind the Nazi Ubersoldaten program. When Schwartzpanzer was crippled in combat, Kantor sacrificed him to increase the power of his own personal assassin, Nacht-Krieger; when the war ended Kantor would use the ritual suicides of his SS and Thule Society colleagues to further empower himself and Nacht-Krieger. Kantor went onto kill almost the entire roster of the Allies of Freedom, left Nacht-Krieger to take the fall, and set up the terrorist group SHADOW. He has since attacked world capitals with armies of clones, tried to get the USA and USSR to nuke one another, poisoned municipal water supplies, and attempted to use Omega's power to take control of space/time. In the meantime, he has kept himself alive, first by bodyjacking clones of himself, and later trying to take over the body of his own son, Ragnarok. Evil on both a grand scale and a petty one—once using a terrorist attack just to ruin an enemy's retirement party—and with a bad habit of throwing his "friends" under the bus when it suits him, Kantor is out only for himself, and is as bad as even a Nazi can get.
Omega, once the heroic king of the first race of mortals, realised that entropy was going to destroy the multiverse, and decided that he wanted to be on the winning side. Turning on Unus The Creator, Omega stole the Doom-Coil, the very device Unus had designed to fight against entropy, and reprogrammed it to spread entropy, feeding his own universe into it as fuel. In the process he defeated Unus, slew most of the other gods, and completely surrendered to his own hatred. Omega now travels universe to universe, corrupting and recruiting the greatest heroes of each 'verse into his army, before annihilating their home dimensions. He transformed the greatest physician of one universe into the sadistic Friendly; promised to spare another hero's people only to turn them into mindless drones; and not only destroyed The Centurion's homeworld, but then tracked him to Earth-Prime, killing him and nearly wiping out Freedom City in the process. Concerned only with expanding his own dead realm, the so-called Terminus, Omega's goal in the extinction of all life across the multiverse.

Iron Kingdoms: Toruk is the God-Emperor of the dragon race, although he considers his progeny the only thing that might pose a threat to him and desires to destroy them all. To accomplish this, he turns a whole set of island nations into a mix of undead and mutants to serve as his army, all with the intent of slaughtering as many of the inhabitants of the mainland as possible to make a bigger army.
Lamentations of the Flame Princess:

The Pale Lady is a ruthless Fay who has children kidnapped to use as slave labor until death or she finds no use for them, with the boys turned into eunuchs to better serve. Many of the firstborn children taken by the Pale Lady are sacrificed so she may obtain her powers, her supply of rabbit-men soldiers propagated by her raping human men she finds appealing before using the offspring as disposable Cannon Fodder.
Blood in the Chocolate: Lucia de Castillo enslaves a tribe of pygmies for their Cocoa tree with the belief she is a god so that she may create a delicious, addictive chocolate to control the trade across Europe. Allowing her pygmies to torture and sacrifice many people, Lucia uses others for her sick experiments, including children, who she infects with plagues and with her candy so that deadly and agonizing side effects can be observed. Others are kept as sex slaves during the experiments so that Lucia can use their bodies for her own pleasure.

Legend of the Five Rings: Hantei XVI, known as Otomo Okucheo before his ascension and also known as the Steel Chrysanthemum, is the most violent and tyrannical Emperor that Rokugan ever had. He was ambitious even as a young child, when he arranged for the murder of his brother to prevent him from being made Emperor. His atrocities ranged from the disastrously grand, such as creating a Secret Police force to hunt down traitors and political dissidents; to the disturbingly petty, such as torturing a woman to death for protesting his widespread use of torture, and then naming her as a minor goddess of torture. He ruined a political opponent's reputation and career, just so he could claim the man's daughter as a concubine. When that daughter refused to bear Hantei XVI a child, he had her imprisoned in her own room and forced the matter. The final straw, however, was ordering the execution of his own mother, because she dared to protest him killing all of his siblings so they couldn't contest his claim to the throne. This final act was enough to make his entire guard, horrified by what he had done, turn on him, assassinating him in spite of the fact that they would all need to commit seppuku afterwards. Back from the Dead more than 500 years later, Hantei engineered the 12-year-long War of Spirits in order to try taking back the throne. After the War, as one of the conditions of the treaty, Hantei tutors the son of an opponent. Planning to attack his student in order to cause the treaty to be broken and war to break out again, Hantei, while beating this student, is killed by his own fiancée, who has grown to care for this student.
Masque of the Red Death:

Dracula is one of the eldest and mightiest of the Red Death's servants. As Vlad the Impaler, Dracula subjected 100,000 Turkish soldiers to the stake, and his appetite for suffering was so great that he put entire villages to the sword, with men, women and children impaled and left to suffer for hours in agony. As a vampire, Dracula, who has killed so many in Transylvania that the region suffers from a population problem, later emerges to do the same to other regions. Happily turning the loved ones of his enemies, Dracula savors watching them trying to kill one another after, and is a vicious predator as either man or undead.
Delphine LaLaurie is initially presented as a charming socialite in New Orleans's French Quarter. In truth, Delphine was a Serial Killer who focused on her slaves, having countless innocents tortured and murdered with the "lucky" ones having eyes or tongues removed. After being driven from Louisiana by a mob, Delphine moves from region to region, mentally dominating her own family into participating in her actions and always aiming for areas where she has fresh access to servants who can never please her, long before she proceeds to torture and slaughter them as well.

Midnight (2003): The wicked god Izrador fell to Aryth long ago. Rising anew, Izrador launched brutal campaigns to take over the lands before resorting to more subtle means. Achieving victory, Izrador runs a nightmarishly despotic regime, with slavery, sacrifice, and more, all while seeking genocide on the remaining elves and dwarves. Draining the land of magic with mirrors that require Human Sacrifice, Izrador enslaves the souls of his victims and converts them to hideous undead monstrosities known as the Fell. Even his own elites fare no better, as one of his vaunted Night Kings was once a hero tortured and broken by Izrador into a corrupt shell of himself. Seeking to drain all of Aryth's magic, Izrador's ultimate plan is to return to the heavens and take over, overthrowing the gods of light and extending his evil reign across the cosmos.
Punkapocalyptic: Cunnilingus Igni is the wicked leader of the Children of Black Blood. After the death of the original leader, Igni usurped that once-peaceful religion, which worships Tex'co and views oil as a gift from their god. Converting the rest to violent fanatics, Igni launches raids to burn countless people alive and wipe out anyone else in preemptive strikes". Leading many such raids himself to demonstrate his fanaticism, Igni savors the death and immolation of others, described contemptuously as just a scumbag seeking to impose his cruelty on the world.
Renegade Legion: Caesar Ivanolo Buntari, even before becoming Caesar, completely annihilated an entire world, turning a beautiful garden world with billions of inhabitants into a smoldering cinder. Buntari seized power by using a nuclear weapon to kill the First Consul and most of the Senate; ordered the Legions to slaughter anyone protesting his coup; ordered the Legions to slaughter any of their own who refused to kill protestors; and decreed that women were property of their fathers or husbands.
Scion: Seth Farrow is the second-in-command of a Scion band called the Shinsengumi. A son of the Egyptian god Set, Seth is a sadistic man who joined the band because its leader, Kane Taoka, promised he could live the high life and have many chances to indulge his sadism. He's one of the only band members who knows Kane is actually taking orders from the Titan Mikaboshi and is more than willing to kill the other band members if they ever find out and become a liability. When the Shinsengumi disbands after Kane's defeat, he pretends to profess loyalty to the Egyptian gods, but plans to either reunite with Kane if the latter ever reappears, or to sneak away and use his divine powers to create a personal kingdom where he can terrorize and murder anyone he wishes without fearing any consequences.
Sentinels of the Multiverse: Spite originally started out as Jack "Maniac Jack" Donovan, a petty delinquent and minor member of the Wraith's street-level Rogues Gallery in Rook City. After getting stopped by the Wraith one too many times, he became a Serial Killer, and after finding out the Wraith's secret identity, he dropped her two best friends off a skyscraper in front of her. After finally being captured, he avoided execution by agreeing to secret drug testing. When the drugs granted him Super Strength and other abilities, he broke out of prison and went back to his murderous ways, while also using any drugs he could get his hands on to fuel his new addictions. His villain card deck reflects all this by often forcing the players to make sadistic choices between saving victims or themselves, and his potential victims include a teenage wanna-be sidekick, an innocent priest in a soup kitchen, and a trusting little girl. Even the heroes deciding to just kill him this time didn't faze him, as when a demon god offered him a chance to be resurrected in exchange for killing lots and lots of people to spread enough fear and misery to allow the demon god to be summoned to our reality, Spite saw it as a win-win sucker's bet where he got to live again—even though resurrection is normally a very unpleasant occurrence in this universe—in exchange for doing the mayhem he wanted to do anyway. While nowhere near as powerful as other beings in the universe, Spite is as bad as it gets for a street-level villain.
Shadow of the Demon Lord's Tales of the Desolation: Xerras the Night Drinker is a vampire sealed away by his master. Upon being awoken by Father Mayhew's entourage, Xerras slaughtered all but Mayhew, who he used to spread his plague, the Dry Death, which painfully drains the moisture from victims and leaves them as Desiccated Ones, broken, dried out zombies for him to control. Attempting to massacre the town of Esker and make the people there his undead slaves, Xerras tortures Mayhew and turns him into an agonized mummy, intending to spread the Dry Death over the lands to dominate all he can.
Silver Age Sentinels: Milo Rauchenberger was an ardent Nazi who took upon the moniker of the elemental villain Kreuzritter. Raising the nation of Thule with brutal attacks to conquer the world, Kreuzritter also experiments upon countless innocents to create new weapons and subjects people to agonizing pain to master his magic, also being responsible for a near eruption of Mt. Helena that might have obliterated vast swaths of the world if not for the heroine Lady Starbright's sacrifice. When his world crosses over with that of Champions's Millennium-Earth, Kreuzritter works with the wicked Dr. Destroyer to harness the Reality Storm, risking the destruction of both worlds while plotting to betray his erstwhile ally to achieve domination himself.
---