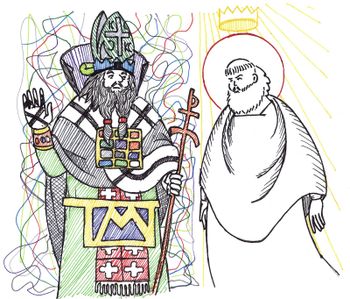 "I follow all of God's teachings to the letter. The teachings of men who claim to know God is another matter."
— Amadeus Johnstone
This trope happens often in series where the main villain is The Fundamentalist, but the author doesn't want to imply that Religion Is Wrong or Belief Makes You Stupid. Instead, a sympathetic character is shown as being religious, but as rejecting the flaws of the religious villains, such as corruption or intolerance. The hero may call out the villain's restrictive or intolerant doctrines, and say that God/the gods/Cthulhu would be ashamed at what is being done in their names. Often done by The Heretic and accompanied by phrases like "Jesus wants us to love everyone."
Done well, it's an aesop about how people are people and there is a fundamental core of reasonable humanity in every institution. Done poorly (usually because the sympathetic character is blatantly incorrect in his knowledge of relevant scripture, making him more offensive than The Fundamentalist to true believers) it can read as a weak attempt to not lose a substantial number of readers who may be religious.
Compare The Heretic, Turbulent Priest.
---
Examples:
open/close all folders
Anime & Manga
One of the running themes in A Certain Magical Index. The titular character even has a magic song, Sheol Fear, that specifically causes those who put dogma before morality to go temporarily insane when they hear it.
Yukariko in My-HiME. Throughout the series she constantly struggles between her devotion to God and the man she ends up falling in love with, Ishigami, who in fact goes out of his way to verbally acknowledge the fact that he's just using her to gain the power of HiME. She eventually decides to give up being a nun in favor of simply being a Good Shepherd, and at the end of the series is even shown as being pregnant with Ishigami's (who's cleaned up his act) child, scolding the other much less pious girls who took up being nuns her place.
Fan Works
A major theme of the second part of Angel of the Bat is whether one can love God and love a system of worship that they openly acknowledge feels contradictory.

Considering the writer is an idealistic Roman Catholic, the answer is yes.

A sad but hopeful version of this is the cornerstone of the story's ambiguously canon second epilogue:

The both Catholic and bisexual Cassandra Cain declares God wouldn't want her to pretend to not have a life with the woman she loves. Cassie asks her girlfriend to marry her, saying that even if the Catholic church rejects them, they can't take away her belief and love of God.

The story's sequel, Times of Heresy, deconstructs the concept in its presentation of minor antagonist, radio Evangelist Cameron Gram. Gram argues that this idea is appealing because Evil Is Easy and people forget that while God Is Good, Good Is Not Nice. Cassandra herself wants to continue appealing to the trope, but finds she doesn't have a good answer for why she should know better than a man who has clearly been practicing Christianity much longer than she has.

In Sonic X: Dark Chaos, this trope is typically the primary difference between the less-evil religious characters and the really evil religious characters in general. However, since the author despises religion, it's depressingly rare.
Films — Animated
Judge Claude Frollo from The Hunchback of Notre Dame is a self-righteous religious extremist who believes that he alone is virtuous among the "common, vulgar, weak, licentious crowd", and uses his considerable authority to persecute and purge those he deems "beneath him" (i.e. the Gypsies) while claiming to be God's soldier. He is contrasted the Archdeacon, who is the complete opposite of Frollo, and shows compassion and kindness to Esmeralda when she seeks sanctuary in his church.
The Simpsons Movie

Affectionately parodies this trope, Flanders accepting what is clearly a many-eyed, radiation-mutated squirrel as the deliberate work of his Creator.

Flanders: Well, this certainly seems odd, but...who am I to question the work of the Almighty?

Later, Flanders chooses to help reconcile Bart and his (unbelieving, more emotionally messy) father instead of adopting Bart, because he sees that, although Homer is fundamentally different from himself, he really loves Bart and wants to apologize for how he treated him earlier in the movie.
Films — Live-Action
Literature
In A Brother's Price, Princess Ren is religious, and argues in favour of the traditional system of sororal polygyny but points out that "nowhere in the holy book does it say we should treat boys like property". The heroic characters are also critical of the religious taboo on adoption, and it is unclear whether that taboo has any proof in scripture, or whether it is just a tradition.
Nickie rejects the absurd restrictions set by Mrs. Beeson on behalf of The Prophet of Yonwood, but she still believes God is good and would honor people's differences instead of marginalizing them.
This happens in Madeleine L'Engle's books a lot. For example, in A Swiftly Tilting Planet the Llawcae family is devout but hates the witch-hunting Puritans like Pastor Mortmain, and Ritchie Llawcae refuses to build a scaffold to hang the 'witch' because he says Jesus would never have done so either.
Dorry Stevens in Leaving Fishers by Margaret Peterson Haddix, who rejects her old creepy Christian cult but still believes in God and values religion, as opposed to fellow escapee Zachary, who literally says that religion is evil.
In Just Ella by Margaret Peterson Haddix: Jed Reston, the son of Lord Reston, priest to the king, says state religion is all "smoke and mirrors" and has nothing to do with true faith.
In Chris Crutcher's novel Staying Fat for Sarah Byrnes, the liberal Rev. Ellerby is contrasted with the uptight and hypocritical Christian Mark Brittain.
Friar Tuck in the Robin Hood mythos is a 'good' religious foil for the villainous Bishop Hereford.
Aramis's devotion to God is contrasted in The Three Musketeers with the conniving Cardinal Richelieu.
This is a recurring theme in Katherine Kurtz's Deryni novels, because members of the Christian hierarchy claim that Deryni are evil by nature (hence justifying persecuting them), but a schism eventually occurs within the Church when some clerics, led by Cardiel and Arilan, dispute this assertion. Things get complicated when some few Deryni discover they have Healing abilities and as everyone knows Christ healed. A rebel leader who has been attacking mages' estates and tenants (particularly those of a certain Deryni duke) is forced to confront this when he gets a demonstration of Healing; Cardiel [a human bishop] is there to emphasize the contrast between the religion and some of its self-styled followers. Later, a guilt-stricken and self-hating Deryni [King Kelson's mother, Queen Jehana] has her anti-Deryni religious indoctrination overcome by Deryni clerics Arilan and Father Nivard. It's important to note that the Deryni are true believers, at least in part because of the evidence of experience. They sometimes perform rituals for powerful workings that summon beings taken to be angels (and specifically named: Raphael, Gabriel, Michael and Uriel). They mostly see coloured light and fleeting impressions of wings, and of course they could be mistaken or rationalizing their experiences, but they do believe. It also helps that their powers are triggered by an altered state of consciousness akin to meditation or prayer. Human Queen Richeldis suggests that Deryni may be above ordinary humans and just below angels on the Great Chain of Being.
Small Gods has Om discovering that his "followers" believe in the organization, hierarchs, high exquisitors, prophetic texts, rituals... anything but Om himself. Since Gods Need Prayer Badly, this means he ended up starved into near-oblivion by his own church and doesn't even have enough juice to perform the only miracle he wants now — which is, obviously, braining the guy currently responsible for this state of affairs.
The Bible:

In Old Testament times, the main problem was that people were making new (often more lenient) rules that violated the old dogma (for example, allowing idolatry), and the true prophets were standing up for the old order. In the case of idolatry, the people were not putting God before Dogma, so the true prophets had to straighten them out.
In the New Testament, Jesus accuses the scribes and Pharisees of being Rules Lawyers and missing the Law of Love. When they criticize him for healing a man on the Sabbath, as working on the Sabbath is against Jewish law, Jesus responds it's never against the law to help someone (this is accepted by Judaism currently- no law comes before saving a life).

In Peaches for Monsieur le Cure, one of the sequels to Chocolat, this is the central theme of the narrative: that all the rules and laws and dogma and strictures separate people from God, and the only really important parts of religion are faith, compassion and pursuing happiness.
Live Action Television
In the CSI episode "Alter Boys", Grissom tells a Roman Catholic priest who suggests that he should start attending Mass again that whilst he [Grissom] believes in God, he doesn't accept the doctrine of the Church, and that too many people have died for particular interpretations of religion. Word of God confirms that this was intended as a comment on 9/11, which had recently taken place at the time the episode was made.
On Mad Men, when the priest tells Peggy that she should repent before nuclear war breaks out (during the Cuban Missile Crisis), Peggy answers that she can't believe God would be so cruel as to condemn her to hell just because she had an affair with a married man.
The nuns of Call the Midwife care far more about helping their poverty-stricken patients than about passing judgment on them. This also combines with Saintly Church. The few times we see one of them slip up and get too dogmatic give a vivid demonstration of why they stick to this trope, as it tends to result in a dangerous medical crisis for the patient and a Heroic BSoD for the nun.
Tyrant (2014): Season 3 introduces a moderate Islamic faction aiming to elect their own candidate in the upcoming presidential election of Abbudin that opposes both the Al-Fayeed dictatorship that has reigned for decades and the radical insurgency led by the Army of the Caliphate.
Law & Order: Special Victims Unit: Elliot Stabler is a devout Catholic and has some problems reconciling his conservative attitude with his job. With that said, religious fundamentalists that hide behind their religion piss him off almost as much as child molesters, regardless of their faith whether if it's a Christian fundamentalist saying that gays will go to Hell when they die or if a Muslim commits Honor-Related Abuse to avenge their family's honor.
Music
Against what many people think of the band, Bad Religion gives off this message. Religion is not the problem. It is those who insist their teachings are the best for everyone and, in a worst case scenario, manipulate organized faith for personal gain.
The Within Temptation song "The Truth Beneath the Rose" describes a warrior who slaughtered in the name of his religion, only to face Sanity Slippage at all of the lives he has taken. In spite of his faith and Utopia Justifies the Means being what ruined him, the song is spent begging God for forgiveness.
The song "The Light" by The Proclaimers is a condemnation of fundamentalists, while at the same time the singers establish, "I believe in God all right/ It's folk like you I just can't stand."
Tabletop Games
Called out several times in In Nomine, where religions are mostly seen as a "human thing," given to mankind as a way to approach the God that the angels already know to worship. Even the few Archangels that explicitly prefer a particular religion (Catholicism for Laurence and Dominic, Islam for Khalid and Zadkiel) still acknowledge that worthy contributions can be made by those of other faiths. By contrast, the Demon Prince of Factions, Malphas, *loves* fine points of dogma ...

Novalis, Archangel of Flowers: Every human religion since the first boils down to just two principles: Behave and don't hurt each other.

The story of Sebastian Thor in the background lore of Warhammer 40,000. In the 36th Millenium, the Imperium was ruled by the mass-murdering Sinister Minister Goge Vandire in what was called the Reign of Blood. Thor was a minor preacher on a small planet who criticized Vandire's rule - which would have gotten him killed had Vandire's cronies not switched sides upon hearing Thor's sermons. It got to the point that the Imperium rose up against the tyrant Vandire, with the church he ruled later declaring him as a heretic and his female bodyguards decapitating him.

You have committed the ultimate heresy. Not only have you turned your back on the Emperor and stepped from His light, you have profaned His name and almost destroyed everything He has striven to build. You have perverted and twisted the path He has laid for Mankind to tread. As your own decrees have stated, there can be no mercy for such a crime, no pity for such a criminal.

—- Saint Alicia Dominica, before executing Goge Vandire.
Video Games
Webcomics
In Rice Boy, The One Electronic rejects the "perfect, solid God" that he was taught about as a child, and believes that the being who sent him on his quest to find The Chosen One is not God but an imposter. But T-O-E still believes in God.

T-O-E: There is some powerful mystery between all of these perfect, solid things... and that is my God. My God is what I don't know.

Timothy/Camellia in But I'm a Cat Person spent several of his teenage years in a cult focused on one of the series' resident Mons, and as an adult considers himself a Catholic with a strong aversion to any imposition of one person's dogma beliefs on another.
Web Original
Mr Deity is appalled by the contents of the Bible.
Western Animation
Castlevania (2017): The Bishop of Targoviste is pretty much responsible for starting the story's events by burning Lisa Tepes on the stake as an witch and sending her husband Count Dracula in a genocidal warpath against mankind. He is particularly portrayed as an anti-intellectual, bigoted, self-righteous fanatic that persecutes "heretics" (i.e. people perceived to be too intelligent) and employs priests as armed thugs to exploit the populace. This drew some backlash since the Church had a supporting role in the original games and was perceived to have given Adaptational Villainy due to one of the writers' views on Christianity. However, Season 1's last episode depicts a nameless priest that is genuinely devout and helps fend off the demonic invasion by blessing water to be used against them.
This is the message of Moral Orel. Despite living in a town populated with screwed-up fundamentalists, Orel hangs on to his faith in God, which allows him to find a fulfilling adulthood.
---