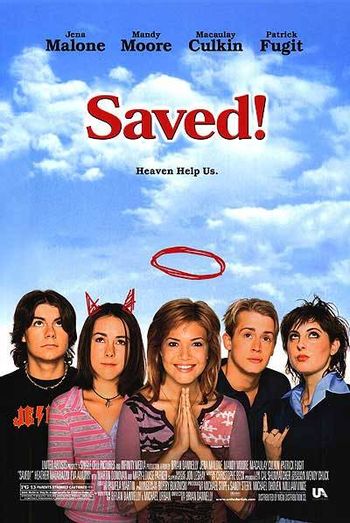 Saved! is a 2004 satirical teen dramedy film directed by Brian Dannelly and starring Jena Malone, Mandy Moore, Macaulay Culkin, Patrick Fugit, and Eva Amurri.
Mary Cummings (Malone), a rising senior at American Eagle Christian High School, has a great life with wonderful friends, a great Christian boyfriend named Dean (Chad Faust), and a personal relationship with Jesus Christ. But one day during the summer, Dean confides in her that he might be gay, and she has a Crisis of Faith. She makes a deal with God to cure him by having sex with him, and soon all is well.
Then, on the first day of school, she's informed that Dean has been sent to Mercy House for "rehabilitation" after his parents discovered his gay porn stash. Then come the missed periods, and the morning sickness. As she struggles both with her faith and to hide her pregnancy from her single mom and judgmental friends, she finds an unlikely ally in Cassandra Edelstein (Amurri), a shunned Jewish bad girl who's only at the school because no one else will take her.
---
This movie contains examples of:
Bitch in Sheep's Clothing: Hilary Faye can give the Lovable Alpha Bitch vibe, but she's a straight-up Alpha Bitch. You can be in good terms with her as long as you don't challenge her religious beliefs, but question her faith in any way and you'll see just what sort of friend she is. In truth, her acts of kindness are solely built on being The Fundamentalist and Egocentrically Religious.
Black Comedy

Upon seeing Mary walk into a clinic:

Cassandra: There's only one reason Christian girls come down to the Planned Parenthood.
Roland: She's planting a pipe bomb?!
Cassandra: Okay, two reasons.

Mary before she takes the pregnancy test: "Please let it be cancer! Please let it be cancer!"

Break the Haughty: Happens to

Hilary Faye

twice, first when

Roland and Cassandra put up pictures of her when she was fat and ugly

, and then when

Tia proves that she actually vandalized the school after she swore publicly that she didn't

.
Can't Get Away with Nuthin': Mary naturally gets pregnant after having sex for the first time. And when she goes to Planned Parenthood for confirmation all the way across town, two of her classmates just happen to be having coffee across the street.
Catholic School Girls Rule: While not Catholic, Cassandra's school uniform is very much along these lines.
Chekhov's Gun: A certain messianiac billboard at the beginning of the movie plays a part during Hilary Faye's Break the Haughty moment. Averted with the actual gun Hilary Faye shoots at the beginning of the movie.
Didn't Think This Through: Having sex with your boyfriend in an attempt to "cure him" of his homosexuality fails miserably. Mary ends up pregnant and her boyfriend hasn't changed orientation at all.
Passion Play: The school play that year is Jesus Christ Superstar. For those familiar with the musical, that's a rather ironic choice for such a rigid school.
Pet the Dog: When Hilary Faye tries to get Mary and the others thrown out of the prom near the end of the film, Pastor Skip points out to her that they aren't bothering anyone or causing any trouble and that letting them stay is the Christian thing to do. Cue Hilary Faye's Villainous Breakdown.
You're Just Jealous: Hilary Faye accuses Mary of just being jealous of Hilary Faye's success in the Lord; true to this trope, the accusation holds no water, as Mary is legitimately angry that her supposed "friend" has just tried to forcibly perform an exorcism on her.
---