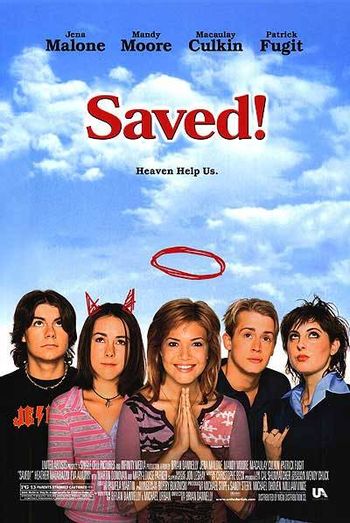 A 2004 satirical teen dramedy film directed by Brian Dannelly and starring Jena Malone, Mandy Moore, Macaulay Culkin, Patrick Fugit, and Eva Amurri.
Mary Cummings (Malone), a rising senior at American Eagle Christian High School, has a great life. Wonderful friends, a great Christian boyfriend named Dean (Chad Faust), and a personal relationship with Jesus Christ. But one day during the summer, Dean confides in her that he might be gay, and she has a crisis of faith. She makes a deal with God to cure him by having sex with him, and soon all is well.
Then, on the first day of school, she's informed that Dean has been sent to Mercy House for "rehabilitation", after his parents discovered his gay porn stash. Then come the missed periods, and the morning sickness. As she struggles both with her faith, and to hide her pregnancy from her single mom and judgmental friends, she finds an unlikely ally in Cassandra Edelstein (Amurri), a shunned Jewish bad girl who's only at the school because no one else will take her.
---
This movie contains examples of:
---