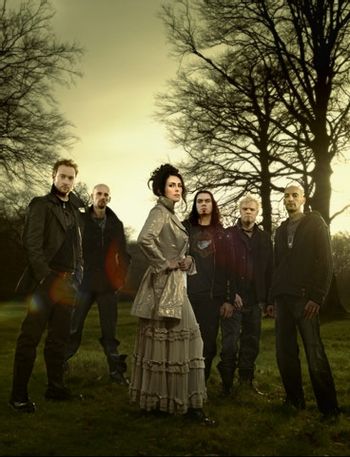 Within Temptation are a Dutch band founded in 1996 by vocalist Sharon den Adel and her partner, guitarist Robert Westerholt. Their music is usually described using two of the following words: symphonic, gothic, and metal. Their last two albums debuted at #1 on the Dutch charts.
After the release of their first album Gothic Metal album Enter, the band became prominent in the Dutch underground scene. It was not until 2001 that they became known to the general public, with the single "Ice Queen" from the album Mother Earth, which reached #2 on the Dutch charts. Since then, the band won the Conamus Exportprijs four years in a row. Their next two albums The Silent Force and The Heart of Everything debuted at #1 on the Dutch charts. In 2008, they released a live DVD and CD, Black Symphony, recorded with the Metropole Orchestra. This collection was followed in 2009 with An Acoustic Night at the Theatre.
The band's fifth studio album The Unforgiving, was released in March 2011, alongside both a Comic Book series and a series of short films that together encompass a story. The first single, "Faster," was released on January 21, and the first short film, "Mother Maiden", was released on January 31. The band has sold more than 3 million copies worldwide. Around the same time, Robert stopped touring full time to look after his and Sharon's children. Their new guitarist Stefan Helleblad also contributed to their next album "Hydra" in 2014.
In 2017, Sharon den Adel announced a side project called My Indigo, which was born while suffering from Writer's Block writing new material for Within Temptation. The debut album was released on April 20, 2018.
They are reminiscent of a variety of bands including but in no way limited to, Nightwish, Epica, Evanescence, Kamelot and Lacuna Coil. See also Delain, formed by Robert Westerholt's brother Martijn after he left the band due to health problems.
---
Discography:
Albums:
Enter (1997)
Mother Earth (2000)
The Silent Force (2004)
The Heart of Everything (2007)
The Unforgiving (2011)
Hydra (2014)
Resist (2019)
Bleed Out (2023)
Extended Plays:
The Dance (1998)
Running Up That Hill (2003)
The Howling (2007)
Sinead: The Remixes (2013)
Paradise (What About Us?) (feat. Tarja Turunen) (2013)
Cover Albums:
The Q Music Sessions (2013)
Live DVDs:
Mother Earth Tour (2002)
The Silent Force Tour (2005)
Black Symphony (2008)
An Acoustic Night at the Theatre (2009)
---
Band Members:
Sharon den Adel - Vocals (1996–present)
Robert Westerholt - Rhythm guitar, grunts (Studio only, 2011–present) (1996–present)
Jeroen van Veen - Bass guitar (1996–present)
Ruud Jolie - Lead guitar (2001–present)
Martijn Spierenburg - Keyboards (2001–present)
Mike Coolen - Drums (2011–present)
Stefan Helleblad - Guitar (2011-present)
---
Tropes Queen:
Abusive Parents:

"Frozen:" The father abuses both his wife and daughter in the video.
"Triplets:" The father apparently molests his son, as evidenced by his hopping into the same bed.
---