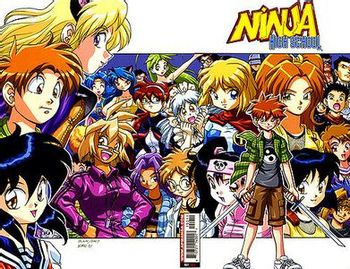 Ninja High School is a manga-inspired comic book series created, written, and illustrated by Ben Dunn, and currently published by Antarctic Press. While it was originally intended as a parodic mini-series, the comic became so popular that it became a full series, currently totalling over 160 issues and many miniseries and special issues. The annual specials Ninja High School Yearbook and Ninja High School Swimsuit Edition are entirely composed of art and stories created and contributed by fans.
The story centers on Jeremy Feeple, a student at Quagmire High, who soon encounters a beautiful female Ninja named Itchy Koo (real name Ichikun Ichinohei) and an Alien Princess named Asrial — who have both been ordered to marry him. The earlier stories focus on the girls' comedic attempts to marry this seemingly plain, ordinary high school boy. As the story progressed, backstories were given to the core characters, and an extensive supporting cast developed. While early stories focused mainly on slapstick, later story arcs have become more serious, delving into murder, drugs, and homosexuality.
The series contains Lawyer Friendly Cameos and Captain Ersatzes of characters from other media, usually but not always Japanese; these included Kamen Rider, Power Rangers/Super Sentai, Harry Potter, Superman, The Powerpuff Girls, Terminator, Ninja Gaiden, Transformers, Nadia: The Secret of Blue Water, Urusei Yatsura the Gundam series and especially Ranma ½ (seriously looking at the early chapters, you'd be forgiven for thinking this whole series was an out and out parody of it).
Ninja High School v2 was an attempted Spin-Off set after a Time Skip, revolving around Jeremy's thrill-seeking younger brother Ricky; it originally ran alongside the original series, but the new storyline was brought back into the main title though Ricky was now the main character.
For those that wanna follow along it goes like this:
Original series (Vol 1-9). Ran for 100 issues. 1987 to November, 2002 (Yes, fifteen years). The first bulk is mostly that of Jeremy's adventures with a few stories focused on side characters. Later on most of the stories focused on Ricky and his own entourage of girls (In this case Lendo's step-sister Yumei, Superhero Heidi, and a Salusian Princess with a purchased title, Solora). This is considered Vol 2 of the series. There is also the mini series "Quagmire USA".
Hawaiian series (#101-129, December, 2002 - June, 2005): Focuses on supporting character, Yumei, as she goes to Hawaii under the request of a family member and has her own adventures.
Shidoshi series (#130-175, August, 2005-August, 2009) : Continuation of vol 2, something of a reboot of the series to distinguish it from the original. The story now focuses entirely on Ricky and a new cast of characters as they come into conflict with a deadly rival ninja clan.
Volume Three: An attempt at a revival series in June 2014 which saw a new alien race calling themselves the "Kuroni" have possessed the people of Quagmire and plan to enslave all of Earth. Anne Feeple and Prof Steamhead are the only two unaffected and are forced to jump to an alternate dimension to find means to defeat them. Thus setting this series in a new world. However the series slipped back into a hiatus after the 176 issue was released with only "Super Ninja High School", a one-off that had the characters dealing with expies of video game characters, release. After six years, the comic finally resumed.
Battlefield Press has launched a roleplaying game for the series, both in a proprietary D6 and the Savage Worlds system.
The series has been uploaded to Webtoon, including both the original run, Volume 2, Shidoshi, Quagmire USA and Volume 3 (Though no Hawaii series for some reason) as well as some of the crossovers with Gold Digger. You can Read it here
and here's a checklist for the links to certain parts of the series.
Main Runs
Mini-Series and One Shots
---
Tropes:
---