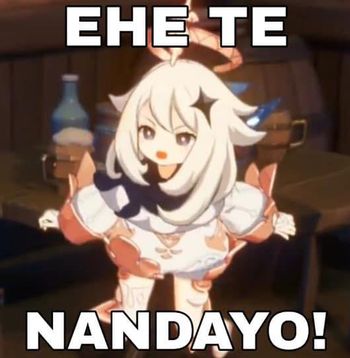 Genshin Impact
has attracted a lot of talk and hype from anime fans; quickly becoming one of the most popular and
THE
most famous of
Gacha Games
to the point of becoming mainstream on a global scale. As such, expect the game to end up resulting in a
metric shit ton
of memes.
For "Breath of the Waifu" and other fan nicknames, see this page, although some examples may overlap.
---
Please add entries in the following format if possible:
The meme. [[labelnote:Explanation]]The explanation behind the meme, if necessary.[[/labelnote]] Explanation

Like this.

Further mutations and successor memes, if any.
Beware of unmarked spoilers!
---
open/close all folders
Playable Characters (A - L)
Idle voice lines Explanation

The idle voice lines of characters tend to turn into memes due to the sheer amount of times players hear them when using these characters in the overworld.

"I wonder when I'll be as tall as my big sister." Explanation Barbara sometimes says this during her Idle Animation. Given how frequently players hear it, fans characterize her as having major Height Angst.
"If you ever want to trade tactics, I'm always ready." Explanation Beidou's line from her Idle Animation. Similar to Venti's "Wouldn't gliding be faster?", players joke about it because they've heard it so much.
"Bouken da Bouken!" Explanation One of Bennett's lines in the Japanese version (when he dashes), meaning "adventure, adventure!". Many fans associate this with a "thumbs up" symbol in his Elemental Burst icon and skill animation. They also associate this with Bennett's potentially suicidal Elemental Skill. In the English version it's "Adventure Time!" instead, which fans consider to be a reference to Adventure Time.
"Wouldn't gliding be faster?" Explanation This is Venti's quote when he's dashing. As you will dash a lot in gameplay, particularly when fighting enemies, this line comes up a lot (much like Bennett's "Bouken da bouken!"). A number of fans get annoyed by it after hearing it so often, with them joking about the line in various ways.
"Osmanthus wine tastes the same as I remember, but where are those who share the memory?" Explanation Zhongli's line from his Idle Animation. Given Zhongli`s popularity, many players hear the line regularly. Commonly paired with Venti chiming in and Zhongli ignoring him.
"C'mon, enough procrastinating. Let's go." Explanation

One of Keqing's idle lines. It fits in-game, and you can also expect it to show up whenever someone is slacking off.

"LAAALALALAAAAA-! WATAKUSHI WAAAA MOOOORAAA WO AISHIIIII-!" Explanation One of Dori's idle lines is her singing how much she loves Mora. It sounds cute... unless you're playing in Japanese, where her voice is very screechy. Fans immediately pick up on how annoying (if not THE most annoying) her voice is; equating to listening to her speak as blowing one's eardrums or listening to nails on a chalkboard.

Albedo:

Dawn Winery Maid Albedo Explanation During the Windtrace event, a player has been shown to win the match by having Albedo stand with the two Dawn Winery maid NPC's throughout the whole round and winning said round via Paper-Thin Disguise. The sheer hilarity of it has caused the creation of many jokes, fanarts, and memes about Albedo being a part-time maid in Dawn Winery, like this one.
Among Us Albedo Explanation During a stream in which some of the English VAs played Among Us, Khoi Dao (Albedo's English VA) created many hilarious moments by virtue of acting the exact opposite of the calm and stoic character he voices. Of course, this prompted the fandom into making edits and animatics of Albedo using the stream's audio due to the intrinsic hilarity of it.

"Welcome to hell, bitch!" Explanation

One of Khoi's lines from said livestream.

"Just 'cause you saw me do it, all of a sudden it's me?! Explanation (spoilers)

A line from the stream that many have brought up with the reveal "Albedo" had attacked Eula and Joel, but claimed he did no such thing.

"Shadow Amidst Snowstorms" is just a game of Among Us Explanation The whole premise of the "Shadow Amidst Snowstorms" event is that the Adventurers' Guild is holding a training camp in Dragonspine where a duplicate of Albedo sabotages the area and tries to kill off people with any kind of connection to the real Albedo. Combined with the other Among Us memes above, players associated the event with Among Us, with Albedo as the Impostor and everyone else as Crewmates.
The Thing Explanation Due to the fact that the

Fellflower can consume, takeover and replace a person

, a lot of players became unnerved at the prospects that Joel's father for example, may actually not be the real thing. As such, a lot of comparisons have been made to John Carpenter's Horror Film, The Thing. Comparisons to Invasion of the Body Snatchers and Mandela Catalogue have also been made, with someone even making a parody based on the latter.

Elsa!Albedo / "The cold never bothered him anyway" Explanation (Possible spoilers!) The trailer for Version 2.3 had the shocking scene of Albedo seemingly fighting against Eula, Bennett and the Traveler, with Cryo attacks instead of his actual, golden Geo elemental powers. Cue the fanart of Albedo wearing Elsa's dress, followed by Khoi himself doing a cover of "Let It Go". Then, when the actual event came around, at one point Sucrose remarks that "the cold doesn't seem to bother [Albedo] at all," bringing the meme full circle.
"Protect Klee (and Sucrose)" Explanation (Spoilers for Season 1 of Fullmetal Alchemist!) Due to Albedo's profession as an alchemist, jokes have spawned where Albedo recreates the scene from Fullmetal Alchemist where Shou Tucker creates a chimera with his daughter and pet dog. For those unaware, it is quite morbid. While Klee is often portrayed in the role of Nina Tucker, Sucrose occasionally is added due to her animal ears and close connection to Albedo.
Albedo's phobia of seeing red and blue together Explanation

The CN fandom noticed that 2 of the limited-time events that Albedo appeared in also features a ship consisting of characters associated with red and blue, from Diluc and Kaeya in the 1.6 Midsummer Islands event and Eula and Amber in the 2.3 Shadows Amidst Snowstorms event. Thus CN fans joke that Albedo is tired of being stuck with red-blue couples whenever he goes.

Amber:

"Amber's upset that you consider her bad!" Explanation Once most of the tier lists cemented Amber as the Memetic Loser of the initial release (despite being one of the game's Series Mascots and someone who has plenty of fans), quite a bit of art, memes and whatnot shows her being upset at the opinion and promising the Traveler that she'd do better. This has resulted in even more loyalty toward her.

"Useless Amber" Explanation A snowclone of the "Useless Aqua" meme from KonoSuba, with fans quickly drawing Amber in the style of the "Aqua Crying" template.

Baron Bunny Dancing.Explanation

Amber's doll, Baron Bunny, has a meme-worthy dance that usually caps off with an explosion.

Amber Mains Explanation

Because Amber is considered the weakest character in the game (Barbara isn't counted due to being a pure-healer), people who use Amber as their primary damage dealer are frequently joked about having god-tier patience, skill, or even insanity.

Arataki Itto:
Barbara:

Depressed Barbara Explanation

For unknown reasons, version 1.3 changed Barbara's English combat voice lines. The new ones sound noticeably less upbeat and peppy, leading to jokes and fanart about her becoming unhappy, disillusioned with being an idol, or imitating Rosaria (a fellow member of the church with a chronic devil-may-care attitude).

Beidou:

Beidou hosts Fight Club Explanation Players have taken note of the uncanny resemblance of the Crux Clash with Fight Club.
Hey, Check you out! Looking Pretty Fancy. Explanation

Beidou's line in Lantern Rite 2022 that steals many fans of Beigguang Shippers. In context, Beidou catches a glimpse of Ningguang's new outfit in this event.

Bennett:

The Bennett Banner/The real 5-star is Bennett Explanation

The character banner for Albedo in version 1.2 also had Bennett, Sucrose and Fischl as featured 4-star characters. The aforementioned three, especially Bennett, are highly sought after as good supportive characters, whereas people were skeptical about Albedo as, prior to 1.2, he was only mentioned in characters' voicelines, and the Geo element as a whole tended to be looked down upon at the time, especially after the whole Zhongli fiasco. Said meme also made a comeback during Keqing's banner, given that not only is she available in the permanent banner, she's not even a 5-star that many are interested in, some even outright calling her "the worst 5-star". Bennett was, of course, one of the featured 4-star characters, alongside Ningguang and Barbara.

Bennett is a 6-star Explanation Because Bennett is considered to be one of the best characters in the game despite him being a 4-star character (even being considered to be better than a good amount of 5-star characters), fans sometimes joke that Bennett is secretly a 6-star character.
Bennett is the Pyro Archon Explanation Following up with the above, Bennett could easily be said to be on-par with, if not more powerful than, the actual gods.

Candace:

Who's Candace? Candace Nuts- Explanation There is a "What's a Henway?" joke on the internet involving someone asking "who's Candace?" and replying with "Candace nuts fit in your mouth". Fans were quick to make the connection to the gag. Cyno and Nilou were also revealed with her but have been seen in previous promotions, so one would ask who she is which sets up someone to deliver the punchline. It also set a record for fastest Discredited Meme in the game, as the joke appearing on every single post featuring Candace led to fans getting sick of it and mocking it mere hours after her announcement.
MOOOOOM! Phineas and Ferb are overthrowing Celestia!Explanation Due to sharing a name, Candace has been memed as Candace from ''Phineas and Ferb''. Since Dottore is a mad scientist who is one of the main antagonists in Sumeru's story arc, he has also been depicted as Dr. Doofenshmirtz.
Millenium CandaceExplanation Candace's shield has led to obvious comparisons with Yu-Gi-Oh!.
Kan-da-keExplanation

After the nauseatingly plentiful "Who's Candace?" jokes, fans took to intentionally mispronouncing her as "Kan-da-ke" in revolt.

Chongyun:

Reptilian Chongyun Explanation Ever since the reveal of the vishap people theory, players have been making joke theories about characters with vertical pupils such as Chongyun being reptilians. This was further expanded to other types of eye designs, such as Hu Tao being a regisvine due to her flower shaped pupils.

Collei:

Collei went to therapy Explanation With how upbeat and cheerful Collei is shown to be in game compared to her Troubling Unchildlike Behavior from the webcomic, fans have joked about how she received therapy prior to her appearance in the game.
Protect Collei at all costs! Explanation

Because of Collei's sweet personality, innocence and PTSD from the manga, the majority of Genshin players felt overprotective of Collei; becoming pretty upset if anyone attempted to lewd her.

Dendro Amber Explanation

Due to Collei's admiration and respect of the Outrider, who while having a terrible kit in-game is admittedly very strong lore-wise and is very loving and dependable, and Collei's own tragic backstory and cheerful personality, fans took to calling her after her idol unironically.

Don't let Collei see this Explanation

Collei is the first character to use the word "cringe" in game, in response to light novels that remind her of her past. Therefore, "Don't let Collei see this" has become a common response phrase to someone posting something cringeworthy.

Collei invented the bra Explanation Out of the many female characters who wear a Sexy Backless Outfit, Collei is so far the only one to wear what looks like a bra underneath. While justified (otherwise she'd be showing some Sideboob), fans were quick to run with the joke that Collei is resposible for the creation of the bra in the world of Teyvat.

Cyno:

Yu-Gi-Oh MemesExplanation With the release of the 3.1 trailer and the confirmation of a Genshin trading card game, combine with the heavy Egyptian theme and voicelines that confirm that Cyno is a TCG-addict. A cavalcade of memes came pouring out linking Cyno with nearly every single Yu-Gi-Oh meme. Moreover, memes with Cyno and Candace playing Yu-Gi-Oh also became popular ever since the reveal.
r/ThanksCyno/"Found Cyno's Account" Explanation

Due to Cyno's tendency to make "dad jokes" and then explain them, Reddit users will use the above to respond to comments making terrible puns or providing superfluous explanation for irony in a similar fashion to r/woooosh.

ScarabsExplanation

Cyno's ascension local specialty are Scarabs, which are probably the most annoying local specialty in the game to farm. They spawn singly, are widely scattered, are well-camouflaged and despawn if not picked up quickly enough. To make things worse, there are only 76 Scarab spawns, with approximately 40% gated behind the "Golden Slumber" questline, while Cyno needs 168 for full ascension. The only way to get Scarabs faster is to also harvest them from other players' worlds. Cue Cyno users frantically sending out co-op requests to find worlds where the host will let them collect Scarabs.

Diluc:

"Time for... retribution!" Explanation One of Diluc's Pre-Mortem One Liners when he uses his Elemental Burst. Expect this line to pop up whenever there's another situation where it would be appropriate for him to say this.
Jean's Beach Attire Explanation

Many fans accuse Diluc of visiting the Golden Apple Archipelago, not because of the Abyss Order, but because he wanted to see Jean wear her summer clothes.

Diona:

"KONO DIONA!" Explanation Fans of JoJo had a field day with the first three letters of Diona's name, resulting in superimposed edits of Diona's body but with Dio Brando's memetic face and line, such as this fanart. Usually used in the context of Childe's banner, which she also appears in; "You thought you'd get Childe, but IT WAS ME, DIONA!"

Dori:

Doricoins Explanation

After Dori was shown and description of her being a scammer and cheapskate was revealed on her character bio, memes and jokes exploded on Dori using 'Doricoins' (in reference to the real-world cryptocurrencies such as Dogecoin) as a way to potentially scam the Traveler and other characters off their profits.

Smug Dori Explanation

When the animated teaser trailer for Update 3.0/Sumeru Update was released, a scene of Dori looking unfathomably smug blew up as a giant meme template, as players liken her to Yae Miko, another super smug character in Genshin.

DESU WAAAAAAA! Explanation

Dori's JP character tic often has her heavily emphasizing this phrase in the end of nearly every single sentence. Fans of Dori immediately begin mimicking her talking style because they find it unique and funny.

Beast VIII DoriExplanation Dori's hilarious gremlin Japanese voice is thanks to Tomoko Kaneda, who also happens to voice Riyo Gudako of Learning With Manga!FGO infamy. If you're aware of who Riyo Gudako is, be afraid, for the true evil of Fate/Grand Order has invaded Teyvat, and she wants your Mora. And your primogems too.

Eula:

Sneezing Explanation Towards the end of Eula's promo video, she sneezes because Jean is talking about her behind her back (she's praising her, but Eula assumes Jean is talking bad about her). Many people found this cute and half-jokingly announced they would wish for her because of it.
End-User License AgreementExplanation

As soon as Eula's existence was revealed by leaks, people noticed the similarity between her name and the EULA acronym. People would occasionally call her "End-User License Agreement" to censor her name from people avoiding spoilers.

Eula's milk Explanation

During Eula's Story Quest, she gives Paimon a glass of "Warm Milk" while the player is on Dragonspine, aka the coldest location in the game. The fans practically ran with it.

Vengeance will be mine. Explanation Eula's Catchphrase, expect this quote to inevitably come up whenever discussion about Eula starts.
Eula's Thighs Explanation A little bit NSFW, but part of Eula's popularity is due to her outfit really highlighting her thighs; with massive indentations on her legs due to her thigh straps and leggings. Jokes amongst Eula fans on how badly they want to have their heads crushed by Eula's thighs due to how thick and long they are.

Faruzan:

Hatsune Miku in Genshin Impact?!Explanation

Faruzan's hairstyle is mint green twintails. As soon as her design was revealed, many fans compared her to the titular Vocaloid.

Fischl:

Blocks of Text Explanation

Fischl is known for speaking in long lines of dialogue, containing verbose and unnecessary literary stylistic devices. The Oceanid is also known to be the only overworld boss to have lines of dialogue throughout the boss fight. Players have often expressed annoyance at the Oceanid's dialogue. This caused the players to post images that have large blocks of text next to Fischl and the Oceanid. The weapon Elegy for the End also became infamous for its ludicrously long effect description, and pops up in memes alongside them.

2.3 Artifacts Explanation

Jokes about the blocks of text have resurfaced with the newly announced artifact sets for Version 2.3. Players have taken note of how the descriptions for artifacts have increasingly gotten longer throughout versions.

Wordy NPCs Explanation

Players frequently joke about NPCs being very wordy and having their dialogue skipped by the Traveller who just wants to do their quest as fast as possible and collect the rewards.

Fischl is a Stand User.Explanation Her raven familiar Oz appeared out of nowhere when Fischl got her Vision, and is implied to be a physical manifestation of her power. Fischl also likes to pose ostentatiously, just like all Stand Users.
Me and mein Fraulein at 2am looking for beans Explanation

One of Fischl's stories has Oz sharing a meal with her family and enjoying the beans served. The fanbase wouldn't have found it funny if not for beans being a highly meme-able food.

Fallen Rosemary Explanation When Fischl's new alternate Skin was revealed, people have noted how similar it looked to Rita Rossweisse's "Fallen Rosemary" Battlesuit, leading to people joking that Rita helped Fischl with the outfits design.

*Insert Spiderman Pointing Each Other Meme or Persona 4 Music Here* Explanation

One of the spoilers that occurred in Fischl's mirage without context.

Ganyu:

"Luxurious Chest" Explanation One of Ganyu's voice lines has her ask whether you would rate her as a Luxurious Chest or Common Chest. While she's clearly using the types of Inexplicable Treasure Chests as an analogy for the quality of her work performance, many players found it more amusing to treat this as a reference to her breasts. In particular as a veiled case of A-Cup Angst compared to other Liyue characters like Ningguang and especially Beidou who have larger chests than she does.
Eating Qingxin flowers Explanation Qingxin flowers are one of the items required to "ascend" her to higher level caps. It's mentioned in one of her voice lines that she eats them, even though most people in Teyvat don't consider them edible since they're very bitter. She can frequently be seen eating the flowers in fanart.
Thicc Explanation

A common joke about Ganyu is about her having a large rear. This was because of her story that talks about how her waistline is what caused a monster to choke to death while swallowing her and Cloud Retainer telling stories about how she was a fat baby.

Ganyu's Rear/Milk Explanation True to her nickname, NSFW memes exploded due to Ganyu's similarities with Qiqi's hunt for the legendary Cocogoat adeptibeast. Expect memes insinuating or highlighting Ganyu's breastmilk. If fans aren't talking about Ganyu's chest, they will most likely talk about Ganyu's other assets. Often being linked to the abovementioned Thicc meme which exaggerates or jokes about Ganyu's butt; usually with Ganyu stripped to nothing but her leotard and tights to further highlight the point.
Ganyu plush Explanation This bizarre plushie of Ganyu has become very memetic, with people either finding it terrifying or Ugly Cute.

Hu Tao:

WHO TAO? Explanation Originating from the official English Twitter account as a response to someone who comments about Hu Tao on the announcement of Version 1.3's trailer. Hu Tao, The Unseen character who is Zhongli's boss in the Wangsheng Funeral Parlor, is very popular with the fans despite her lack of screentime due to the Content Leak about her design, voice lines, and gameplay info. In particular, leaked info said that she would be coming in 1.3 along with Xiao. Then the trailer came out, which shows only Xiao as a new playable character as well as Keqing getting her own story quest and her own rate-up banner after Xiao. Hu Tao was nowhere to be seen or mentioned in the trailer. Her fans, naturally, reacted with different levels of disappointment; many jokes then popped up about her absence, such as parodying the "Why's Gamora" meme from Avengers: Infinity War, how Qiqi is happy that Hu Tao isn't released (yet), how she is actually pranking her own fans, or changing the "Lumine going away from Aether" scene with her in place of Lumine, etc. She was eventually released later on in 1.3, however.
Hu Tao says ExplosionExplanation Due to Hu Tao sharing a Japanese voice actress with Megumin, there have been numerous fanarts and edits of Hu Tao casting Explosion.
You've been pranked! Explanation

During Hu Tao's story quest, she performs an exorcism to lift a person's curse. Once the exorcism is done, however, she reveals that the person was pranked, that the exorcism was just an act, and the curse was most likely just a general illness. Expect the line to show up when, well, someone gets pranked.

Healing Hu Tao Explanation

Hu Tao's kit relies on keeping her health low which in turn boosts her damage. A common way to troll Hu Tao players in co-op is to heal her back to full health before she does it herself with her burst. Plenty of memes and fan art like to depict Qiqi being the one to heal her as payback for her mistreatment.

Who? Tao, yeah. ...what? A commonly referenced video from around the character's initial release featured various mobs and bosses from the game talking about "the newly released 5-star" in such a manner. It crops up quite often in threads as a chain of replies where Hu Tao is the subject.
Business is Booming. Explanation

Whenever there is a shitpost or a meme based or jokingly implied on an in-character death. Expect memes on Hu Tao budging in and saying this infamous quote.

Jean:

"Dandelion Tights" Explanation In a question-and-answer session, Swan of the Knights of Favonius asks you Jean's official title, and one of the answers that you can give him is "Dandelion Tights" (a pun on her title of "Dandelion Knight"). The fandom then uses this phrase a lot when Jean's fanarts or fanservice are brought up.
"Gale Blade = Yeet" Explanation

Jean's Elemental Skill, Gale Blade, can pick up enemies and launch them. Cue "yeet" jokes.

Kaedehara Kazuha:

"Is this your twin?" Explanation

As soon as images of Kazuha were leaked fans were quick to notice the resemblance between him and the male Traveler, leading to many jokes of other characters (most commonly Beidou) presenting him to the Traveler thinking he's their missing sibling.

Cramped namecards Explanation Kazuha was the first of many characters to have his full name "Kaedehara Kazuha" used by the game rather than just Kazuha, which looks funny for many players due to the text being cramped in the party selection icon. Because Kazuha's complete name is displayed, many players have been visualizing other character's namecards in the party selection with their complete names or silly titles given such as Tone-Deaf Bard Venti, Jean Gunnhildr, or the popular The Prinzessin der Verurteilung, Fischl von Luftschloss Narfidort.
Kazuha the Dog Explanation

Due to Kazuha's very acute sense of smell that he sometimes likes to describe in flowery prose, fans joke that Kazuha is a glorified human dog or a creepy sniffer.

Kaeya:

Kaeya's Journey to Inazuma Explanation

A popular use of Kaeya's Elemental skill is to cross large bodies of water due to its low cooldown and generous range. Upon learning about needing Beidou's ship to travel to Inazuma and seeing leaks of the region's placement on Teyvat's map, many fans joked about using Kaeya to cross the ocean on foot using his ice bridge. (As it turns out, actually trying to do this will get you struck by lightning from the perpetual storm the Raiden Shogun has put up around Inazuma.)

Acting Acting Grand Master Explanation

In the 1.6 event, Midsummer Island Adventure, Jean puts Kaeya in charge of Mondstadt when she goes to the Golden Apple Archipelago. Since Jean, the Acting Grand Master, was put in charge by Grand Master Varka during his expedition, players have started calling Kaeya the Acting Acting Grand Master.

Acting Acting Acting Grand Master Explanation

In Act 3 of Midsummer Island Adventure, Kaeya arrives at the Golden Apple Archipelago. He tells Jean that he put Lisa in charge.

Kaeya Edit Explanation Youtube user Blueakrasia posted a twenty-eight seconds long animation edit of Manga!Kaeya to the song ''Supermassive Black Hole''. For whatever reason, the edit became very popular to fans, to the point where they started to spam about the edit, Kaeya and/or Genshin in general on unrelated Youtube videos containing the song.
Kaeya and Albedo taking advantage of Jean's holidayExplanation After the announcement of the 1.6 event Midsummer Island Adventure in which Jean, Barbara and Klee go on holiday, there have been jokes about Kaeya and Albedo putting Khaenri'ah's plans into action during their absence. Made somewhat Hilarious in Hindsight when both of them appeared in the event.

Kamisato Ayaka:

"Where's Ayaka!?"/"Ayaka Soon?" Explanation Ayaka made an official (yet brief) appearance as early as the Announcement Trailer on June 2019, while the Teyvat Chapter Storyline Preview Trailer revealed her full name. The first trailer brought expectations that she was already fully-developed in terms of gameplay, but to the fandom's surprise (or disappointment), she didn't actually appear alongside the initial roster when the game launched. In a similar vein to the "Klee Doko" fan catchphrase, this led to some fans constantly asking where she is at launch, or what Version would she be added later on. Ayaka's banner eventually premiered with the 2.0 update.
"I AM THE STORM THAT IS APPROACHING!" Explanation The fandom usually associates Ayaka with Vergil-related Devil May Cry memes, nicknames and quotes. A common trend involves DMC fans mentioning the lyrics of his Image Song on Ayaka-related content.
"AYAYA" Explanation A meme from Touhou Project (originally for the character Aya Shameimaru) that Genshin fans borrowed for Ayaka as a simple play of her name. Fans like to spam "AYAYA" comments in any media that features Ayaka.
Big forehead Explanation

Due to photo edits removing her bangs or measuring its size, many fans have been making fun of Ayaka for having a massive forehead.

Sea turtle Explanation A Redditor points out that the shadow created by Ayaka's skirt looks like a sea turtle when swimming. The joke becomes funnier to many players using her because Ayaka's sprint is used to cross large bodies of water quickly.
Ayaka's wet socks Explanation

Ayaka dances for the Traveler in a body of water at the end of her personal quest. While touching, many players noticed that she kept her socks and sandals on and quickly made jokes about how uncomfortable it must be or that it's the reason Ayaka has no friends.

"Yandere Ayaka"/"Just Ayaka"Explanation

Due to Ayaka's desperation for a friend in her story questline, fans humorously ran with Ayaka actually being romantically desperate. This was further exaggerated with a captcha image of Ayaka's face wide eyed whilst smiling psychotically; immediately catapulting Ayaka to yandere status who is violently obsessive with the Traveler.

The Eternal Ayaka BannerExplanation When the launch of version 2.7 was delayed, Ayaka's 1st re-run banner ended up being extended to 240 days at the time of the announcement. While the "240 days" period is just a placeholder, a lot of people joke about Ayaka's 1st re-run banner lasting forever, which also ties in to the Yandere Ayaka/Just Ayaka meme above.

Ayaka is the actual God of Eternity.Explanation

Relating to this, a bunch of people joke about Ayaka being the actual God of Eternity (and not the Raiden Shogun).

Kamisato Estate: Highly Dangerous Explanation

Another extension to the Yandere Ayaka memes. When players first visits the Kamisato Estate, it would be highlighted as 'Highly Dangerous' (all high-level regions, including settlements with no enemies, are labelled as such, and Inazuma has a difficulty spike). This statement has now reached new levels of ridiculous due to being always paired with the aforementioned Ayaka memes; often being viewed as Ayaka's personal sex dungeon.

Kamisato Ayato:

Ayato sus Explanation When Ayato was revealed to share his Japanese and Chinese voice actors with the infamous Otto Apocalypse, Honkai Impact 3rd players started joking about being immediately wary of Ayato. Helped also by the fact that Ayato himself has proven to be a crafty and even ruthless schemer himself.
"Ayato is part horse" Explanation

Discord user, abc69, while replying to a fan who wanted Ayato leaks, jokingly said that he was part horse. The "leak" spread like wildfire.

Tabibito! Continue the Kamisato bloodline! Explanation A popular joke involves Ayato trying to arrange a marriage in varying degrees of hilarity and insanity between the traveler and his sister Ayaka so that they could continue the Kamisato bloodline in a way similar to Chris Redfield and Silver Ash memes.
Boba Tea Explanation

Ever since one of Ayato's idle animations was revealed, specifically the one of him pulling what appears to be a cup of boba tea out of his coat sleeve and drinking it, artists had a field day making fanart of Ayato drinking or otherwise obsessing over the stuff.

Childe hates Ayato Explanation

Likely due to Childe's status as the only full-on Hydro DPS Unit at the time and his popular pairing with the Traveler (who fan comics will use to represent players when it comes to rolling for new characters), jokes quickly abounded upon Ayato's reveal about Childe being murderously jealous of him due to the possibility of getting replaced as top Hydro DPS, which is often represented by Ayato seducing the Traveler.

Faceless Ayato Explanation A creepypasta trend originating from the Russian Genshin community on Tik Tok, this one features Diona encountering Ayato's rather creepy, blacked-out face with just his souless blue eyes due to a bug. Fanarts and dialogue memes may depict faceless Ayato haunting Diona from behind.

Keqing:

"Keqing got buffed in the wrong game."Explanation After miHoYo announced the upcoming Honkai Impact 3rd x Genshin Impact collaboration by showing clips of Fischl and Keqing in Honkai Impact 3rd, players quickly pointed out that Keqing's attacks in that game were much flashier than her Genshin counterpart.
Eating Cor Lapis Explanation

Similar to Ganyu above, many fan artists jokingly depict Keqing eating one of her ascension materials, Cor Lapis. While the joke also applies for Zhongli and Chongyun as they too need it to ascend, Keqing is the most common target because of the ridiculous mental image of a refined young woman such as her munching on a rock.

Golden Shrimp Balls Explanation Keqing's Trademark Favorite Food, which becomes much more apparent during the events of the Moonchase Festival as many of her antics revolve around the dish. As such, fans and artists like to exaggerate her obsession for Golden Shrimp Balls beyond what was shown so far.
[Insert Element]-Keqing Explanation

Though Keqing's kit is geared towards Electro damage, a highly popular build for her early on was to spec her into Physical Damage due to being an Electro character whose infusion is optional. In addition, Keqing is one of the only characters whose elemental infusion ability can be overriden by charcters such as Chongyun, Candace, and C6 Bennett that provide team-wide infusions on their attacks. This makes her a frequent pick for element-changing shenanigans.

Klee:

"KLEE DOKO?!"/"Klee is in solitary" Explanation Notably, Klee wasn't actually in the initial gacha lineup for the game's launch, despite having been in the beta tests and despite characters announced much later than her (including those announced a mere month before the game's launch) being in. Given that Klee is, in-universe, often put in a kind of mock solitary confinement for her experiments almost blowing up Favonius headquarters, the jokes write themselves. Became Hilarious in Hindsight when the trailer for her banner dropped, revealing that's exactly the case.
"And that's how Klee was born." Explanation The Jean x Diluc (Jealuc) shipping is also paired with the fan theory that Klee is their biological child, so every time Jealuc content is posted online, this phrase is commonly used.
Klee hates Diluc. Explanation

In Klee's voice lines about other characters, she calls everyone "the best" or otherwise gives positive remarks about her relationships with them... but when asked about Diluc, she calls him "one of those weird grown-ups". Fans then joked about how she hates Diluc.

Klee's drawing Explanation Klee's PV has her hold up a drawing of how mean old Jean keeps her locked up in solitary confinement to the Traveler with the sweetest smile, and usually for good reason. People love taking that clip and photoshopping what she's holding, turning it into a reaction image of sorts.
Oomfie Explanation

A pre-existing term for followers on social media, which for some reason became associated with GIFs of Klee labeled "Oomfie" in mid 2021.

Klee blowing up / soloing the Geovishaps Explanation

On July 27th, Klee's birthday for many players, she gives the player a Juvenile Jade, the exclusive boss drop from the Primo Geovishap, as a gift. And since Klee is mostly inferred to be alone during this event, the fans started to go wild with the revelation that Klee somehow blew up a Primo Geovishap.

The Klee Cannon Explanation

In Inazuma, in order to access one of the explorable areas, you have to use a giant cannon that creates giant explosions of Electro damage. Adding to this, it's one of the few objects in game that can damage Co-Op players in your world. Fans quickly started associating the cannon with Klee for obvious reasons.

Putting Klee's theme song in the background of character trailersExplanation Since Klee's theme is very vibrant and energetic, many fans put it in the background of more solemn and melancholic character trailers to create Soundtrack Dissonance.
Klee and Yoimiya destroying Inazuma togetherExplanation

After Yoimiya was revealed to be the owner of a fireworks shop, many people joke about Klee coming to Inazuma, and teaming up with Yoimiya there to destroy Inazuma. The jokes got picked-up even more so after the 2.6 trailer showed Klee coming to Inazuma for the Magnificent Irodori Festival with a pre-release screenshot showing that Klee will interact with Yoimiya there. Unfortunately for the two the Irodori Festival had a strict ban on fireworks and Klee was forbidden from playing with bombs by Albedo, but the two cheered each other up from their respective funks.

Kuki Shinobu:

Genshin took Volk from Dragalia Lost's fallExplanation When Shinobu was first revealed, many players noted her resemblance was to Volk from Dragalia Lost. Around the same time, Dragalia Lost announced its end of service, resulting in many of those fans claiming that Genshin designed a character after Dragalia Lost's and announced it when Dragalia announced closure.

Kujou Sara:

How it feels to chew 5 Gum Explanation In one of Sara's lines, she stated that her lucky number is five, so much so that she does nearly everything in fives, such as waking at 5:05, taking exactly five breaths before walking five laps around, eating exactly five mouthfuls of breakfast, and even stating that she likes the fact that Gorou, her Worthy Opponent, is the 5th born son (his name also has the Japanese word for five, Go). Fans remembered the brand name gum and its tagline ("Stimulate your senses") and ran with the joke.
Statue of Her Excellency, the Almighty Narukami Ogosho, God of Thunder Explanation During the Irodori Festival Sara very pointedly corrects the Traveler and Paimon when they refer to the Raiden statue being sold as a figurine by calling it this instead. Fans took this and ran with it by referring the figurine by its full descriptor every time it shows up or have Sara appear as a very defensive fan who corrects anyone who doesn't call it by its proper name. Even funnier since later on Ei herself casually calls it a tiny figurine when she sees it.

Layla:
Lisa:

"Moan-Lisa/Moaning Lisa" Explanation Lisa moans a lot, either when she gets hit or when she climbs around (which you will do numerous times). This became a frequent meme, with many fans recommending you to either turn the volume off or use headphones if you're playing as her in public. It's gotten to the point where even her Japanese voice actress calls her own character out for making lewd noises.
"Mona Lisa!" / "Painted by DaVenti"Explanation

Naturally, for anyone who manages to get Mona, the joke basically writes itself. Another popular joke references the painter, da Vinci, by making a pun out of Venti's name.

"69"Explanation

Lisa's birthday is on June 9th. Players quickly associated her with the number 69 in relation to the "moan" memes.
Playable Characters (M - Z)
Mona:

Mona is the Hydro Archon Explanation

The three currently released Archons have been noted to be broke, so players have been joking on how Mona being poor could mean that she's an Archon.

Begging Mona Explanation Due to Mona's poor financial management, she is always out of enough mora to pay for the bare essentials despite having a well-paying job. Fans took this on the opposite direction; often depicting Mona as a desperate beggar surviving on scraps. Due to her Ms. Fanservice reputation, some has taken a much darker connotation.
"HoYoverse lied to us!" Explanation (Spoilers for The Ancient Azure Stars) Since the game's release, fan-made content that didn't focus on her being Ms. Fanservice mostly revolved around Mona being broke. It was a big shock to many when the Summertime Odyssey event revealed Mona actually lives a luxurious and comfortable lifestyle, but is just extremely bad at managing her money because she spends it all on astrological instruments.

Nahida:

"Dook Dook/Dookie" Explanation (spoilers!) During the end of Act 2 for the Sumeru Archon Quest, one of the things Nahida/Kusanali does to help the Traveler's mental predicament is offering to "flush away the dook dook". Players took this as Nahida asking the Traveller to flush away his/her's own shit down the toilet and were immediately bemused at both the idea of literally shitting away your problems and the fact that Teyvat actually does have toilets.
Nahida Best Archon/ "real archons be like" Explanation (spoilers!) Also in the Sumeru Archon Quest, Nahida states that she doesn't feel like she is a real Archon. Cue the players memeing on the fact that the previous three Archons are, in order of introduction: a lazy drunk (Venti), a penniless scatterbrain in spite of creating money itself (Zhongli), and a traumatized NEET that was outright an Arc Villain (Raiden Shogun). Nahida in the meantime is breaking her back trying to undo the Fatui's scheme despite being sealed away and weakened - despite her humbleness, she's actually the most responsible of the Archons so far just by virtue of actually doing her job. Come 3.2, fans would further heap praise onto Nahida for actually being able give the Traveler some shockingly significant information about their sibling.
Plants vs. ZombiesExplaination If she and Qiqi were to ever fight. Bonus points for both characters being voiced in Japanese by Yukari Tamura.
Make the Radish cry, YOU DIE.Explanation (Spoilers) The trailer for Version 3.2 has a particularly heartbreaking moment where Nahida breaks down in tears, leading to an enraged fanbase demanding to know who made her cry in order to exact bloody retribution, with the common targets being the Sages of the Akademiya, Scaramouche, and Dottore.

In the end, it actually came true: Greater Lord Rukkhadevata was the one to make Nahida cry because she offered to sacrifice herself for Sumeru, then memories of her existence were erased.

Nahida, uniter of the Genshin fandom.Explanation (spoilers) With everything Nahida has endured and suffered through, especially in her character trailer for 3.2, the normally rather divided Genshin fandom proceeded to agree on one thing: The Sages of the Akademiya must pay for what they did to her.
Caught in 4KExplanation The held version of Nahida's Elemental Skill has put her fingers up in a way that's like taking a picture. When Nahida is brought up, expect to see this at least one, especially if someone is deemed to be acting cringy.
Auntie/Therapist Nahida/Nahida is Scaramouche's new momExplanation (Spoilers for Sumeru Archon Quest Act V!)

After defeating Shouki no Kami, Nahida opts to take the comatose Scaramouche into her custody and reassures the Traveler that she will ensure that he won't commit any more evil. As this is more care than Ei herself had ever given Scaramouche, the fandom immediately latched onto the idea of the newly christened Wanderer declaring that Nahida is his new mom.

Nahida Aizen/"Since when were you under the impression I wasn't using my powers?" Explanation (Spoilers for Sumeru Archon Quest Act V!) Near the end of Scaramouche's bossfight, Nahida reveals to Scaramouche that she had essentially trapped him in a mental loop for over 130 times so that the Traveller could learn his tricks and defeat him. The fact that Nahida basically did a reverse Subzeruz Festival at the beginning of the fight to Mind Rape Scaramouche has caused some fans to compare her and overlap with Bleach's villain, Sosuke Aizen, who was infamous for his asspulls.
Nahida's True Form Explanation

The name of the Dendro Archon is Buer, which is also the name of a demon from Ars Goetia. Genshin!Buer is Nahida, the adorable little elf girl while Demon!Buer is, fittingly, a demonic lion with goat legs surrounding its head. The sheer contrast between two characters of the same name has been memed by the fandom, with body parts of Nahida's model edited to look like the demon. It should be noted that Venti, Zhongli and the Raiden Shogun have not been compared to their namesakes as often as Nahida.

Akasha Twitch Chat Explanation (spoilers for Sumeru Archon Quest Act V!) During the fight against Scaramouche, Nahida has the Akasha compile the people's experience to help the Traveler. This has been likened by the playerbase to Nahida livestreaming the boss fight on the Akasha, with the people acting as backseat gamers arguing over what the Traveler should do.

Nilou:

Ayaka's Arch-EnemyExplanation Nilou's got some similarities to Ayaka which has caused some fans to make jokes that she (and occasionally Keqing) has declared Nilou as her archnemesis for Aether's love. The fact that both are 5* Dance Battlers who use swords in combat doesn't help.
Nilou's wet everythingExplanation A follow up to the "Ayaka's wet socks" meme, and more hilarious fuel for the Ayaka VS Nilou rivalry. In her "Dance of the Delicate Lotus" trailer, Nilou is shown laying down in a pool. Fans immediately joked that she did this to outdo Ayaka's wet socks by wetting all of her clothes.
MuriMuriMuri!Explanation When Nilou tells the Traveler that she's bad at debating, she says this in the Japanese dub in adorable fashion.
Masochistic Nilou Explanation Due to Nilou's special ability in gaining more power after being hit by her own bountiful core explosions, fans immediately characterize her as a dirty masochist akin to Darkness from Konosuba.
Nilou the Team KillerExplanation A fully built Nilou in her ideal team composition is among the most devastating DPS characters in the game, thanks to the sheer damage potential her Bountiful Cores can put out. Given that these are still Dendro Cores that explode for recoil damage, however... you'd absolutely require a healer to stay alive through all that surprisingly nasty recoil damage, leading to unexpected casualties if you're not careful. Players might compare her to Caboose, who is infamously known for this.
God, I wish I were SwoofExplanation In Nilou's character teaser, a dog named Swoof approaches Nilou and is pet by her before going in close to lick her. Many Nilou simps expressed their envy for Swoof.

Ningguang:

Choosing Ningguang.Explanation When meeting with Ningguang in the Jade Chamber, she offers to let the Traveler take one item from the room they are in as a gift. Since Ningguang is a popular character and she's in the room, many players have expressed a desire to pick her as their gift.

Choosing Keqing/Ganyu. Explanation

Relatedly, after beating Osial, Keqing offers to reward the Traveler with anything they can afford, saying "Name your price. You deserve that much." Many people joke about choosing Keqing or Ganyu as their reward.

5* Ningguang Explanation Fans have felt since the beginning that Ningguang, given her position and power, alongside the lack of a Geo 5* on Wanderlust Invocation, should have been a 5* character rather than a 4*. In fact, during development, Ningguang was a 5* character for quite some time. This meme became popular once again following the battle with Beisht, where she alone was able to unleash the same amount of firepower as a regiment of the Guizhong Ballistae or the Alcor.

Gate of Liyue Explanation

In the same cutscene, fans were quick to note how Ningguang unleashing her full power on Beisht is highly similar to how Gilgamesh fights using his iconic Noble Phantasm, Gate of Babylon.

"Playing chess" with Beidou Explanation During the Lantern Rite in Version 2.4, Ningguang explains how she pays Beidou for running errands and additionally compensates her in other complicated ways. Fans were quick to interpret this as "playing chess". The phrase spread rapidly and whenever the two of them have a Ship Tease moment, fans would cite that as evidence they're "playing chess" with each other.

Noelle:

C20 Noelle Explanation

With the first re-release of the Gentry of Hermitage event wish, Noelle holds the record for the shortest time between banners (just one), as well as being the first character to have their fourth rate-up on a limited character banner. Combined with her being guaranteed on the Starter Wish banner, many players joke about how they've pulled her so many times that they have her Constellation maxed out to ridiculous levels.

One Punch Maid Explanation Not only does Noelle canonically have Super Strength without in-universe explanation other than training, she also in her hangout event says that her training includes "100 push-ups, 100 sit-ups, 100 squats, and running two laps around Mondstadt as a morning routine." Since this is almost exactly the same training regime by which Saitama from One-Punch Man became the poster child for the Comically Invincible Hero (we don't know whether 2 laps around Mondstadt is 10km, it's probably close enough), the meme basically writes itself.
Beyblade Explanation

As the first Claymore user of many players, Noelle's charged attack is compared to a Beyblade especially when used against spinning enemies such as Blazing Axe Mitachurls, Andrius, and Geovishap Hatchlings. Even a popular strategy of Noelle requires charged attacks due to upgrades from her constellations.

2B Noelle Explanation As shown here, Noelle shares some animations with 2B from NieR Automata.
C6 Noelle/The Real Geo Archon Explanation Noelle is a well known Magikarp Power who, upon reaching her final Constellation, is a true force to be reckoned with between her durability, healing, and damage output. As such, a fully realized Noelle is considered a Memetic Badass surpassing the actual Geo Archon in power.

Qiqi:

"Wakaranai."/"Don't know." Explanation Qiqi's wild goose chase for the Cocogoat in Ch.1 Act 2 isn't helped by her not giving any remotely useful information for the Traveler's party to start on. What it looks like: don't know. Where to find it: don't know either. Where it came from: also don't know. Why your gacha luck is terrible: don't know. Why you are still reading this: don't know.
Cocogoat Explanation Qiqi's wild-goose-chase quest for a "cocogoat," which turned out to be a nonexistent creature that produces coconut milk, became a fan-favorite scene. "Cocogoat" is also a common fan-nickname for Ganyu, a character introduced shortly afterward who has goat-like horns.

"Cocomilk"/"Ganyu's Milk" Explanation As Qiqi associated the Cocogoat with coconut milk, some players then made innuendos and milk jokes out of Ganyu's "Cocogoat" Fan Nickname, often having Qiqi follow Ganyu around to procure some of the latter's milk.

Getting Qiqi'd Explanation

When a player gets a 5-star from a limited character banner, there's a 50% chance to get the featured character, with the other 50% being one of the 6 non-limited 5-star characters. Qiqi is generally considered to be the worst non-limited 5-star and thus the most infamous for appearing instead of the desired character. Thus, players semi-jokingly complain about how a character advertised in their trailer isn't as good as advertised, such as being much shorter, having a far lower DPS, healing despite not having such ability, or not using the same weapon/element.

Qiqi's Revenge Explanation As retaliation for the paltry rewards for Genshin's first anniversary in addition to miHoYo's general mistreatment of the fanbase, people started bombarding the game's Discord server with a sticker of Qiqi lying on her back, to the point where the mods had to implement a thirty minute cooldown for messages. People saw this as both the fans getting back at miHoYo for treating them like garbage, and Qiqi getting back at the fans for treating her like garbage by clogging up the server. Qiqi's rampage lasted for almost a week before the mods just outright removed the ability to use stickers.

Horned Angel Qiqi Explanation

An offshoot of the above, where fans added the Wings of Symphony and Fragile Resins given out as damage control to the above picture, making her look like an angel with horns made out of Resin.

Raiden Shogun:

Booba Sword Explanation

The 2.0 Trailer features a scene where the Raiden Shogun unsheathes her katana from her chest. Given how it was also the official first look at her, it naturally wound up catching the fans' attention.

Kazuha's friend was secretly a Baal Simp Explanation

After the 2.0 trailer, many jokes were made about Kazuha's friend just wanting to see the Musou no Hitotachi because the Raiden Shogun summons her katana from her chest.

Anti-Ice Bridge Explanation Several players had tried to use the "Ice-Bridge" method with the Cryo characters to reach Inazuma once the update came live... only to be met with a sudden thunderstorm and getting their characters shot by lightning and then forcefully teleported back where you came from, proving that the Gameplay and Story Integration of the Raiden Shogun surrounding Inazuma with storms is real. Many players joke about her having an Anti-Ice Bridge measure because of this.
Raiden can't cook. Explanation The Raiden Shogun can't be selected to cook meals, a trait that no other character has ever had. When people discovered this trait of hers in beta versions of the game, the idea of an imperious deity figure like her having such a human flaw struck a chord with the fanbase, especially since her Honkai Impact 3rd counterpart Mei is a great cook.

Raiden's friends died because she can't cook. Explanation After Raiden's teaser showed that she lost her three closest friends, fans took a darkly humorous twist on the above meme by saying that Raiden either killed them with food poisoning or was unable to make any food to revive them.
IT'S FUCKING RAW Explanation Obviously, her being unable to cook resulted in fanarts and edits of Gordon Ramsay yelling at her. Sometimes, Gordon Ramsay is replaced with Xiangling, who is a cook and was one of the 4-star characters on her first banner.

Ei is Mei minus the M Explanation The Raiden Shogun's real name, while meaningful and thematically appropriate for many reasons, is also one letter off from Raiden Mei. People began to joke that the other Honkai Impact 3rd expies would have names that were one letter off from their Honkai counterparts, such as Iana Aslana for the Unknown God or Murata Imeko for the Pyro Archon. Then

it's revealed that she once had a twin named Makoto, i.e the true Baal; fans then joke that the missing "M" stands for Makoto

.
Crying Raiden Explanation After a number of fan-comics were made depicting the Raiden Shogun as a child that cries at almost every opportunity (such as getting stuck on the roof after her Character Reveal Trailer, or not knowing her own name) fan-artists quickly started to draw her in the chibi style and making her much more "cutesy" than she is in canon. Funnily enough, Ei's actual personality turned out to be something not unlike this interpretation, as the stoic Raiden Shogun is actually a robot built to house Ei's essence.
F2P Raiden Mains are anglers Explanation

2.1 came with the release of Raiden as well as an F2P weapon for her, "The Catch". In order to obtain "The Catch" and its refinements, you must fish a lot of different types of fish. Due to the slow respawn rate of fish, F2P Raiden Mains attempting to obtain "The Catch" have gained a reputation of spamming co-op invites to fish from other people's world. Even more mayhem ensued as sometimes both parties are interested in the fish which lead to races between players stealing fish and hosts kicking the thieves.

Ligma Baals Explanation

A spin on the "ligma balls" wordplay meme, but with the Raiden Shogun saying it.

Leaker Hunt Decree Explanation

In 2.1, after the release of Raiden Shogun, miHoYo started seriously cracking down on leakers, and most major leakers' accounts were deleted. Players joked about the Leaker Hunt Decree and depicted miHoYo as the Raiden Shogun.

iPad Air Commercial Explanation The new iPad Air commercial features Genshin Impact being played on it to demonstrate its capacity to handle a high CPU-demanding game. The memetic clip in question shows the Raiden Shogun using her Burst on the Thunder Manifestation, who is immune to Electro. Eagle-eyed viewers will also notice the other party members consist of (presumably) Electro Traveler, Keqing, and Yae Miko.
Valley Girl Raiden Shogun Explanation Anne Yatco and Zach Aguilar joked on stream about Raiden Shogun talking like a valley girl, complete with Anne saying "You will be inlaid upon this statue" with a valley girl accent. The audio quickly found use on TikTok.
Chibi Hugs Explanation Another memorable part in Ver. 2.5 Livestream. [1] Cue any Meme Animatics that features Raiden Ei & Yae Miko.
Ei ChanclaExplanation Since Ei is more or less Scaramouche's "mother", many, many jokes were made at how Ei would discipline Scaramouche like the unruly kid he is with her slipper.
Raiden Ei, Neglectful Electro MommyExplanation Raiden Ei is responsible for creating her robotic puppets. One of her creations is Kunikuzushi, who became Scaramouche, the 6th Fatui Harbinger. Even Scaramouche explicitly refers her as his mother in a cutscene. The other is the robotic copy who exactly looks like herself, Y'know, the Raiden Shogun who becomes the tyrannical figure in Inazuma. While Raiden Ei still locks herself up in Plane of Euthymia. She may be responsible for creating problems, including these baddies.

Razor:

"Where is the Unseen Razor?" Explanation This is the name of a daily commission that can be given in Liyue, even though Razor himself has nothing to do with it. However, between Kazuha's debut banner in 1.6 and Ayaka's rerun banner in 2.6, Razor wasn't a featured character on any Character Event Wish, leading fans to ask this question whenever a new banner was revealed. It should be noted that Razor's rate-up absence lasted 13 banners, the longest of any character so far (not counting Amber, Kaeya, and Lisa).
Razor's Harem Explanation For a very long time up until the annoucement of Cyno as an upcoming playable character, if the player didn't pick Aether at the beginning, Razor was the only male Electro user in the game. Memes start to prop up that Razor unintentionally created his own harem, but due to his Wild Child nature, he has no idea what to do with the situation.
Razor language pls Explanation

Due to how long and wordy certain artifacts and character skills are in Genshin, certain players may utter this word as a form of Tl;dr (Too long; didn't read) under the pretext that - like Razor - they are too uneducated/lazy to understand.

Rosaria:

"Horny Benevolence" Explanation The 1.4 preview stream revealed Rosaria and her tagline, "Thorny Benevolence," i.e. Jerk with a Heart of Gold. Some people immediately noticed that if you cover up the T, you get... a phrase with a very different meaning. Related to her being an obvious Ms. Fanservice and an earlier meme about her, uh, assets being "nerfed" in beta testing.
Rosaria can't spell "Barbatos." Explanation In Rosaria's comment regarding the wind blowing, she's unable to spell Barbatos, the Anemo deity. It's so hilarious that many fans compare her with Inosuke, who frequently misspells Tanjiro's name, etc. Thus, whenever the name Barbatos is brought up, expect it to be intentionally misspelled in response.
Mondstadt Team Rocket / Team Cryorocket Explanation After Rosaria came out, fanartists noticed that pairing her with the other two 4-star Cryo users from Mondstadt makes for a group oddly similar to the infamous Goldfish Poop Gang from Pokémon—Rosaria as Jessie, Kaeya as James, and Diona as Meowth.

Sangonomiya Kokomi:

The Fatui Harbinger in disguise Explanation

In the 2.0 trailer, Kokomi says "The wait is over, my comrades!" Her use of the word "comrade" has sparked numerous jokes about her being a Fatui since the other character who uses that word is Childe.

"Kokomi Can't Critical-Hit" Explanation Kokomi's base CRIT Rate is negative one-hundred, which means she is unable to deal critical hits. This revelation caused plenty of skepticism (and jokes) towards Kokomi due to the DPS-favored meta which involves CRIT Rate and Damage as substats for artifact builds.
"Kokomi's Fishy iPhone" Explanation One of Gorou's idle animations involves him grabbing a box, opening it up and having a fish pop out behind a blue watery portal. Many have alluded the fish to be Kokomi's way of communicating, but the sheer absurdity of it has led to jokes and image captchas on what the fish is actually saying.
The Art of War Explanation Kokomi's skills are supposedly in the art of war, but a lot of her "smart" quotes boil down to common sense. Notably, her quote "Our aim is to hit the enemy hard while minimizing casualties", is common sense for any sane leader.
"Cockomi" Explanation An intentional mispelling of her name that is frequently used on r/okbuddygenshin and occasionally other subreddits.

Sayu:

"Casually Approach X" Explanation

Sayu's passive talent prevents creatures from being alerted to your presence when you approach them. Cue players (especially who play on mobile) rejoicing after realizing they can easily gather Crystalflies, Crabs, and Timmie's pigeons.

Sayu swearing Explanation Upon learning Sayu's English voice would be provided by LilyPichu, fans presented a mockup of Sayu using pre-existing lines of Lily swearing and shouting.
''Tryna catch me riding dirty" Explanation

Sayu's Elemental Skill allows her to continuously roll around. While intended as an attack, it can be used as transportation due to its long duration, reasonable cooldown, and lack of stamina consumption. Only a day after Yoimiya's banner release, Sayu has spawned plenty of "They see me rollin'" jokes and memes.

The Sayu banner. Explanation

Much like the Bennett example above, players were skeptical of Yoimiya due to being yet another Pyro DPS, of which the game already had an abundance of, which thus made her feel redundant. Sayu, meanwhile, was praised for her fun, high-speed gameplay as well as being a 4-star Anemo user (and the first one since launch to boot; prior to her release, Sucrose was the only one), which led many fans to declare that Sayu was the real star of the banner.

Shenhe:

Ganyu's shirt Explanation

When Shenhe was revealed to be an upcoming playable character, fans noticed she wears a bodysuit similar to Ganyu's and that the top looks oddly similar to her dress which many concluded and joked that the two of them are wearing two halves of one outfit.

Casual Homicide Explanation During Shenhe's introductory video, she casually explained how her soul was bound by Cloud Retainer to dampen her homicidal tendencies. Just the sheer way Shenhe just casually blurts out her literal psychotic side as if it was nothing immediately made her popular with memes. With fans depicting her as a sociopath or a yandere.
Shenhe is Chongyun's big sister Explanation

Due to the fact that they both come from a family of exorcists, are both cryo users and are both from Liyue, a lot of fans speculated that Shenhe was Chongyun's older sister. Come Shenhe's character trailer and it confirms it to be quite close, with Shenhe being Chongyun's auntie instead.

Auntie Shenhe Explanation Following the reveal that she actually is Chongyun's blood-related auntie, fans were quick to jump on the idea of Shenhe being both very close with and very protective of her nephew.

Shikanoin Heizou:

Inazuma Football/Inazuma Eleven Explanation

Because of his artwork pose, many joked that Heizou looks like he is participating in FIFA. Que jokes and image cropping of him playing football/soccer with other Genshin characters. This joke reached memetic status once leaks showed that his ultimate literally involves him kicking a ball made of anemo.

"I cast fist!"/"Anemomachines son! They harden in response to physical trauma!" Explanation

Heizou is not only the first male catalyst user but the first CQC catalyst user in which he uses anemo to enhance his martial arts. This spawned a metric ton of memes on Heizou being a physical catalyst user to frequent comparisons to Senator Armstrong of Metal Gear fame.

ONE PUNCH!!! Explanation On the same vein as the "I cast fist!" meme: Heizou is a DPS character who's Elemental Skill, Heartstopper Strike, has him punch the enemy. The One Punch Man jokes basically wrote themselves.
Get Heizou'd Explanation

During 2.8 livestream the players finally got their first look at Sumeru...only for the technical hiccup to rewind the video back to the redemption code screen, which depicted Heizou.

Heizou's Birthday Art Explanation In the 2022 Official Illustration for the character's birthday, Heizou was shown yawning after accidentally falling asleep while waiting for the Traveler. The fandom was quick to notice that Heizou's expression, when taken out of context, looked like... ahem, something else. Cue NSFW artists having a field day with it. The meme got more traction after the original post was mistakenly flagged as NSFW and was taken down for a short while on the main Genshin Impact Reddit.

Sucrose

"Where are Glucose, Fructose and Lactose?" Explanation Sucrose being named after the most common disaccharide (table sugar) leads to jokes asking if she has sisters or relatives named after most of the other common monosaccharide or disaccharide sugars as a form of Theme Naming. To date, no, she does not.

Tartaglia/Childe:

"Childe's weakness: Chopsticks"Explanation Childe not being able to use chopsticks has become this, due to it pretty much being a Running Gag in canon that's stuck with the players.
Jokingly questioning what happened to Childe. Explanation As explained on his character page, Childe's eyes look incredibly empty◊, and lack a shine to them compared to every other major character introduced so far, leaving fans to wonder what he could have possibly went through for his design to be deliberately taken in that direction. It's been ramped up now that Scaramouche, another member of the Fatui, has been revealed and appears to be eviler than him from the fandoms perspective, but in contrast has three very blatant points of shine in his eye design.
Childe yeets an arrowExplanation

The last attack of Childe's basic bow attack sequence has him chuck an arrow instead of shooting it with the bow. It deals the most damage out of any other attack in the attack sequence (being the last attack), leading to the fandom joking that this shows that Childe is so bad with a bow that he deals more damage by throwing arrows.

Tartaglia's Elemental Skill cooldown Explanation Compared to the rest of the roster, Tartaglia's Elemental Skill, Foul Legacy: Raging Tide, has a very long cooldown, especially when he uses it for a long time at C0. As such, many jokes are made at his expense, such as how it lasts forever, or how Childe's boss fight can only give rewards once a week because the cooldown for his Elemental Skill lasts that long.
Misspelling "Tartaglia" Explanation

Similar to the "Barbatos" meme below, many fans tend to misspell the name Tartaglia on purpose. Common examples are Tortilla, Tarantula, or Tortellini.

For those who found out Childe's real name,

comparing him to Ajax cleaning products

has become a meme, mainly due to a number of people not knowing the name's origins.
The boss when you unlock him as a playable character Explanation Childe is the boss of the Liyue chapter, and he is so notoriously difficult that the creators had to nerf him because of complaints. Notably, his battle has three phases, involving him using Hydro and Electro at the same time, traveling at insane speeds, and easily one-shotting the playable characters. Once you unlock him as a playable character, however, he only uses Hydro, is arguably not significantly stronger than other playable characters, and does not have Electro abilities or the ability to teleport. This has led to people making many memes and videos joking about how he got a Redemption Demotion (though, as of the end of the Liyue chapter, he has not gotten 'redeemed' exactly and is still canonically an enemy of the protagonist.)
"This opportunity is quite hard to come by."Explanation

The Childe boss fight's first voiceline. It is memed by the community because players hear it every week, meaning the opportunity is not hard to come by. The Japanese version of this line, "sekkaku no chansu da," is also a popular line.

"Well then, amuse me."
"Surrender is a valid option."
"I promise I'll be gentle."Explanation

The rest of Childe's opening lines in his boss fight are also popular to meme.

"Not bad, not bad." Explanation

A line which Childe often says when fighting you. He says it so often that it has become a meme.

"All you do is run!" Explanation

A line that Childe will sometimes say when fighting you, even if you are actually hitting him and not, in fact, running away.

Childe's magical girl transformation. Explanation Childe's third and final phase of his boss fight is to turn into a One-Winged Angel against the Traveler, complete with an animation which is suspiciously reminiscent of magical girl shows. It becomes even more of a meme since he is a weekly boss as well, and the animation shows every time you fight him. People have milked this joke by putting his Transformation Sequence to the tune of the Winx Club transformation songs.
I can use a Childe to defeat the Childe. Explanation For a long time, Tartaglia/Childe was the only playable character that you could also fight. It is possible to use Childe in the battle against Childe, creating a confusing yet hilarious boss battle. This meme has fallen out of popularity as the Raiden Shogun was later introduced as both a playable character and a boss, and while this was initially a one time fight she became a weekly boss after Act 2 of Raiden Shogun's Story Quest was released, with the context being a canon Mirror Match.
"AoE Hydro Damage." Explanation

This phrase is repeated so often in Tartaglia's Collective Miscellany video that it stuck with many viewers.

Tar-Tar-Tartaglia, lover of Snezhnayan queen Explanation Stemming from the Rasputin parody posted by Childe's voice actor on TikTok, it is a common joke in the Genshin Impact community to post the full song with snowcloned lyrics and other variations.
Childe abuse. Explanation

Another phrase to refer to the players' weekly beating up of Childe.

Fatui Housewife/Pregnant Childe Explanation There was an ad for an emperor harem game where a concubine said she had your baby, then someone pointed out that the concubine looked like Tartaglia. It was soon seen and edited by his voice actor, Griffin Burns.
Ed Sheeran Explanation Plenty of memes have compared Childe to Ed Sheeran due to their similar appearances.
Tartaglia is Mr. Worldwide Explanation

Tartaglia hails from Snezhnaya, uses talent books from Mondstadt, and is not only fought in Liyue but uses Starconches (a Liyue regional specialty) to ascend, so it didn't take long for players to give him the nickname of rapper Pitbull. This was made more apparent when it was revealed that he'd get his second rerun in 2.2 alongside an event in Inazuma that stars him (and Xinyan), bringing this joke back to the forefront.

Wait, it's all Childe? Always has been/Archon of Rerun Explanation

A joke that sparked after Childe's third banner in 2.2. No one expected him to have a second rerun so soon after his first, especially when there were plenty of characters who hadn't gotten their first rerun when his third banner was released. This meme died down when, after 2.2, Childe hasn't had a rerun for a year and numerous other characters were rerun more than once during that interval.

Locked Out of the Loop in Inazuma Explanation

In 3.2, Childe appears as an NPC in Chinju Forest playing with Yoimiya and Inazuman children, chasing after imaginary monsters. Since his last appearance in 2.2 was also in Inazuma, but then, he was tasked to hunt down Scaramouche after the latter defected with the Electro Gnosis. The players theorised that the other Harbingers, most notably Dottore, tricked Childe into staying in Inazuma while the events of the Sumeru Archon Quest unfolded.

"Hey girlie- hold still."Explanation

Childe says this in a cutscene, if the player chose the female Traveler, and the line's apparently flirtatious nature, especially if taken out of context, led to various memes including the phrase, and the shortened form, just "Hey girlie".

Thoma:

Inazuman Childe Explanation

Fans have noticed his similarities to Childe (being a friendly guide to the Traveller after they arrive in a new region; the main difference between the two being that Thoma is genuine in wanting to help the Traveller while Childe eventually betrays them). Both of their runs (Childe having his third rerun and Thoma being made available as part of Hu Tao's second rerun) being announced in the same livestream, as well as receiving official art where the two casually hang out with each other has only served to fuel the nickname.

House Husband/Malewife Explanation Thoma is noted by several characters to be a fantastic housekeeper that any household would love to poach from the Kamisatos. Because of that, fans like to joke about his homemaking prowess, like photoshopping his spear to be a broom or inserting him into scenes from The Way of the Househusband. The meme further grew in popularity after the release of Thoma's Hangout event, which focused on his housekeeping skills.
Conyo Thoma Explanation An outdated meme largely limited to the Philippine Genshin community, many of the early leaks regarding Thoma made him look like a conyo, which Filipino fans quickly seized on. Childe also received characterization as a conyo, though Thoma was the face of the meme when it was still in fashion.

Tighnari:

I'm done pretending that I don't love Tighnari just because you don't like him. I love him. I love his ears. I want to pet them and maybe nibble on them sometimes. His little outfit is so cute. I want to tug on his little cape and then get him to turn around and maybe kiss his forehead or little nose or maybe his lips if he's okay with that. He's my little tree boy and there's nothing you can do to stop me from loving him. Nothing.Explanation

A copypasta that became popular in the Genshin subreddits when Tighnari was revealed, renowned for its extremely gushy and affectionate nature.

Tripping Tighnari/High-nari Explanation

In his Character Demo, Tighnari is seen consuming psychedelic fungi apparently for research purposes. Tighnari also has a voiceline in which he says that he purchases materials for research from Dori and refuses to reveal the subject of the research. This naturally led to Tighnari being called a drug addict.

Tighnari sniffs Crack Cocaine Explanation

A sister-meme of the above. Tighnari's fan depiction of being a drug addict is not helped by the fact that one of his ascension materials are Fungal Spores...which is often nicknamed as cocaine by the fandom due to looking like a certain powdered drug. Put Tighnari getting high on shrooms and the fact that he needs fungal spores that look like green crack to ascend, and the memes just write themselves.

Let's sniff them in the butt! / One with the farts! Explanation Two misheard version of Tighnari's voiceline "Let's nip it in the bud" & "One with the forest" that obviously became memetic thanks to it accentuating the above drug themed memes (& some Toilet Humor).

Tighnari is tired of Cyno's shitExplanation

Tighnari is often portrayed as the annoyed and exasperated Tsukkomi to Cyno's Boke whenever he makes bad jokes.

The Traveler:

Buffed Traveler Explanation

During the Crux Clash, players are forced to use their Traveler without an element during the matches. Those who benched them early panicked about losing only to find out that their stats have been increased by THOUSANDS.

Smug Traveler Explanation

As a (mostly) silent protagonist, Traveler rarely shows any emotion outside cutscenes. Many players were delighted to see them give the most shit-eating grin when the Crux Clash spectators and competitors realize they outmatch everyone.

Sweet Madame Addiction Explanation

Many players use the Anemo Traveler's Elemental Burst to kill flocks of Pigeons and other birds, most popularly at the gates of Monstadt, which are then used to make Sweet Madames. Plenty of fan-made media depicts the Traveler recruiting some of the most powerful 5-star characters for the sole purpose of farming fowl. Paimon has taken note of this strange tendency especially when birds integral to a quest have been killed.

The Twelvth Fatui Harbinger Explanation The Traveler has infiltrated the Fatui with a Paper-Thin Disguise that consists only of a standard Fatui Mask, and it WORKED. The mask has been brought up whenever players discuss undercover quests, future Fatui interactions, and infiltrating Inazuma.
"I'm leaving" Explanation

The Traveler is exasperated when given another delivery job at Inazuma and reacts with a very expressive and meme-worthy face. Fans were quick to use it to express cringe or "I'm out of here".

Dull Blade Explanation

Because the Traveler is always seen wielding a Dull Blade in cutscenes regardless of the weapon the Traveler has equipped at the time, fans tend to joke that either the Dull Blade is the strongest weapon in the game or that the Traveler can become the strongest unit in the game if they swapped out for another better weapon.

Aether's HaremExplanation Due to Aether being the stand-in Traveler in the trailers and the many beautiful girls in the game who are attracted to the Traveler, fans have joke that Aether is a Harem Seeker protagonist who manages to get a harem either by little to no effort or the girls are very thirsty for him. This even led to jokes that Aether is more focused on getting a harem than rescuing his sister.
"AAAAAUUUUEEEEGH!" Explanation Spawned from Korean Genshin Youtuber Gimnaeng who turned Aether into a horndog. Whenever Aether is present with women, this would be the sound he would make. This immediately took off as the Genshin fanbase view it as a sister-meme to Aether's Harem.

Venti:

"Starbucks Venti" Explanation Associating Venti with the Starbucks drink because of their similar names. Venti is also depicted as a mascot of Starbucks because of his green and white color theme.
"Ehe"/"Hehe" Explanation

Paimon asks Venti if he planned to use the Holy Lyre to play music at a Tavern, this is all he answers. Commonly used as an ambiguous answer to screw with someone's head.

"Sacrifice Venti to save Mondstadt/Sacrifice Mondstadt to save Venti" Explanation A fanartist made a fake screenshot of a distressed-looking Traveler and the two given choices and posted it to their Twitter account, parodying similar Sadistic Choices present in other games (ex. Life Is Strange). Cue some fans spreading it around social media with no context, "spoiling" new players with the screenshoot to make them believe it can actually happen in-game.
"Vengeance will be mine!" Explanation Once La Signora became a weekly boss in the 2.1 update, many Venti players make a point to use him in the duel to exact his revenge on the Fatui Harbinger for attacking Venti for his Gnosis, even using Eula's Catchphrase in the process.
Drunk Venti Explanation Venti's rampant alcoholism mixed in with his borderline trollish behaviour has made him infamous in the fandom. Memes on Venti's destructive alcoholism and images of him being facedown on the floor drunk have spread throughout the Genshin fandom.
The Cooler Uncle Explanation (spoilers)

Xiao and Scaramouche have been depicted by the fandom as the sons of Zhongli and Ei respectively, yet both of them received an Anemo Vision meaning that both boys chose to take after Venti than their respective parents.

Wanderer/Scaramouche:

"Scaramouche, Scaramouche, will you do the Fandango?" Explanation

Ever since the 6th Fatui Harbinger had his name revealed as "Scaramouche", players easily thought of the lyrics in "Bohemian Rhapsody" whenever he is discussed, often creating comment chains of the song starting from this line. Not helping is that he has an Electro motif, and the next line in "Bohemian Rhapsody" is "Thunderbolt and lightning, very, very frightening me!" His theme is even called "Ominous Fandango". Additonally, Bohemian Rhapsody was released on October 31st, the same day as his announcement as a playable character.

No stars in the skyExplanation During the "Unreconciled Stars" event when Scaramouche sees something that makes him think there are "no stars in the sky," people have made him look like Charlie in the episode "Sweet Dee Has a Heart Attack" having an Insane Troll Logic bout explaining it with accompanying String Theory.
The other Harbingers making fun of ScaramoucheExplanation

There are many comics and fanarts depicting Childe, sometimes accompanied by Signora, making fun of Scaramouche in various ways: singing Bohemian Rhapsody, throwing his hat like a frisbee or making fun of his height.

Gigachad Scaramouche Explanation

The three times Scaramouche has appeared in game, his appearance was short but his impact was massive. Therefore, Scaramouche became a gigachad who barges into the game, drops lore bombs, refuses to elaborate further, and leaves.

Scaramouche is Ei's SonExplanation (spoilers!) Due to the fact that Scaramouche was one of the first puppets Ei experimented upon for a mortal shell, a lot of fans joked and depicted Scaramouche's relationship with Ei like mother and son, since she is the one that created him. As Ei saw Scaramouche as a failure when he shed tears with the Gnosis inside of him but decided against destroying him, Ei is either depicted as a strict and demanding Asian mother, holding a slipper or coathanger to discipline him, or a negligent mother who isn't very conscious about his needs. This meme exploded in popularity after it was revealed that Scaramouche does perceive Ei as his mother.
Scaramouche is transExplanation (spoilers!) Some people have questioned why Ei would choose to create a male puppet body, considering that she and her current body are female. Thus, a theory was created: Scaramouche was originally created with a female body, but still identifies as male.
Shinji Scaramouche Explanation

When the 3.1 Version trailer revealed Scaramouche plugged into a giant mecha that looks similar to Shinji's Unit-01, fans have adapted Shinji's memes to apply to him, such as drawing Dottore asking him to "Get in the robot".

Overcompensating Explanation Due to Scaramouche being The Napoleon, players have made many jokes about him asking Dottore to build a giant mecha so he can compensate for his short height, or flaunting it to the tall male Harbingers.

Most Sane Scaramouche Fan Explanation

Scaramouche is known for having a very dedicated and unhinged fanbase, resulting in jokes involving the Traveler asking to be stepped on by Scaramouche's mech during the Sumeru Archon Quest or Scaramouche being disgusted by his fanbase/worshippers and having second thoughts on becoming a god. Haypasia has also being dubbed the representative of Scaramouche's fanbase.

Scaramouche steps on you Explanation When players first saw the Elemental Burst animation of Scaramouche (as Wanderer), it shows him sporting a smug grin while he performs a Shockwave Stomp...with the POV placed below his shoe sole just before stomping said POV. Players joked how they just got stepped on and dominated by Scaramouche. Many also pointed out how Scaramouche has stepping on enemies as a part of his moveset both as a playable character and as a boss.
Ominous Hovering Explanation After finding out that Wanderer's skill lets him float, a famous meme involving an ominous floating figure chasing someone was recreated with Wanderer.

Xiangling (and Guoba):

"Help, my dinner is attacking me!" Explanation Xiangling will say this line on occasion whenever she is hit by enemies, including humanoid ones like the Treasure Hoarders and Fatui. As such, and given her reputation for cooking practically anything, fans often joke that Xiangling is a cannibal.
Xiangling, the Spear/Polearm Archon Explanation

Whenever a new polearm is announced, fans immediately post memes of the weapon being another gift for Xiangling, sitting on an iron throne made of polearms. The meme originated from the fact that Xiangling was the first and only polearm user for a time, as well as one of the most meta polearm characters in the game. So comparing Xiangling to the archon of polearms became a tradition.

"Guoba's aim." Explanation Compared to Fischl's Oz, Xiangling's Guoba is prone to Artificial Stupidity, often not breathing fire at what the player would want him to. As a result, if Guoba is ever brought up, expect jokes at his expense.
"Standing Guoba" Explanation

During the 2.1 Preview stream, players caught sight of Xiangling as an NPC with Guoba... who is standing with a completely deadpan expression. Players found this rather unsettling due to Guoba normally sitting down and being very jittery, while here he's just standing perfectly still.

"Guoba Event" Explanation The Moonchase Event quickly became overshadowed by Guoba's random antics of running around and inspecting things randomly, making funny noises and just being a big enough distraction that many players agreed that they paid more attention to Guoba than the actual plot. Combine with Guoba's

status as a God

and his general cute persona, Guoba was catapulted into "Memetic Badass" territory.
"~🎶~" Explanation During the Moonchase Event, this was Guoba's only way of communicating in the subtitles. Due to Guoba's "Memetic Mutation" status in the event, it became a very popular way for players to exclaim joy without saying anything.

Xiao:

Budget Xiao Explanation

Players often take any character, in combination with Venti's air current, Zhongli's Stone Stele, or Albedo's elevator to deal repeated plunging damage to enemies.

Ephemeral circumstance, perpetual agony!Explanation Line from the Xiao Doombane Gameplay Trailer used to make fun of the fact getting a desired 5-star character from a banner is only a 50-50 shot (unless you've already "lost" your last 50-50 roll), and if you're not a "whale" who spends hundreds or thousands of dollars on the game, you'll have to wait 6 months or more to get a second shot at getting your desired character.
XUE HUA PIAO PIAO PAY FOR XIAO XIAOExplanation

In a rare case of a meme coming full circle, the meme that arose from the classic Chinese song "Yi Jian Mei" gained additional traction during the Chinese New Year event of 2021, thanks to its focus on Xiao combined with the melancholy tune matching the atmosphere of the event.

Small Xiao Explanation Players joke about Xiao's height due to him currently being the shortest playable male character in the game, in addition to his name being homophonous to 小 xiǎo, the Chinese word for "small."
"Weak." Explanation

One of Xiao's voicelines when one of his allies is at low HP just has him saying this word. Due to how it is a stark contrast to other voicelines where the characters mostly saying words of encouragement, it quickly became a meme.

Xinyan:

Forgetting Xinyan exists. Explanation From her release in version 1.1 to the latter half of 2.1, Xinyan was unique among the playable cast for how little presence she had; she had zero appearances in any in-game quest or web event, and was only mentioned by a very small handful of NPC's, whereas other minor characters like Chongyun or Fischl have hangout quests or have appeared in time-limited events. It came to a head when miHoYo announced a concert featuring Genshin music, with promotional cover art showing various characters as part of an orchestra, Xinyan was not even on the cover despite her being one of three actual playable musicians. Thankfully for her fans, she was not only featured in the anniversary web event, but she also got to appear in the Moonchase storyline and starred alongside Tartaglia in an event in 2.2, putting this meme to rest.
Xinyan, y'all! Explanation Xinyan's English VA speaks in a heavy, and we mean heavy southern accent that puts most viewers off-guard due to how out of place it is, given Xinyan's from Genshin's China analogue - Liyue.

Yae Miko:

Smol fox Explanation

After a small tidbit of dialogue from Yae hinting at her form as a fox, many players wanted Yae to transform into said form to see what it looked like. After it was revealed in the Raiden Shogun's cutscene what a younger Yae's fox form looked like, EVERYONE started taking that as what she looks like, and fanarts popped up everywhere drawing her in said small fox form.

"In your dreams..." Explanation

Related to the above meme, Yae tells the Traveler this when they ask to see Yae's fox form during the Archon Quest. Fans tease one another with this line quite often.

Gucci Yae Explanation

A misspelling/mispronounciation of Yae's alternate job title, Guuji, as "Gucci." Art and edits of Yae wearing Gucci clothes and accessories are most often found on Reddit.

Yae Chancla Explanation

A somewhat popular image captcha showing an angry Yae hitting someone with her slipper in first-person view became a go-to reaction meme image whenever something is heavily disapproved off. Given Yae's mommy status in the fandom, Asian or Mexican mom tropes such as the La Chancla meme became applicable to either her or Ei. Especially applicable in memes involving Scaramouche who gets spanked by a chancla

"Right here! Right now! Emerge!" Explanation

Yae's Elemental Skill voiceline, which became memetic due to the sheer number of times it's heard - first, her skill has three charges that are used up all at once to summon three totems together, and her Elemental Burst also consumes the on-field totems which forces players to resummon all three totems.

Yanfei:

OBJECTION! Explanation Because Yanfei is a legal advisor, players often include Ace Attorney references in fanart of her. She even shouts this as one of her low health lines, presumably to reference Ace Attorney.
"Better Call Yanfei" Explanation As a sister meme of the above, due to Yanfei being a lawyer, it's not uncommon to see Breaking Bad's resident Amoral Attorney referenced alongside Yanfei.
Leeks Explanation

Yanfei's illuminated beast horns are compared to leeks by the playerbase.

Smug Yanfei Explanation Yanfei sometimes walks around with a cat's smile. Combine with her large, Tareme Eyes and it gives Yanfei a smug look. Fans found Yanfei's smug look to be cute, so it blew up.

Yelan:

Yelan is Xingqiu's aunt/mom. Explanation

As soon as Yelan's design was leaked, many players noticed how similar her hairstyle is to Xingqiu. Additionally, as Shenhe, who was noted to be similar to Chongyun, turned out to be his aunt, many immediately begin jokingly (or not) that Xingqiu was Yelan's nephew, paralleling the relationship between Chongyun and Shenhe.

Dominatrix Yelan Explanation

When Yelan's character demo was released, an onslaught of memes relating to Yelan being a dominatrix and fans wanting her to 'step on them' exploded. This is due to Yelan's penchant in putting her victims in hydro bondage and literally stepping on the head of a Treasure Hoarder.

Yoimiya:

Aether's twin Explanation

Fans are quick to point out the similarities between her and Lumine, leading to jokes about Yoimiya being Aether's missing sibling.

Good Amber Explanation

Upon being revealed to be a Pyro Bow user, people joke about how Amber is going to be completely useless due to Yoimiya having potentially better stats and kit.

"Pew Pew Pew!" Explanation

During Yoimiya's character trailer, one of the quotes she says is literally "Pew Pew Pew!". Fans instantly found it cute and were sorely disappointed that Yoimiya in-game does not say that quote. However, that did not stop Yoimiya Mains from saying it.

Stoned Yoimiya Explanation It's common to portray Yoimiya as The Stoner due to the fact that she requires Naku Weed to ascend and several shots from her character story quest have her look higher than pterodactyl tits. Consequentially, people joke that she smokes the Naku Weed to ascend. This was later expanded to Kazuha and Kuki Shinobu, as the former says weird poetic lines of dialogue (and Paimon once asked him in game whether he was high) while the latter also uses Naku Weed to ascend on top of canonically wielding Naku Weed for combat and cutting herself with said plant in her elemental skill.
miHoYo hates Yoimiya Explanation Ever since the reveal of the second phase of Version 2.8, fans have been joking about how unfortunate Yoimiya's banner is, since the first time Yoimiya was introduced, she was sandwiched between the long-awaited Ayaka banner and the much-hyped Raiden Shogun banner, which led to Yoimiya having one of the lowest character banner sales in history. Now, after a year, Yoimiya is now finally being reintroduced...in-between the long-awaited Kazuha banner and the much-hyped Version 3.0 that is Sumeru. For the third time, her rerun in 3.2 is between the banners of Nilou & Albedo and Yae Miko & Tartaglia, all of which are fan-favorites while her banner is alongside Nahida

(the awaited Dendro Archon)

.The absurdity of this happening repeatedly was not unnoticed as fans immediately picked up on this and lamented how much miHoYo hates Yoimiya for her to be sandwiched not once, but thrice; with many players expecting Yoimiya's sales to tank again.
YOIMIYA SWEEP!Explanation Nahida's debut banner alongside Yoimiya's rerun banner became the top selling banner of all time, beating out even the Raiden Shogun's debut banner. Unsurprisingly, an overwhelmingly huge portion of those sales came from players rolling for Nahida, not Yoimiya. Players began joking that Yoimiya was the true carry of the banner, in the same vein as Morbius.

Yun Jin:

Dango Hat Explanation

Due to Yun Jin's pompoms on her hat having a similar colour to that of dango and dango being Ei's favourite food, a lot of memes came out of Ei eating Yun Jin's hat.

Ei's and Zhongli's Lovechild Explanation Yun Jin's appearance looks like a mix of Zhongli and the Raiden Shogun, and all three characters use polearms. This lead to many jokes about Yun Jin being the secret love child of the two Archons.
4 Star Character with 6 Star Animations Explanation

Immediately after Yun Jin's animations were leaked, fans begin to adore her passive and attack animations, praising it as the best thing they have ever seen. This is due to her relations with Chinese opera; with her dance being incredibly pleasing and elegant to look at. Some has even proclaimed that Yun Jin has better animations than Shenhe, an actual 5 star character.

Zhongli:

"In terms of Mora, we have no Mora." Explanation Snowcloned from the "In terms of money, we have no money" meme that rose on 2020, this is used to joke at how Zhongli (as well as Mona) usually end up poor because of their odd budgeting habits.

"In terms of Primogems, we have Primogems." Explanation A quote from Keith Silverstein, Zhongli's English voice actor, said during the version 1.5 preview stream, which rapidly spread through the fanbase.

Childe is Zhongli's wallet.Explanation In a Liyue chapter quest, the protagonists had to request Childe for funds after Zhongli turned out to have a lack of insight about budgeting. Cue jokes at the expense of Childe having to pay up for anything Zhongli buys. Becomes an Ascended Meme in the Japanese translation of the game, as one of the dialogue options for the Traveler to explain who Childe is literally calling him "Shouri-sensei's wallet". This doesn't appear in any other language version of the protagonist's dialogue for that scene, but a similar joke option is provided (e.g. "Mr. More-Mora-than-Sense" in English; "the poor sap who's been paying our bills this whole time" in Chinese).
Geo Armstrong Cyclone Jet Armstrong Cannon Explanation Upon the release of Zhongli, many players quickly make a joke about creating a construct made by 2 of Geo Traveler's elemental skill and one of Zhongli's own. The resulting construct looks like the infamous "Neo Armstrong Cyclone Jet Armstrong Cannon", a popular joke from Gintama. (For context, it also looks like, well, something else.)
Zhongli's Butt Explanation As soon as Zhongli became playable, memes and fanart centered on his oddly well-defined assets exploded in the fandom due to how much detail had been put into his model compared to every other previously introduced character. Even Childe, who was released around the same time, doesn't stack up to him, which left fans to crack jokes about his flatness compared to Zhongli at his expense. miHoYo quietly buffed Childe's butt later on.
"I WILL HAVE ORDER!" Explanation

This is one of Zhongli's lines when he uses his Elemental Burst. This line is joked a lot by fans, who use it in context regarding him ordering something from the shops and restaurants he might visit. Had a resurgence when the game did a cross-promotion with KFC.

Zhongli is the greatest support Explanation After widespread outcry about Zhongli's poor performance, version 1.3 included a series of buffs both to his abilities and Geo characters in general, leading to a popular joke that Zhongli is so good at supporting other characters that he gave his entire element permanent buffs.
Wheelchair Zhongli Explanation

Zhongli was said to be "handicapped" prior to the 1.3 buffs, so he was often depicted in a wheelchair or using a 4-legged crutch.

Meta is temporary, style is eternal Explanation A meme originating from the Zhongli.EXE video by Rawfler in reference to Zhongli's (former) Tier-Induced Scrappy status.
"Suffer the wrath of the rock!" Explanation Zhongli's Pre Ass Kicking One Liner that he says directly to people who break his contracts. Because of the context involved, many Genshin fans used his line in a meta sense to describe instances of public beta testers who break Creator/miHoYo's user agreements just to leak new content to the public, which results in the leakers inevitably getting punished for it.
Geo Daddy Explanation

Zhongli's appearance at the end of the "Perilous Trail" event has him rescuing Xiao from falling to his demise after saving the others, with Xiao being aware of his true identity. This led to fans likening the former archon as a dad for Xiao and the other playable Adepti (plus Hu Tao).

Geriatric Zhongli/Boomer Zhongli Explanation

Because Zhongli is the oldest character in Genshin, a lot of jokes often depict Zhongli as an ageing geriatric in a wheelchair that needs to be taken care of, or a boomer trying to connect with the younger characters.

Rewatching Zhongli's character demo Explanation

Zhongli's character demo is widely considered to be one of, if not the best by Mihoyo. Thus the joke goes that, after watching a new character's demo, players are required by "contract" to re-watch Zhongli's trailer.
NPCs
Abyss Mages:

"Ran Ran Ruu!" Explanation

This is one of the Abyss Mages' most identifiable and iconic sound quips. As such, expect the fans to mimic this warcry whenever posts on the Abyss Mages are brought up.

[screeching]/Screaming Abyss Mage Explanation In Lisa's and Diluc's Story Quests, they perform Cold-Blooded Torture on Abyss Mages, leading to them lying on the ground and saying the line. Many fans used the picture of the face-down Abyss Mage as a way to express exasperation or a Cathartic Scream.

Alhaitham:

Itto is jealous of Alhaitham Explanation

When Itto was released, players were quick to notice that his arms in his 3D model were not as muscular as those in his 2D splash art. Players therefore memed on the fact that Alhaitham, an Akademiya scholar, has better modeled arms than Itto.

Alhaitham wins Best Actor Explanation (Spoilers for Sumeru Archon Quests Act V)

As part of the plan to free Nahida, Alhaitham puts up a convincing performance of not only double crossing the Traveler but also faking insanity to trick the Grand Sage into thinking that he had successfully foiled their plans. Some fan content either photoshop an Oscar statue into his hands or depict him holding it.

Roommates Explanation

A shared meme with Kaveh that describes their vitriolic relationship. Expect the comment section of any content featuring the two of them to reference the famous Vine "And they were roommates/Oh my god they were roommates." Especially prominent in the Alhaitham X Kaveh shipping community.

Aranara:

Aranara Characters Explanation When the Aranaras were introduced, they quickly blew up in popularity because of how cute they were. Many players found their petite fairy design, their funny walking animation and idle dancing animation to be incredibly endearing. So much so that multiple fanart was made turning Genshin characters into Aranaras.
Aranara speak Explanation The way the Aranara speak is unique due to the combination of broken English and adding the nara-suffix at the end of every sentence. Due to how popular the Aranaras are, players have also gotten into roleplaying their speech patterns.
Aranakin/I don't like sand Explanation A blatant shoutout to a certain Jedi that hates sand. A lot of Genshin fans took notice especially when Aranakin quoted the very memeable reference. Expect a lot of cross-over memes with the Star Wars community.
:] Explanation

The default Aranara facial expression. Players sometimes use their face as an emoji.

Arabalika OP Explanation

An Aranara with Arakalari capable of one-shotting a ruin guard with a small wooden stick. Players impressed by his feats frequently joke about bringing Arabalika to the Archon Quests since he is definitely capable of effortlessly fighting Scaramouche and Dottore as well as dishing out proper punishment to the sages.

Arnold:

Arnold, the Mona Simp Explanation

During the Summer Fantasia event; in Fischl's quest where the group investigates Fischl's inner psyche, we meet Arnold, one of the many Oz-like living statues inhabiting Fischl's dreams. Arnold immediately took everyone's interest with his not-so-subtle flirting with Mona, making the fans to chastise him as an unapologetic and somewhat-creepy Mona simp.

Grand Sage Azar:

Most Hated NPC Explanation (Spoilers for Sumeru Archon Quest) Grand Sage Azar easily tops the list of many players' "most hated Genshin Impact character so far" list, due to his many transgressions . He berates Nilou, uses her as a host for the Saberuz-Samsara Lotus-Eater Machine and shuts down the Dance of Saberuz, out of nothing but his own petty hatred of the arts. He manipulates the Eremites by giving them false hopes (and a good distraction) in trying to reincarnate King Deshret, so as to both upstage Lesser Lord Kusanali - whom he called a fake God of Wisdom - and worsen race relations between the people of the Desert and the Rainforest. He also abandoned the insane scholars & Eremite mercenaries by exiling them into the desert to get them out of the Akademiya's hair, only to turn around and trick the cult of Ayn Al-Ahmar (Scarlet King) into getting them back so he could extract "Divine" Knowledge Capsules from them, and believes that Sumeru adults should never dream; dismissing them as frivolous and corrupting to his idea of 'wisdom'. Moreover, he exploited and abused the Akasha system; turning Sumeru into a surveillance state in the Sages' name To top it off, he's willing to commit blasphemy against the Dendro Archon by replacing Kusanali with the Prodigal Shouki No Kami (Scaramouche) as the new 'God of Wisdom' by conspiring with Il Dottore/Zandik, whom the Akademiya had exiled a long time ago. Not only is he a corrupt, emotionally abusive scumbag and a racist to boot, but he is also a blatant hypocrite and a heretic. To top it all off, Azar's "sentence" of being exiled from Sumeru City by Nahida at the end of the questline could be considered a slap on the wrist for his many crimes, with many players wishing he'd gotten a worse punishment.

Azhdaha:

"We mustn't let Phraeganoth be revived!"Explanation A raid boss in Dragalia Lost, Phraeganoth, is a giant turtle boss and the quote is said by Celliera on the game's home screen during the "Loyalty's Requiem" event. When Azhdaha was first shown, people made the comparisons.
The Archons' Pets Explanation Since the release of Azhdaha as a boss in 1.5, players have been joking about each Archon having a dragon companion (Venti has Dvalin, Zhongli has Azhdaha, and the Raiden Shogun possibly having Mei's Kurikara from Honkai Impact 3rd).

Zhongli overfeeds Azhdaha Explanation

Due to Azhdaha's large belly (that is most noticeable when he roars), many players have joked that Azhdaha went on a rampage because he was angry that Zhongli overfed him.

Baizhu:

Baizhu is stuck in miHoYo's basement Explanation Baizhu is notorious for appearing as a recurring NPC in Liyue's quests and events, but not being playable despite having a Vision and a unique design. While his exclusion from the playable roster in Genshin's early days was due to Dendro not being complete, come Version 3.0, Dendro was made into a more fleshed-out element, but he was still not made a playable character despite being in the game before the game's first playable Dendro characters (Tighnari and Collei). Thus, many fans have joked that miHoYo has him locked up in their basement.

Cloud Retainer:

Cloud Retainer could only afford one dress Explanation

Soon after miHoYo released Shenhe's official artwork, players noticed that her and Ganyu's clothes worn above their bodysuits would fit perfectly together and since both have a connection with Cloud Retainer, jokes have been made that Cloud Retainer only gave them one dress and the two were forced to split the dress between each other.

"One is so fucking mad" Explanation A certain Arthur meme was recreated with Genshin Impact characters, with Cloud Retainer taking the role of Arthur's dad, and the quote "I am so fucking mad" modified to fit Cloud Retainer's speech pattern. The quote has since become popular with Cloud Retainer fans, likely due to how Sophisticated as Hell it makes her sound.

Dainsleif:

National Geographic: Teyvat Edition Explanation Initially, many fans noticed that the English narrator for the Collected Miscellany videos sounds monotone in contrast to the fast-paced gameplay demonstrations, as if he was narrating the characters like they were wild animals running about their natural habitats. As a result, they've come to start making comments reiterating the content of each video in the form of National Geographic-style narration. However, this phrase is usually replaced once viewers noticed how the narrator sounds like Yuri Lowenthal (a.k.a. the English VA of Sasuke Uchiha as detailed below).

AoE Pyro Damage Explanation This term came up constantly in Klee's Collected Miscellany video, causing it to appear with equal frequency in any discussion involving Klee.
Sasuke saying "AoE damage" Explanation As more Collected Miscellany videos got uploaded, some viewers on YouTube thought that the English narrator sounded like Yuri Lowenthal. Since the script for the videos usually mention the phrase "AoE damage" for certain characters' skills, and Yuri Lowenthal is well known in anime communities for voicing Sasuke Uchiha, this became a usual comment. On November 9, 2020, it was confirmed that Yuri Lowenthal indeed voices Dainsleif, the Character Narrator of many Genshin Impact videos.

"Jin Kisaragi, is that you?!"/"Why hello, Jin Kisaragi!" Explanation

The announcement of the new character, Dainsleif, has people outright saying either of these since they both look very similar. Right down from the hair style, to the green eyes, the edgy facial expression, and the androgynous look. Needless to say, fans are hyped to get him into their collection.

Dainsleif for emergency food Explanation (spoilers for Dainsleif's world quest!)

Dainsleif's world quest gave heavy implication that he had traveled with the Traveler's sibling in the past before going their separate ways. Cue jokes of players who are asking to trade Paimon for Dainsleif. This little tidbit spawned role-swap "What if's" where Paimon is an elegant adult lady and former traveling companion of the Traveler's sibling while Dainsleif accompanies the Traveler as a small fairy.

Dottore:

"I am first and foremost a scholar"Explanation

A very notably quote from Dottore that is frequently said by players in discussions concerning Dottore's achievements and actions.

Ellin:

"So THAT'S how you do it" Explanation

Ellin's Daily Commission requires you to demonstrate how to destroy a group of training dummies near-simultaneously. After completing it, Ellin says she'll try the technique you used even if she doesn't have elemental powers or the weapon type you used. Because many players complete the commission using Elemental Bursts or large AOE attacks, this led to jokes about Ellin using Diluc's Dawn, Venti's Wind's Grand Ode, or even Zhongli's Planet Befall.

The Eremites:

Dancing Desert ClearwatersExplanation

One of the Female Enemy Eremite variants, are shown to be dancing for other's entertainment while not being aggroed by players.

*Breaks Sitar* Sounds Good To Me!! Explanation

The line from an aggroed Eremite Axe Vanguard as she breaks her Sitar in half to start the fight every single time. The sheer levels of sudden mood swings from playing her (expensive) musical instrument to suddenly breaking it in sheer rage at the mere presence of the Traveler made her a prime meme material for the fanbase.

Lord Have Mercy, Daythunder is kinda hot. Explanation One of the Male Eremite variants, Daythunder isn't shown wearing a shirt. The Sunfrost, on the other hand Downplays this trope since he wore a shirt unlike the Daythunder leaving his bare-chest open. In fact, their abs are more noticeable than Arataki Itto's in-game model & rival Alhaitham.

Hushang:

"They need to touch more grass, not books."Explanation Nilou's story quest features this absolutely wonderful line from Hushang when they talk about the Akademiya. This blew up two ways, one because they actually brought up the "touch grass" meme mentioned below, and two because players like to interpret it as Hoyoverse dunking on certain parts of the community.

Il Capitano:

Yoimiya's Father Explanation The instant it was discovered that Capitano has the same English voice actor as Yoimiya's father, the fandom immediately starting joking that he was secretly a Fatui Harbinger. Even Yoimiya and Capitano's English voice actors got in on it.

Isak:

Nahida at home Explanation (Spoilers for Sumeru Archon Quest Act V)

As part of the scheme to draw out all the guards from Akedemiya grounds, a misleading order planted by Alhaitham was issued to them to capture an escaped Lesser Lord Kusanali, and Isak disguised himself as her with a white wig and a similar dress.

Katheryne:

"Add extra applesauce" Explanation The Adventurers' Guild receptionist will greet you with the guild motto, "Ad Astra Abyssoque". Since most players don't speak Latin, they prefer to come up with amusing misinterpretations of what she's saying.

Katheryne is angry that you are skipping her line/"Ad astra-" *skip* Explanation

Since talking to Katheryne is required in order to assign characters on expeditions and collect daily Commission rewards, players frequently skip Katheryne's line, having heard it a lot.

La Signora:

The boss as a playable character: a pile of ashes. /

The Crimson Witch of Ashes

Explanation (spoilers) From her first appearance in the story, La Signora had garnered a fair share of fans who wanted her to become playable someday. However, Signora's ultimate fate in the story has her be defeated by the Traveler, whom she sorely underestimated, and as a result of her loss, she is executed by the Raiden Shogun in such a brutal manner that she's reduced to ashes. It becomes extra ironic when one of her battle lines is "not even ashes will remain!". This had put a massive wrench in her fans' plans to save for her in the future due to her death, although a few continue to hold on to hope that she may still become playable someday.
Roasting Signora Mains Explanation (spoilers) When La Signora was killed on-screen, there were plenty of jokes on not only Signora's death but also on the immense copium used by Signora mains. This dialed up to eleven when "A Winter Night's Lazzo" trailer was dropped, outright double confirming that Signora is in fact, really dead. Cue an outpouring of memes and shitpost on people dunking on Signora. On a much darker note, the memes have been so overwhelming that it has even infiltrated the Signora Mains subreddit to the point of harassment. This led to the subreddit making itself private to stop the harassment.

Playable Signora at home Explanation

The official announcement for the TCG game mode to be released in version 3.3 includes teasers for many of the cards in the game mode, including a Crimson Witch card. Signora has finally become playable despite being dead, but as a card in TCG.

Liben:

Liben GigachadExplanation

Liben is an NPC that sporadically appears from time to time in temporary events, and is noted for being one of the most helpful non-playable characters in the game. His abillity in not only being a useful trader but also be one of the few characters that give lore drops on the other regions has propelled him to gigachad status. Him being characterised as a gigachad is further helped by his pamapadour and muscular body. Expect image crops of Liben in the gigachad meme format being posted from time to time.

Madame Ping:

Madame Ping banner when? Explanation (spoilers!)

As soon as fans learned that a random old lady in Liyue is actually a powerful Adeptus, they half-jokingly suggested she should become a playable unit. Some even made mock-ups of her in a featured banner.

Oceanid AKA Rhodeia of Loch:

Fischl Vs. Oceanid Explanation

The Oceanid is infamous for being the most annoying boss in the game, as well as the most talkative one (it didn't help that she was voiced in 1.4). Many people started joking about how a fight between her and Fischl (another very talkative character) would just be non-stop monologuing.

The power of water is its ability to take any shape... Explanation One of several hammy declarations the Oceanid makes during her boss battle.

Paimon:

"Paimon is Emergency Food." Explanation When you meet Amber, she asks who/what Paimon is, and you have the option to snarkily reply that she's "emergency food." Later, when you meet Xiangling, she asks if Paimon is an edible exotic creature, and your second dialog option is "Dig in." No one ever actually tries to eat her, of course, but these Running Gag moments led to a lot of memes related to eating Paimon or literally turning her into food. Even one of the Japanese commercials makes a joke about it!

"Emergency Snack" Explanation Leaning on the Fanservice side, this is used whenever a fanartist draws Paimon in a teenager/young adult form. It's also a common reply whenever one makes fanarts of the Unknown God, following a popular fan theory suggesting that the Unknown God and Paimon are the same person.

"'Ehe' te nandayo?!"/"What do you mean 'hehe'?!" Explanation

This is Paimon's line when Venti can only answer her inquiry (about stealing the Holy Lyre just to play it in front of drunkards at the tavern) with "hehe". Many fans find this cute, and so it became memetic quickly.

Giant PaimonExplanation In March 2021, Genshin Impact had a promotion with the Chinese branch of Kentucky Fried Chicken. During the video where a new KFC store opens in Mondstadt, Paimon suddenly grows large enough and drags Aether in line for some chicken.
"O kawaii koto"/"How cute..."Explanation Paimon's Brief Accent Imitation of Ayaka in the Traveler's Voice line about Ayaka. Paimon's Japanese VA also voices Kaguya Shinomiya who often say that line in Shirogane's Imagine Spot.
"In Memory of Paimon" Explanation

Upon receiving Albedo's drawing of Paimon as a Serenitea Pot item, players were quick to build her a "funeral" and display the photo there.

"Derpy Paimon/Paimona Lisa" Explanation Another variation of Albedo's drawing is a comparison with the Traveller's depiction of Paimon with a more cartoonish design akin to the Teri Teri/Derpy Theresa meme from sistergame Honkai Impact 3rd. The contrast between the two plus Paimon's Mona Lisa-esque inspired drawing from Albedo created a very popular meme template akin to the Drake Hotline Bling Meme

Pyro Abyss Lector:

Chad Pyro Lector Explanation (spoilers!) When the Pyro Lector was first announced, players remarked that his pose resembled that of the Chad from the Virgin vs. Chad meme. Such memes were made with the Lector as the Chad and another enemy as the Virgin. When Enkanomiya's world quest was released and its central character Enjou, a Pyro Abyss Lector, became an Ensemble Dark Horse due to his Affably Evil personality, he was then memed as a chad similar to Scaramouche.

Pucinella:

"¿Cuantás gnosis tenés?"/"Che" Explanation

A meme from the spanish community involving Pulcinella, in which he´s compared to the stereotype of Argentinians due to having a long and pointy nose.

Rana:

"Rana, the Best NPC Waifu/Chad Sumeru NPC" Explanation (spoilers!) In the world quest series Aranyaka, you can see the NPC Rana fighting back against some fungi & Spinocrocodiles. Something that Mondstadt NP Cs like Reckless Pallad & Allan never do. Her Heroic Sacrifice to put her life at danger in The Withering Zone to save one lost child in the cave. In the Epilogue, she eventually received a vision for her heroic deeds.
Playable Rana Explanation

Following up on the joke above, some fans quipped when Rana will become playable, despite that her having a generic NPC model automatically disqualifies her from ever being a playable character.

Reckless Pallad:
Greater Lord Rukkhadevata

Who's that? Explanation (Big spoilers for Sumeru's Archon Quests!)

Rukkhadevata lets herself be erased by Nahida in order to erase forbidden knowledge and other disasters that plague Sumeru. This erasure removed all memories of her existence from everyone but the Traveler. However, fans would jokingly act confused as to why Kusanali is the Lesser Lord when she has been Sumeru's only Archon and question who is Greater Lord Rukkhadevata and why hasn't she been mentioned before.

Sandrone:

The real Sandrone is the robotExplanation A semi-serious theory that suggests the true Harbinger is not the girl in the maid outfit but the large robot that carries her around, using a smaller robot as A Form You Are Comfortable With to communicate with people.

Timaeus:

Timaeus, Guardian of the Alchemy TableExplanation Due to him standing right next to the alchemy crafting bench table in Mondstadt, many players will inevitably wind up talking to him on accident when they're trying to interact with the bench. This has lead to many comics and edits where the Traveler will talk to him and then immediately shout at him to shut up, or else portray him as someone trying to defend that poor crafting table from whatever the player is trying to do. The meme was finally laid to rest in the 2.2 update, which added an option for Timaeus to redirect you to the crafting menu if you click on him by mistake.

Timmie:

"Little Timmie's seen some shit" Explanation Players entering Mondstadt for the first time will likely notice an NPC child named Timmie hanging out on the bridge into Mondstadt with some pigeons; crossing the bridge (the obvious way to enter Mondstadt) scares the pigeons, and if you speak to Timmie, he'll blame you for scaring the birds. You can point out that they'll come back, and he'll ask what if they don't... "just like daddy." This is such an out-of-nowhere turn for the conversation that it immediately became memetic, with people assuring Timmie that his dad was just out for smokes or trying to assure him that dad would be "back" and also speculating why his dad disappeared (the player can later discover he died in a hunting accident and the people in the know are hiding the truth from Timmie to not break his heart). There is also a quest later on where the player is tasked to feed the ducks by Timmie. If the player so chooses, they can kill them after feeding them (shooting them with arrows or magic, or simply charging up the pond with Electro). If they did do this, Timmie will exclaim that he "saw what you did to those poor ducks!" and you will get another quest later on to apologize to him.
Timmie's Stand Explanation During Venti's Character Quest, the Traveler, Venti and Paimon are able to see the imaginary friends of the children of Mondstadt. When they get to Timmie, they find out that his imaginary friend is a Ruin Guard of all things. Considering how Ruin Guards can be Demonic Spiders, especially in large groups, the fanbase takes it that Timmie will throw down if you mess with his pigeons.
Timmie the Fatui Harbinger Explanation

In the Web Event "A Thousand Questions with Paimon" in which the player can answer quiz questions about the game to earn Mora, one of the questions is "Who is the 8th Fatui Harbinger". One of the multiple choices is Timmie, resulting in jokes about Timmie showing his true strength and initiating a boss fight if you mess with his pigeons.

Treasure Hoarder Potioneers:

Test subjects Explanation

Some of the potioneers' opening and defeat lines refer to the player characters as test subjects, e.g. "Another test subject!" and "Picked the wrong test subject...". It's memorable as what they are testing for is not clear (the intent is that they're testing their potions on you by attacking you), and you can expect some references to test subjects to appear when the potioneers are mentioned.

"Fry!" / "That tingle?" / "Suffocate!" / "Freeze!" Explanation The potioneers' attack calls when they throw their potions depending on their element. Given their punny nature and brevity, that makes them popular lines to repeat in a proper context with the potioneers.

Tubby:

"Maybe you" Explanation

Similar to Katheryne, players need to talk to Tubby in order to access the Serenitea Pot Menu. Her line is therefore frequently heard and skipped.

Unknown God:

"Arrogation" Explanation In the opening cutscene, the apparent Big Bad declares that "The arrogation of mankind ends now" as she captures your sibling and traps you in Teyvat. Though it sounds like a made-up version of "arrogant," "arrogate" is a real (if somewhat archaic) word meaning "to claim something you have no right to." Since most people haven't heard this word anywhere else, it shows up frequently in Genshin-related memes, with or without the original line from the intro.
Varka:

"Varka took all the good shit!" Explanation Although not seen, only mentioned, Grandmaster Varka plays a significant role in why Mondstadt is the way it is and why Jean is the Acting Grandmaster. Due to the fact that he went on an expedition and somehow took all of Mondstadt's calvary units (Explaining the lack of horses in the game), fans begin to joke and snicker on why Mondstadt feels lacking in content and why the soldiers of Mondstadt suck. The explanation? Because Varka took everything cool, including the actual good soldiers.
Event Memes
Top 10 images taken right before disaster Explanation The event "Five Flushes of Fortune" involves having players travel all around Liyue and Mondstadt to take pictures of a certain item or creature of the day. Items are easy enough, but "creatures" include taking pictures of the monsters and enemies you find out in the wild (animals being the safer option). Cue shenanigans and jokes with players posting in game photo's of themselves getting attacked by the creature they want to take a picture of, and some went as far to take pictures of difficult enemies such as Ruin Guards and Ruin Hunters, and even bosses!

National Teyvat Explanation Referencing NatGeo's famous nature photoshoots. Extra fun if the picture in question is a photo of a dangerous animal enemy like Boreas or the Primo Geovishap.

Arknights Crossover Explanation The 1.3 event Theatre Mechanicus is a tower defense game mode in which the player can place turrets. Cue jokes about Arknights, a popular gacha tower defense game, especially because this event took place not long after the Hypostasis Sympho- er, Contract event.
Genshin Fall Guys Explanation The Peculiar Wonderland event that was part of the Windblume Festival in the first half of version 1.4 featured multiplayer minigames that were immediately compared to Fall Guys, a chaotic 3D-platforming contest game that came out around the same time as Genshin.
Endora catching Pokémon Explanation In the Wishful Drops event and storyline, the player obtains an Endora gadget with which they are tasked to capture Oceanid water mimics in the overworld with water bubbles, not unlike catching Pokémon in Poké Balls. The whole event was also likened to Pokémon GO as well due to this synopsis.

Getting revenge on the Hydro Abyss Mages Explanation The Hydro Abyss Mages are notorious for That One Attack that traps players in bubbles. Endora could capture enemies with similar bubbles during the Wishful Drops event, prompting players to use them on the Abyss Mage.

Windtrace memesExplanation

The Windtrace event was a Hide-And-Seek style minigame where players disguise themselves as objects while someone hunts them down.

Windtrace tier listsExplanation

Some characters perform better than others. Mona can fulfill both roles greatly since she is fast and only seen as a tiny splash of water when sprinting. Qiqi, Klee and Diona are preferred rebels since they are much smaller and are harder to spot, while Kaeya and Razor are better hunters since their expedition talents decreases their sprinting stamina allowing them to cover the map and chase rebels more efficiently.

Mona too OP plz nerfExplanation

Because of how broken Mona's Illusory Torrent was during the event, which greatly increases her speed and reduces her to a small splash of water, miHoYo removes the use of alternate sprints altogether in the next iteration of Windtrace, reducing Mona and Ayaka to regular sprinting.

Tree climbing simulatorExplanation

A lot of players cheese the game by climbing up a tree and staying there. The leaves make it really hard to find someone and the height makes it easy to spot an incoming Hunter.

Qiqi HuntExplanation

Having Hu Tao as the Hunter and the Rebels as Qiqis has gotten popular due to their backstory.

1.6 Midsummer Island Adventure Event

Bombs Explanation

At the end of the Midsummer Island Adventure event, players could craft bombs which made it easier to clear out buffed Hilichurl and monster camps. Many players found out these bombs did much more damage than their main party in regular gameplay. Meanwhile, players with high Adventure Ranks found their fully upgraded characters struggling with the monsters in the event area.

Unplayable Minigames Explanation

The Midsummer Island Adventure minigames required the Wind-Blessed Harpastum to play, but many players skipped the tutorial on how to use it. This led to scenarios such as attempting to glide through the Hymnal Rings and shooting the Dodo-King painted walls.

Ending Never-Ending Battle Explanation The Never-Ending Battle was a limited-time event. Players who received the P.A.I.M.O.N mail informing them it was ending soon were quick to call out the sheer irony of the event's name. It doesn't help the event battle itself was also timed.
Fan Content Memes
Everyone dancing to specialistExplanation Videos that plug dumped models of the cast into the dumped dance routine for the song "Specialist" from Persona 4: Dancing All Night, often with a version of the Cool Shades the Protagonist can wear in that game added. Versions include everything from playable characters to hilichurls and boars to Amber's Baron Bunny. Whenever a new playable character is revealed, it is now a tradition to immediately have them dance to "Specialist".
Genderbent Archons Explanation (Spoilers!)

Venti and Zhongli are occasionally drawn by fans as females, though with different reasons: Venti already looks pretty as a boy, while Rex Lapis (and thus, Zhongli) was known for disguising himself with a female form.

"THIS CHANGES EVERYTHING!" Explanation Genshin content creators on YouTube commonly include this phrase on their thumbnails when hyping an upcoming patch or character. While it's attributed to Genshin player "Mtashed" and was initially limited to YouTube, it also spread into other online platforms.

Big PP Damage Numbers/DPS = Damage per ScreenshotExplanation

Another common thumbnail is a screenshot of a big damage number. Viewers often remark on how the thumbnail is not indicative of the character's actual damage capabilities as the youtuber often uses Bennet, Mona, Sucrose and food buffs to achieve that damage number, calling out the thumbnail as clickbait.

Old Italian Man Explanation After this reddit post in which an "Old Italian Man" commented on how the outfits of the characters seemed impractical and remarked on the lack of trousers, many Reddit users refer to the "Old Italian Man" whenever someone suggests less Fanservice-y outfits and female characters wearing pants.
Doki Doki Literature Club! edits Explanation

As "hangouts" (basically dating sim quests) were introduced in 1.4, many players started making edits of Barbara, Noelle, Bennett and Chongyun in the interface or menu screen of Doki Doki Literature Club, a well known dating sim game.

McGenshin Explanation A viral social media trend on April 2021 wherein fans use profile pictures of Genshin characters wearing McDonald's hats.
I will turn into a convertible! *transforms into convertible* Let's go! Explanation An utterly hilarious trend of Genshin Impact characters transforming into convertibles in the same vein as the "DaBaby turns into a convertible" memes.
Least Horny Genshin PlayerExplanation Genshin Impact's wide range of attractive characters and popularity is bound to create a massive fanbase who are only interested in the 'fan art'. Frequent memes often prompt up showcasing the apparent widespread degeneracy, lack of social life, and just blatant smut from the fanbase.
Resinless behaviorExplanation A riff off of the "maidenless behavior" meme from Elden Ring, used to refer to players indulging in weird, high-effort in-game behavior. Resin is the Freemium Timer mechanic of the game meant to limit how much people can earn character-upgrading items in a single day, so when people run out of resin, it means there's nothing else to do... so they get bored, and begin inventing highly unusual ways to entertain themselves within the confines of the game.
"Garnt, our Favourite Genshin Streamer" Explanation A crossover meme with famous anituber Gigguk or Garnt which exploded into popularity when he did a surprise return streaming Genshin in 2022. It is to the point that Gigguk's streams on twitch is forever synonymous with Genshin despite originally dropping it in late 2020 and insisting that he was not addicted to it....only to relapsed and admit later on two years later that he is indeed addicted to it.
Gacha Memes
F2P btw Explanation This is a borrowed meme from other gacha game communities. Since Genshin is a gacha game, Bribing Your Way to Victory is common, and the amount players choose to spend varies widely. At the opposite end of the spectrum from "whales" who spend thousands of dollars are "free-to-play"-ers who don't spend any real money. And as the adage goes, you'll always know if someone's in the latter category, because they'll tell you—especially when showing off any rare characters/items they've acquired. It crops up often enough that the stereotype of saying "F2P btw" has itself become a meme making fun of this phenomenon.
"Rate up is a lie!"Explanation Another meme borrowed from several pre-existing gacha game communities (like Fate/Grand Order), this is used to express how unlucky the player is when drawing from the gacha.
WGS stands for Waster Greatsword Explanation Usually, "WGS" is short for Wolf's Gravestone, a very popular 5-star claymore. Coincidentally, though, there's a one-star claymore called Waster Greatsword, which also abbreviates to WGS. So, people will sometimes pretend this is what the acronym really means and/or that the Waster Greatsword is powerful (it's actually the worst claymore in the game, given to newly-acquired claymore-wielders as a default weapon).
"I finally got [x]"/"My [x] looks weird" Explanation

Used by players who didn't get their desired character and used with a image of their roll, edited to look like the character they were aiming for.

Wish Rituals Explanation

A popular meme in the community is to pull for desired characters after performing strange tasks inside and outside of gameplay because it would supposedly increase their luck. The most popular in-game ritual is sitting in the palms of the Barbatos Statue. Optionally, players would make a 'sacrifice' by jumping off and letting a character die by fall damage. Outside gameplay, it is common to (digitally) make magic circles and mandalas featuring pictures of the desired character along with Primogems and Intertwined Fates for added luck.
Gameplay Memes
"Melted Phones"/"Nuclear Reactor Phones" Explanation Just like the "Busted Phones" and "Phone-Toasting Ultimates" memes from Honkai Impact 3rd, gamers worry and joke that because Genshin Impact is a graphically-demanding game, it would end up overheating devices and reducing the lifespans of batteries, especially on lower-end phones.
"Chest-opening simulator 2020" Explanation The game includes a prodigious quantity of Inexplicable Treasure Chests—at least 400 in Mondstadt alone—and you have to manually pick up the items that fall out when opening one, so you'll spend a lot of time just looting chests. When the game was just freshly-released on 2020, treasure hunting is the most common thing to do in the open world.
"Lighter, pickaxe, bridge" Explanation

How fans describe Amber, claymore users (but especially Noelle) and Kaeya respectively, due to their utilities in non-combat situations.

Teyvat has its own "laws".Explanation

A common loading screen tip. Quoted whenever players come across anything that would break the laws of physics in real life, like screenshots of bugs and glitches and implausible in-story scenarios.

Baby [x] Explanation

No matter the player's Adventure Rank or their other characters' levels, all new characters will be at level 1, without any artifacts and with a 1-star weapon. Said newly acquired characters are often depicted as babies or small children, with their higher-leveled teammates collecting ascension materials for them, protecting them in battle or outright acting as parents.

Calling a character "discount [x]" Explanation

Originally used as a way of putting down four star characters if their abilities are somewhat similar to those of a five star character's, such as Bennett being a "discount Diluc". Usually flipped to mean the opposite these days though, like "Venti is discount Sucrose", but whether or not it's said in earnest depends on the poster.

Forgetting to use the Parametric Transformer Explanation

The Parametric Transformer was added in 1.3; it lets you spend some unwanted items to get random rewards, but only once per week. Since there's no notification when it's ready, and the timer starts whenever you last used it, it's common to forget about it entirely, and a number of memes have been made about this.

Bitcoin mining / Bitcoin Impact Explanation

The housing system added in 1.5 generates "realm currency" at a rate depending on the amount of objects placed in your magic-teapot-dimension. The most efficient way to do this turned out to be crafting tons of decorative folding screens (a 4-star item) and cramming them all into one room in your house (because each room has its own placement limit). This was jokingly compared to server farms for mining cryptocurrency.

Teyvat Deforestation Explanation

The 1.5 housing system lets players craft furniture with wood that can be obtained from attacking trees. Even though the trees do not disappear once the player has collected their wood, players joke that they are destroying Teyvat's ecosystems and beautiful landscapes just to build furniture.

Inazuma has no chill Explanation Inazuma is significantly more dangerous to explore than Mondstadt and Liyue, owing to enemies being a good deal stronger and many of the islands having severe hazards. Kannazuka Island has a big chunk covered in Balethunder that causes constant damage while you're in it, while Yashiori Island has intense thunderstorms all throughout (Both required a specific World Quest to be completed in order to safely explore through those islands). Came to a head in 2.1 when Seirai Island was added, which is almost entirely covered in a field that has both Balethunder and constant lightning strikes that aim directly for you.

6.0 Snezhnaya puzzles Explanation

Inazuma's puzzles are also noticeably harder than Mondstadt and Liyue puzzles. A common joke is putting calculus problems next to the caption "Snezhnaya puzzles" to show probable exponential growth in the difficulty of puzzles.

Dubstep Impact Explanation

The soundtrack to Genshin Impact uses a mixture of Orchestral, Rock, and EDM elements liberally, especially during Boss Fights. After fights like Childe, Signora, and the Raiden Shogun used these musical combinations surprisingly well, fans have dubbed the game "Dubstep Impact" to express enthusiasm, bemusement, or surprise at the combination being so effective.

Maybe Get Yourself a More Social Hobby... Explanation

Enkanomiya has a hidden achievement with this name, obtained when you complete the labyrinth-maker's challenge. An image of the pop-up banner with this achievement on it will often get posted in response to someone doing something that indicates they clearly have too much time on their hands, such as overanalyzing some aspect of the game.

The real 5*/6* Explanation

A title often given to 4* characters who the fans end up loving more than the 5* ones, be it for combat abilities (Bennett), being more unique than the 5* the appear alongside (Sayu), or for their amazing animations (Yun Jin).

Polearm Impact Explanation A humorous jab at how every new patch always seems to introduce a new polearm-wielding character, starting with Shenhe and Yun Jin (whose patch also notably featured the reruns of Xiao, Zhongli, and Ganyu), and more recently, Cyno and Candace.
Memes on Promotional Content (and Leaks)
Passing off Honkai Impact 3rd designs/news as Genshin Impact leaks Explanation As Genshin Impact shares quite a few concepts and designs with Honkai Impact 3rd, it's not surprising to have future Genshin content be based on Honkai's. Thus, joke/fake "leaks" of Honkai concepts being said as future Genshin contents appeared; some clearly intended to be joking while some others are actively misleading. Quite a number of Genshin players (especially those who don't know or play Honkai) get fooled, with some getting disappointed upon seeing the contents' actual origins; occasionally it may also fool Honkai fans into believing that their specific content may be adapted into Genshin.
2.8 Live Stream Explanation

The English version of the live stream showing off the upcoming Version 2.8 has had numerous technical issues, with the video lagging and buffering an untold number of times, and rewinding itself a few minutes back several times, culminating in the infamous moment of the long-awaited Sumeru preview suddenly being interrupted by the third Redemption Code. After the initial frustration, players started making jokes about the whole ordeal, like saying that Hoyoverse were trolling the playerbase in retaliation for content leaks, or that Istaroth was messing with the video.

8.5/10 Explanation

Before they were officially unveiled on July 11 2022, the long wait for Sumeru characters had led some artists to try and draw what characters like Tighnari, Collei and Dori looked like based on leaked descriptions. This led to the leaker's response by usually rating them around 8.5/10. Fans immediately took this by strides and memes based on rating characters and even weapons and artefacts as an '8.5/10' blew up on reddit and twitter.

If Cryo, why hot? Explanation

A recurring joke from fans about how so many Cryo characters (Kaeya, Ganyu, Rosaria, Eula, Shenhe, Ayaka, and (even though her Cryo is merely a Delusion) La Signora) end up being some of the most attractive characters in the game.

If evil, why hot? Explanation

As "A Winter Night's Lazzo" teaser revealed, the entirety of The Eleven Fatui Harbingers is comprised of attractive people (and Pulcinella). The phrase popped up as a response to both the individual characters' designs and the group shot near the end of the teaser.

Jenshin Impact Explanation During The Game Awards 2021, Genshin Impact won Best Mobile Game but was mistakenly pronounced as Jen-shin rather than Gen-shin by the announcer. It started trending almost instantly, even the official Twitter page joined in.
Location Memes
Mondstadt = Home Explanation

Due to it being literally the first region that has a very chill atmosphere largely devoid of any politicking. A number of players view Mondstadt with a hint of nostalgia and a place to relax. This can be applied to a little extent to Liyue too post-Archon quest. Given the rampant political turmoil and mini-civil wars in both Inazuma and Sumeru, this is not a surprise.

Inazuma:

Inazuma the Giant Cock Explanation When the whole of Inazuma's map was released in the 2.1 update, people believed it looked...rather phallic, to say the least. As such, people joked about it and mocked Ei for ruling over a region that looks like a giant penis, and often draw attention to the fact that the two political leaders of Inazuma are named Kokomi and Baal. Alternately, some joked that the whole of Inazuma was actually the remains of Orobaxi's massively oversized penis on his corpse; the rest of him made up Yashiori.
Tsurumi Island, the Giant Uterus Explanation In the same vein as how Inazuma gets much snickering due to its phallic appearance. It wasn't long before the fandom also realised that Tsurumi Island kind of resembled something heavilly yonic in appearance. Put two and two together and the jokes just writes themselves.

Sumeru:

Sumeru Bollywood Explanation The cutscenes in Inazuma are noticeably inspired by anime and Japanese television. Because of this, many fans joke and speculate about how cutscenes in Sumeru (a nation themed after the Middle East) will have Bollywood-style editing. The editing of Bollywood movies and Hindi soap operas has become infamous due to the narmtastic overuse of special effects to the point of ruining a scene's tension and mood.
3way Asiska Fake Aladdin Video Explanation When Sumeru as released, a shit ton of memes immediately linked Sumeru with 3way Asiska's A Whole New World parody due to the heavy middle-eastern influence of the region.
Touch grass Explanation

Since Sumeru is the land of Dendro, full of lush greenery, players have been joking that with the release of Sumeru they will get to "go outside and touch some grass" without actually exiting the game.

The Sages' Punishment: Touching Grass Explanation (spoilers!)

Many players felt that exile to the rainforest was not enough of a punishment for the sages at the end of the Sumeru Archon Quest. Later on, they started joking that the punishment was in fact the worst possible one imaginable: forcing the sages to touch grass.

The Weed Nation Explanation

With a nation of the element of Dendro and with the fact that it is populated by highly sentient and hostile mushrooms as shown from the Sumeru Preview Teaser 03: Prelude to Wisdom developer diaries, jokes on how everyone in Sumeru is high just naturally ran itself. When Sumeru came out, some of the daily commissions required the players to jump on mushrooms, causing the fanbase to ask who's high enough to commission and pay the Traveler to jump on mushrooms.

Sumeru's Animals Explanation

Sumeru's animals are known to stand their ground and fight back or even attack the traveller. The sheer aggression from the animals and its tropical environment combine this with Sumeru's reputation as the weed nation, has spawned countless memes of players taking photos with these animals seconds from disaster to players referring the nation as Genshin's Florida Everglades or Amazon Rainforests.

Because Snezhnaya is the Genshin Fantasy Counterpart Culture of Russia, the fandom has associated Russian memes with that nation and its citizens:
Lore Memes
For those who are into the lore and fan theories, some characters are thought to be suspicious (as detailed in the WMG page) even if the game's story is still at its early parts. This resulted into the "[Character] sus!" phrases (originating first from YouTube Poop and is later popularized by Among Us meme template) being used by the Genshin fandom when these characters are discussed:

"Paimon sus!"Explanation (spoilers!) The game presents little to no information on who or what Paimon really is, but a popular fan theory suggests that she may be the Unknown God who fought the Travelers in the prologue. Her name being based on a demon king from the Ars Goetia raised eyebrows as well, especially since the other Archons, Barbatos and Rex Lapis (Morax) also are named from the same book.
"Kaeya sus!"Explanation (spoilers!)

His character story mentions that Kaeya is an agent from Khaenri'ah "placed in Mondstadt to serve their interests". Whatever that means, he's thought to have a hidden agenda.

"Otto sus!"Explanation (spoilers!) A phrase that's quite exclusive to fans of both Genshin Impact and Honkai Impact 3rd. There's a minor Knight of Favonius NPC named "Otto", making HI3 players theorize, suspect, or joke that perhaps, he is Otto Apocalypse, the Big Bad of HI3, in disguise. While he's normally found guarding the church, he's oddly nowhere to be seen when the Fatui attack Venti and the Traveler the moment they leave it.

Nothing happened in Khaenri'ah/The Archons' War CrimesExplanation (Spoilers!)

After 1.4's We Will Be Reunited quest in which Dainsleif states that Khaenri'ah was destroyed by the gods, and 1.5's No Mere Stone in which Zhongli is unable to tell the Traveler about Khaenri'ah, there have been many jokes based on the saying "it's not a war crime if you're the victor" and the "Nothing Happened in Tian'anmen Square" meme.

You don't want to be a Genshin Child Explanation A surprising amount of children in Genshin Impact have sad stories, some even completely depressing. Many players claim they wouldn't want to be a child living in Teyvat.
Anemo vision holder curse / An-EmoExplanation A similarity in the backstories of most Anemo characters (as of Version 2.8) is that they lost someone close to them, such as all the Anemo short males (Venti, Xiao, Kazuha and Heizou) witnessing the deaths of their friends, Sayu not knowing what happened to her master, and Sucrose gradually losing contact with her friends. Thus players joke that having a dead friend is a prerequisite for gaining an Anemo vision, and if you're "lucky" enough to receive one, expect your friend to die soon. Then, Scaramouche who suffered three betrayals gets teased to receive an Anemo vision (becoming a playable character) seemingly further confirming the theory.
Venti: I solved the problem for my people.
Zhongli: I let my people handle their own problem.
Nahida: I solved the problem created by my people.
Raiden: I am the problem.
Explanation A succinct meme highlighting how the 4 Archons so far differ in role in each arc.
MemeHoYo
'Poor Indie Company' Explanation A sarcastic quoted meme used whenever Mihoyo is perceived as being too stingy with rewards, especially when it comes to Anniversary rewards. Given the billions of revenue that Mihoyo makes each month, jokes has often been made on Mihoyo's financial situation.
Google Classrooms Explanation During the fiasco involving the rewards for Genshin Impact's first anniversary, Genshin players expressed their wrath by review bombing several apps, including those that had nothing to do with Genshin Impact or miHoYo like Google Classroom. It has since become the go-to example for the toxicity of the Genshin fandom.
Excessive Anxiety Explanation

In an interview, when asked about the implementation of new endgame content, the devs replied that there will be no endgame content similar to Spiral Abyss because they don't want to cause excessive anxiety in the (mostly casual) playerbase. The wording used has since become memetic.
---