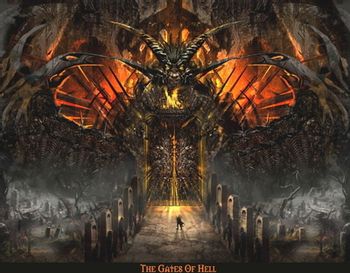 "I'm going to Hell
(He's going to Hell)
In a handbasket
(In a handbasket)
And I might like it that way
No, this ain't no lie
I'd rather be Kentucky fried
Than alive and kicking in Jersey any day!"
The following is a compiled list of tropes related to Hell, the Underworld, and its inhabitants (which are often demons).
Compare This Index Is on Fire. Contrast Tropes of the Divine and Angelic Tropes.
---
Tropes:
<!—index—>
Characters
Locations
Narrative
Other
---