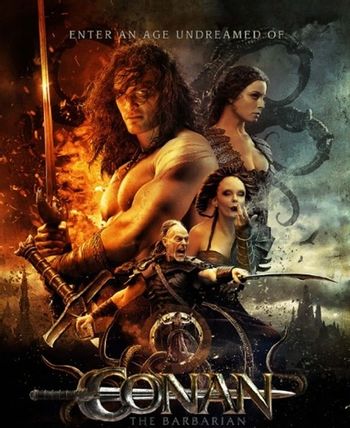 "I live... I love and slay. And I am content."
— Conan
Conan the Barbarian is a 2011 film featuring Conan of Cimmeria, the classic Barbarian Hero created by pulp writer Robert E. Howard. It stars Jason Momoa as Conan, Rachel Nichols as the Love Interest Tamara, and Stephen Lang and Rose McGowan as the villains Khalar Zym and Marique. It is directed by Marcus Nispel (Pathfinder, The Texas Chainsaw Massacre (2003)).
It is a Continuity Reboot of the Conan film franchise, again revisiting his Origin Story, though it takes a fair few elements from the first two Conan films which starred Arnold Schwarzenegger. On the other hand, the movie retains many quintessential elements of a good Conan story: a Distressed Damsel, an Evil Sorceress, an Evil Overlord, even an Artifact of Doom for everyone to quarrel over. Of course, true to its pulp origins, the movie has a lot of blood and some nudity and is extremely sword and sorcery.
Set in the distant past of the Hyborian Age, the story revolves around the Mask of Acheron, a Cool Mask made of the bones of kings, which in the even more distant past let the necromancers of Acheron take over the world - except for the barbarian tribes who combined to overthrow their empire. The mask was broken into many pieces and scattered across the lands. As is to be expected, a warlord named Khalar Zym tries to gather all the pieces and reassemble the mask, in order to bring his late wife Back from the Dead and to conquer the whole world. In the process, he tortures and kills Conan's father and burns down his hometown. Conan survives to become a vagabond warrior and thief, but swears to get his revenge one day.
Years later, Khalar Zym has completed the Mask and now seeks the last pure-blooded descendant of the Acheron rulers to sacrifice, in order to unleash the Mask's power. He and his Mooks again cross paths with Conan, who resolves to oppose them. In the course of events he runs into a female novice named Tamara, the very person Khalar Zym seeks...
Unfortunately, the film was a Box Office Bomb, only earning less than $49 million worldwide with a $90 million budget. The next Conan film, should it ever escape from Development Hell, will star Arnold Schwarzenegger again. Its tentative title is The Legend of Conan, and it's supposed to be a sequel to the first film alone.
---
This work contains examples of the following:
---