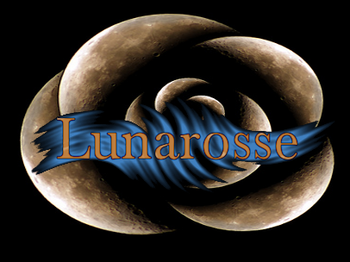 "We've come all this way to see the end of this story and that's what we're going to do."
Lunarosse is an RPG made by Geminidrake with RPG Maker.
Lunarosse (pronounced loo-nuh-rohs) is a realm of fantasy. Anything that is possible is: magic, fairies, monsters, dragons, werewolves, merpeople, elves, etc. Under the banner of this great realm is the kind and benevolent ruler, Empress Corlia del Lunarosse. Those who follow her order are rewarded with anything they desire: wealth, a family, a promising career, anything if the people earn it. However, there are those who see the empress' ways as nothing more but oppression, the demon tribe of Yliandra (pronounced yeel-lee-ahn-dra). Led by their shamaness of the same name, for years they battled against the armies of Lunarosse to try to bring "truth" to the eyes of its residence. It didn't matter how many fell, for those who believed in the empress' kindness are restored to life as though never killed at all. It has been ten years since the struggle began, and the war still rages on.
One day, the ranger guild of Bahrmuel is given a special mission from the empress herself. They are to escort an ambassador assigned to journey into Yliandra's whereabouts to discuss peace after all these years. It's this particular mission that will decide the fate of the empress' blessed empire and the people who feel oppressed.
The main characters are:
Channing Farrow, an ordinary guy who just wants to get his job done and doesn't care for much else.
Noel Warhol, Channing's best friend who often finds himself exasperated with his mindless partying and laziness.
Gloria Harper, Channing's arranged fiancé, who harbors a mutual dislike for him and the marriage.
Garrett Davis, the prince of Lunarosse and brother of Corlia, who mysteriously vanished.
It's up to them to save Lunarosse from the increasingly insane Corlia and Yliandra, as well as an unknown entity that is plunging Lunarosse into chaos...
More can be found, including a download link here
. You can also view a playthrough of the game here.
---
Tropes that comprise this work are...