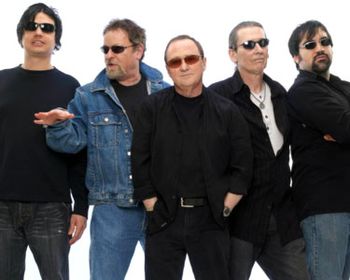 All our times have come
Here but now they're gone
Seasons don't fear the reaper
Nor do the wind, the sun or the rain
We can be like they are...
— "(Don't Fear) The Reaper"
Blue Öyster Cult is an American Hard Rock/Heavy Metal band. Their manager, Sandy Pearlman, formed the group as Soft White Underbelly in 1967. The group cut its teeth playing Country Music in biker bars before, at Pearlman's urging, their musical style shifted in a harder, psychedelic direction inspired by Black Sabbath. After some trials and tribulations, including the departure of lead singer Les Braunstein and his replacement with acoustic engineer Eric Bloom, the band eventually took the name Blue Öyster Cult (with a trope-making ümlaut over the "O") and released their self-titled debut album under Columbia Records in 1972. The original lineup consisted of lead singer/guitarist Eric Bloom, lead guitarist Donald "Buck Dharma" Roeser, guitarist/keyboardist Allen Lanier, and drummer Albert and bassist Joe Bouchard.
BÖC reached mainstream success in 1976 with the release of their first platinum album, Agents of Fortune, and its hit single "(Don't Fear) The Reaper," followed by Spectres and the FM hit "Godzilla".
In 1981, BÖC recorded Fire of Unknown Origin. The band had written several songs on this platinum album for the upcoming animated film Heavy Metal, but the producers chose "Veteran of the Psychic Wars," which wasn't done with the movie in mind. Albert Bouchard left the band after Fire.
Between 1985 and 1987, Allen Lanier and Joe Bouchard quit the band, leaving Eric Bloom and Don Roeser as the only original members. The band took 1987 off, Lanier returned, and they resumed touring with Jon Rogers and Ron Riddle. The band has released several studio albums since then, but none for the 19 years between 2001's Curse of the Hidden Mirror and 2020's The Symbol Remains. Their motto since the late '90s has been "On Tour Forever!", and they live up to it, continuously touring at fairs, clubs, festivals, casinos, and auditoriums across North America and Europe (often hitting the same venue more than once a year).
Founder member Allen Lanier sadly died in August 2013 after a long illness, which had already necessitated his retirement. His last public appearance with the group was at the fortieth anniversary celebration in December 2012. Long-standing manager and band associate Sandy Pearlman, who was responsible for forming and naming the group, and production work on early LP's, as well as naming Buck Dharma and contributing most of the Imaginos cycle of lyrics, died in July 2016.
Blue Öyster Cult's current lineup:
Eric Bloom: Lead vocals, "stun guitar" (his style of rhythm guitar), keyboards
Buck Dharma: Lead guitar, vocals on various songs (including "Don't Fear the Reaper")
Richie Castellano: Keyboards, guitar, bass, lead vocals on various songs
Danny Miranda: Bass guitar
Jules Radino: Drums, percussion
Former members:
Chuck Burgi: Drums
Albert Bouchard: Drums, lead vocals on various songs
Joe Bouchard: Bass, lead vocals on various songs
Les Braunstein: Lead vocals
Rick Downey: Drums
Allen Lanier (1946-2013): Keyboards, guitar, backing vocals
Kasim Sulton: Bass
Al Pitrelli: Guitar
Bobby Rondinelli: Drums
Jon Rogers: Bass, Guitar, songwriting
Ron Riddle: Drums
Rudy Sarzo: Bass
Patti Smith: Vocals on "The Revenge of Vera Gemini" from Agents of Fortune. Has written or co-written many songs for the group.
Studio album discography, with notable songs:
St. Cecilia (1970, unreleased until 2001): "What Is Quicksand?", "Donovan's Monkey".<!—index—>
Blue Öyster Cult (1972) (1972): "Transmaniacon M.C.", "Cities On Flame With Rock & Roll".
Tyranny and Mutation (1973): "The Red and the Black", "Hot Rails To Hell", "Mistress of the Salmon Salt (Quicklime Girl)".
Secret Treaties (1974): "Dominance and Submission", "M.E. 262", "Astronomy".
Agents of Fortune (1976): "(Don't Fear) The Reaper", "This Ain't the Summer of Love", "E.T.I. (Extra Terrestrial Intelligence)".
Spectres (1977): "Godzilla", "R.U. Ready 2 Rock".
Mirrors (1979): "Dr. Music", "In Thee".
Cultösaurus Erectus (1980): <!—/index—> "Black Blade", "The Marshall Plan". <!—index—>
Fire of Unknown Origin (1981): <!—/index—> "Burnin' For You", "Veteran of the Psychic Wars", "Joan Crawford". <!—index—>
Revolution By Night (1983): "Take Me Away", "Shooting Shark".
Club Ninja (1986): "Dancin' In The Ruins", "Perfect Water".
Imaginos (1988): "Astronomy", "Blue Öyster Cult".
Cult Classic (1994) (Re-recordings of the group's concert standards).
Heaven Forbid (1998): "Harvest Moon", "See You In Black".
Curse of the Hidden Mirror (2001): "Pocket", "Dance On Stilts".
The Symbol Remains (2020): <!—/index—> "That Was Me", "Box In My Head", "Tainted Blood", "Florida Man", "The Alchemist".
Live albums:
On Your Feet or On Your Knees (1975)
Some Enchanted Evening (1978)
Extraterrestrial Live (1982)
Live 1976 (European import, 1994)
A Long Day's Night (2002)
---
"I'm troping, I'm troping, I'm troping for you":
---