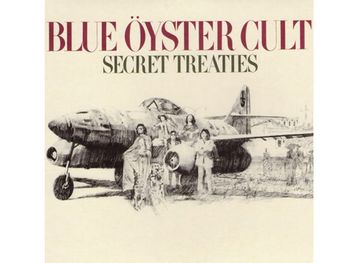 Rossignol's curious, albeit simply titled book, 'The Origins of a World War', spoke in terms of 'secret treaties', drawn up between the Ambassadors from Plutonia and Desdinova the foreign minister. These treaties founded a secret science from the stars. Astronomy. The career of evil.
Secret Treaties is the third studio album by American hard rock band Blue Öyster Cult, released in 1974. It is their last LP cover to have a minimal monochrome design (with touches of red) and has been dubbed the third part of the "red, white, and black" trilogy of albums.
Preceded by the LP Tyranny and Mutation (1973) and followed by the live double-LP On Your Feet Or On Your Knees (1975). Their next studio album was Agents of Fortune (1976).
Tracklist:
Side One:
"Career of Evil"
"Subhuman"
"Dominance and Submission"
"ME 262"
Side Two:
"Cagey Cretins"
"Harvester of Eyes"
"Flaming Telepaths"
"Astronomy"
Tropes forced to submit to dominant guitar work include: