Main Character Index | The Mother And Her Son | Companions Of The Mother | The Hospital Staff | The Hospital Patients And Visitors | Burgrr Inc. Personnel | The Abyss | The Morgue | The Library | The Cafe | Inert Sub-Concept Vessel MG-0908-BN/SK/HL-3900438093990 | The Worms | The Parliament | The Dolphins | Unaffiliated Entities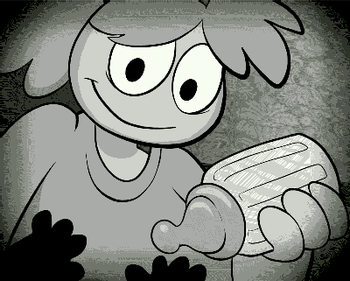 This page covers every character directly connected with both Fern Green and her son. This includes themselves, voices which speak in their heads, alternate universe versions of them, and clones.
---
open/close all folders
Fern Green
You ignore the spinal column's sales pitch and the other whining meat scraps, pressing on in your urgent quest to reunite with your kid and find a way out of this cheap, laughable horror show. You'll find him on your own, or you'll beat what you need to know out of that pink doorknob guy or whatever the hell that was supposed to be. On your way down the hall, you notice a huge, leaking pile of trash bags on the floor. What a dump. What an absolute joke. You know what you should do? You should sue. Do talking bugs and guts know what that is? They vaguely know what "hospitals" are supposed to be, maybe they know what a big fat lawsuit looks like.
Our imperiled, reluctant heroine; a very nervous human mother who awakens in the titular hospital after trying desperately to find a cure for the steadily worsening disease afflicting her son. Now she must find her son and escape, and find a way to save the multiverse from ultimate doom. Although she has no obvious skills or powers, the love for her child and her quick acclimation to the Hospital's weirdness keeps her going strong.
In the Hospital, her room is Exam Room V.
---
Asexuality: And Aromantic. She told Chip she's "not the relationship type," although she is on record as having had one boyfriend once. Though her author isn't 100% committed on her being "technically" asexual:

Bogleech

:

I dunno

if I think of her as "technically" aro/ace so much as just exactly like

my mom and all her mom friends

I knew growing up; they just kinda didn't care either way and put everything else in their lives over any interest in dating, or they got totally sick of relationships at an early age. They could take them or leave them basically... I guess it's complicated.

Audience Surrogate: Since Blue-and-Orange Morality and World of Weirdness are two of the most predominating tropes in Awful Hospital's storyline, it helps having a lady like Fern around, to ask all the questions that a normal human would be asking.
Badass Normal: For a bog-standard human without a clue what's going on, she rises admirably to the occasion.
Bad "Bad Acting": When circumstances call upon Fern to impersonate someone else... she's very poor at slipping into character.
Bag of Holding: The tote bag she buys from the Crooked Spine. It functions by Hammerspace rules and holds up to ten items.
Bag of Spilling: The tote bag CANNOT be summoned in every zone, as Fern learns at the most inconvenient possible time.
Barbarian Hero: Celia◊ assigned this role to Fern without bothering to consult her. Although in combat, she could almost be accused of taking this role to heart.

YOU SWING YOUR +1 AXE! STRIKE ROLL: 21! (CRITICAL STRIKE! +1 DAMAGE BONUS!) The axe buries deep in the soft, spongy, rotten face of the creature, greenish ichor spurting loudly from its maw and open eye socket.

Celia: Yeesh. Brutal. What do you even need us around?

Barbie Doll Anatomy: When Bogleech draws several of his characters, including Fern, naked, Fern's appearance remains "simplified".
The Beastmaster: She has a "Minion" command allowing her to use the Kidney Stone Baby and the Ramblin' Evil Colorectal Polyp in battle. note
Beige Prose: She's down-to-earth and plainspoken to a fault, and isn't really one for flowery language. This trait is especially obvious whenever she finds herself exchanging words with an exceptionally florid ham. Which isn't an infrequent occurrence for her.
Bizarre Alien Senses: She has been feeling things she cannot quite understand ever since branchinating and entering the alien zones. When she gets dosed on Anna's Fantastic Drug gas, she becomes conscious of the "Faz" sense, something the aliens from other zones are familiar with, but grayzoners are normally not.
Blocking Stops All Damage: Almost all damage. Whenever Fern blocks in combat, the most she'll suffer is just one heart of damage from "recoil". Even against much mightier enemies who should rightfully overpower her blocking attempts by a vast degree.

Reflexively, almost guided by the kidney blade itself, Fern manages to bar the horrific blow from tearing through her flesh. You're not sure how it's even possible, considering the difference in scale...

Came Back Wrong: One of the surgical scissors damages her body while trying to resurrect her. Since it will take time to fix, and they don't have the skill to keep her core fresh without putting it into a new body, they transfer her back into one of her old slobbified corpses.
Character Level: She starts the story at level 10, and has slowly increased it over the course of the comic.
The Chosen One: She has a direct connection to her son, which makes her one of the most important pieces in the entire crisis. Mysterious forces have been pulling strings, manipulating her entire quest to save her son and the rest of existence from the disease the Parliament infected him with.
Color-Coded for Your Convenience: Fern's texture coloration is actually a green-tinted picture of bacteria under a microscope.
Conditioned to Accept Horror: She's a veritable valedictorian of the Laurie Strode◊ School of Character Development.

...at least you're getting pretty used to bad smells. And bad visuals. Sounds. Textures. All pretty not-good lately.

Covered in Gunge: The hospital gown that Fern first wakes up in is described as "in dire need of washing. Or burning." by herself and 'freshly mucused' by Dr. Phage. She's never given the chance to change out of this outfit… and even in instances where her body's reduced to so much gory salsa, her Hospital caretakers merely slip a new mucused gown over her new body. What's more, ever SINCE her first awakening, she's come in contact with all sorts of substances in the Hospital… none of which are soap, shampoo, or clean water. You can imagine the state of her hygiene...
Cowardly Lion: She's rather meek upon first waking up in the Hospital, but luckily Character Development helps cancel most of her cowardice out in the face of the weirdness surrounding her from head to toe, but she still shows some level of reservedness throughout most of her journey.
Diary: She briefly attempted to map out the Hospital, but eventually just threw her map away, and instead started writing "notes" about her Hospital adventures.
Determined Defeatist: It wouldn't matter if her son was utterly doomed and reality as we know it was doomed with him, and any action she might take would be doomed to futility. Even in the face of overwhelming odds or literally suffering countless gruesome deaths, Fern never gives up hope, and is still dead-set on making her best effort.

Fern

:

I don't know

if I can do anything for my son, I don't know if I can survive long enough to

ever see him again

, I don't even know what's real and unreal anymore or how any part of the universe makes any sense and every one of those things terrify me so much that it really would be easier to keel over and give up here and now... but even if there's no hope, no chance whatsoever that I can make a difference... I have to see that through. As long as I'm alive to keep trying, I have to... and I have to believe that it's better than nothing.

Devoured by the Horde: One of her deaths involves being eaten by a horde of slobs.
Earthy Barefoot Character: The Hospital gave Fern a gown, but no shoes of any sort. For over 900 pages of the webcomic... everywhere she went, she was barefoot, (so you'd better believe her feet were thoroughly "earthy!") It wasn't until Page 948 that someone finally gifted Fern with a pair of socks.

Crooked Spine: Still walking BAREFOOT on a hospital floor so thoroughly coated in PISSWORM SPORES!? That's a FASHION DISASTER!

Evolving Weapon: After it's used to kill Ms. Kidney Stone, the jagged piece of wood emerges coated in "mineral waste". Ms. Green observes that it's now sharper than before. This also applies to the broken pipe she gets, when she attaches an axe to it. She can also have her "pissblade" upgraded when she levels up, choosing, at first, an Always Accurate Attack.
Expendable Clone: Finding

a morgue full of her own corpses

makes her fear this. Subverted when she learns that she's the only non-expendable one: she's the "core" being, of which the others are alternate manifestations.

Maggie: That's existing, for you!

Fantastic Racism: Briefly regards the other patients with disdain and only helped them when she thought it would help her find her son. Growing into her own character and gaining companions helps her lose this trait entirely, although she's still understandably horrified by many things she encounters.
Featureless Protagonist: She was originally designed as such so as not to have any connection to any particular race or culture, but Characterization Marches On and her featurelessness flakes off. note It was for this reason that her real name was finally revealed:

Bogleech

:

It had been a year

of her going unnamed and it was just kinda getting silly. When the comic started, she was going to be nameless because she was going to be more like a

"reader insert"

or

"blank slate"

kind of character, but she quickly developed a distinct personality anyway.

Flat "What": Her reaction to Balmer going into a state of pure panic over a dolphin, having not yet learned just how unfathomably evil and deadly dolphins really are.
Green Around the Gills: Green is not Fern's natural skin color, yet she never suffers any symptoms of illness. It's possible that she's an Asymptomatic Disease Carrier.
Hair Growth: It's hard to pin down just how MUCH time has passed for Fern in total. But between one thing and other, she starts the story off with short hair, and it grows out to a lengthy ponytail. It may just be the result of Art Evolution, though.
Hartman Hips: She boasts a small waistline and largish hips in contrast - though they're not as evident in early strips, but her Art Evolution settles on this.
Healing Factor: When she gets transferred to a slob body, she gains the regenerate skill in battle, allowing her to heal quickly. Said skill doesn't work outside of combat, but she can still recover hitpoints over time.
Hearing Voices: Though she's not sure what they are. At one point, she theorizes they might be "little green men beaming radio signals into her brain".
The Heart: She stands out for caring about even the most incomprehensible of beings, up to and including a giant kidney stone and a suit full of flies, and especially a living circle of Willis!
Hearts Are Health: Makes its surprise debut during the 'Inert Sub-Concept Vessel' arc.
Heroic Willpower: She's a very determined lady.
Higher Understanding Through Drugs: Anna hits her with a Fantastic Drug gas that opens up Fern's core, giving her a different perception of reality. She gains access to several abilities she normally isn't conscious of and a view of "the layers" and "the paths", giving her a profound sense of how to accomplish her objectives and allowing her to speed-run it.
Huge Rider, Tiny Mount: When she gets dosed on gas, a Fantastic Drug, she tries to use Isaac as a mount.
Iconic Item: Her "kidney blade". More often than not, it's right in her hand whenever she's exploring the Hospital.

If Cathy is to be believed, the kidney blade is actually a Live Item in its own right, and "she" very much likes being Fern's sword. Assuming this is true, then the kidney blade has yet to communicate with Fern in any way.

Fern

:

I just

sort of wound up with it and it turned out to be really handy. I probably shouldn't have it.

Cathy: Well, she doesn't seem to feel that way. Her core is largely dormant, but the aroma tells me she's been quite content with this arrangement. You've fed her quite well.

Fern: Oh. That's uh, nice to know and not creepy at all.

Improvised Weapon User: Several; a jagged wooden shard of a broken picture frame, a broken pipe, a mallet found on the ground, a can of spray cheese…
Iron Woobie: Seriously, read through all Fern's other tropes, then tell us she isn't this.
"It" Is Dehumanizing: Fern is normally very good at averting this trope, but when she first met Isaac, she couldn't help but keep referring to him as "it" even as Willis kept calling him "him".

Finally starts averting it as of page 829 and even decides in the next page that the slob should be given a proper name.

Lady Swears-a-Lot: Normally Averted, as Bogleech mentions that trying not to swear is a very "mom" thing to do. Played for Laughs in an April Fools' Day update, where almost all of Fern's dialogue consists of her shouting "AW, SHIT!"
Laser-Guided Amnesia: Amnesia's really the wrong word, in Fern's case. Fern knows who she is and is perfectly capable of recalling her past. Yet she feels that some force is preventing her from indulging in any detailed retrospection of her pre-Hospital life.

Fern's Notes: Memory of life is fuzzy? Not exactly, not like amnesia. More like I just can't get myself to think or talk about it very easily, the Hospital just takes over my thoughts.

Level Drain:

The first Diptomancy spell Fern learns is called Maggot Missile, which allows her to reduce an opponent's Character Level for the duration of the combat encounter.
When Fern gets

transferred to a slob body

, she becomes vulnerable to losing Character Levels on losing battles. On the plus side, she also becomes able to gain levels from winning battles, when Level Grinding is barely a thing with her normal body.

Magic Wand: All of Maggie's conceptual spawn carry what is called, a Flyactery, a type of amulet used to cast Diptomancy. One of them, Magdolene, gives hers to Fern, since her Character Level has grown strong enough for her to not need hers, making Fern a novice Diptomancer and able to use fly and maggot related magic.
Mama Bear: All that potentially mind-destroying shit she goes through is to reunite with her son, and threatening that son is a good way to get violently beaten down.
Mundane Luxury: Instead of Level Grinding, instances of this trope are what raise Fern's levels. For example; drinking an excellent cup of chocolate mocha raised her one level. Getting to wash her hands in a clean bathroom's sink raised her two levels, and advanced all the rest of her stats as well!
Neat Freak: Fern's developed a resigned tolerance to The Hospital's filth... yet it's clear she prefers cleanliness. One of her first actions in the webcomic was slipping on a pair of rubber gloves. After those broke, she got a STRONGER pair of gloves, which boosted her confidence. And let's not forget that one time she washed her hands in a clean bathroom...
New Powers as the Plot Demands: For over 640 pages, Dr. Mizer's voice was somehow completely inaudible to Fern. Then suddenly, during a confrontation with him in the Surgery Ward's waiting lobby, she started being able to hear him. No explanation given as to why.
No Name Given: For the longest while.

Lexis: I'm Lexis! What's your name?
Fern, (at the time nameless): Not important.

Only Sane Man: With increasing Unfazed Everyman tendencies as she gets used to her new surroundings.
Pajama-Clad Hero: In the gown of a bedridden hospital patient.
Paper-Thin Disguise: Just by wearing it on her uniform, Fern's Temp Staff Badge makes her seem like a normal Hospital temp to the real Hospital employees. But because it can change on her without warning, her "Frannie disguise" is not 100% reliable. It has also been implied that the Hospital Staff's Sanity Slippage is the main reason it's even working, and in turn means that they will be less than understanding of why she had to do it if they ever manage to find her out.
Parenthetical Swearing: It doesn't take long for Dr. Fleagood's behavior to get on her nerves, and she ultimately refers to him as "Dr" in sarcastic quotation marks.
Player Headquarters: Fern has two so far. In the Exam Ward, she has her personal hospital room, (Exam Room V,) and in the Maternity Ward, she's given the Temp Office. Both places offer her a relatively higher degree of privacy and distance from danger. They're also furnished with supernatural drawers. Much like the storage units in Resident Evil save rooms, storage space is limitless in these drawers, and the items Fern stows in them will "follow" her and reappear in identical-looking drawers in other locations throughout the Hospital.
Pre-Mortem One-Liner: In the heat of battle, she'll roll out such bon mots as "Why don't you just piss off?!" to Ms. Kidney Stone and "Can it!" to

the Balphin

.
Punny Name: She's a green Fern. Get it?
Ripple Effect-Proof Memory: While practically everyone else in the Hospital is susceptible to memory rewrites, Fern never forgets a person.

Any further inquiries are met with the same response, identical as a recording. You get the feeling this is one of those weird "concept" things, like how nobody remembered Jay's victims. It's disconcerting... but it's also kinda nice, how these things don't affect you the same way. It feels like an actual edge against... whatever the heck it is you're up against.

Sue Donym: When Fern bluffs her way into a job as Temp Staff, she almost gives her real name, then modifies it at the last second to "Frannie". It works just fine on many Hospital staff members, but the ones that still retain some sanity are able to detect that she isn't who she claims to be.
Team Mom: It goes beyond even being a mother searching for her son. Between the likes of the Kidney Stone baby, the Polyp, Diptworth, and even Willis, this woman seems to be consistently thrust into a maternal role.

During Phase Two, her maternal qualities are taken to the next level, when she's put to work under Dr. Gynnie, especially with regards to the egglets.

Terrifying Rescuer: When Fern controlling a Slob body manages to rescue a Magboil from a Parliament trap, it initially wonders if Fern is friendly, but is quickly persuaded by its fellow Magboils that it's a trick.
The Noseless: Purely a stylistic choice on the part of her artist; she can smell perfectly fine, (though in a place as gross as The Hospital, it would've almost been a mercy if she'd TRULY been noseless).
Token Human: Of any team she happens to be a part of, and indeed, for Awful Hospital as a whole. (Not that there are NO other humans around…)
Unfazed Everyman: Eventually, to the extent that being

torn apart by thousands of mutated undead copies of herself

and dragged Back from the Dead just leaves her pleased that she got to her destinat
Unnamed Parent: Subverted after a long string of◊ Unreveals, when she's finally addressed as Fern — to Celia's confusion.
Unwitting Instigator of Doom: Helped the Burgrr Inc. personnel start their next grey-harvest on time, completely unaware what a grey-harvest actually is.

Pretty much everything she did to try and help the patients during the Fetch Quest arc only ended up making things worse.

Weirdness Censor: Curiously, she can't seem to see that she's green, insisting that she appears "perfectly normal." Other characters in this story CAN see her greenness.

That said, she's hasn't been deaf to all the times others have called her "green"◊. When she first lays eyes upon Jay, she suspects her condition may be similar.

His entire body glows an unnatural, brilliant blue, flickering intermittently like an oversaturated television. Strange, splotchy shadows bubble and flow across his surface as if cast by unseen, moving objects. …Is that why everything keeps calling you "green?" Is this how you look?

Weaksauce Weakness: When she gets dosed on Anna's gas, giving her a different perception of reality that results in her attacking an alien called a Folder, Willis is able to ward her away like a vampire and a crucifix by using their "Wrong Way" sign.
Why Did It Have to Be Snakes?: She's a stoic witness to an astonishing variety of the Perception Range's most brain-shatteringly horrific sights, but a

pulsating, wart-encrusted foot

grosses her out so much that her revulsion censors the page it's on.
Fern's Son (Junior)
Fern: I have a son, and the doctors have him...somewhere. They won't tell me where, or even why we're here, so I'm trying to find him myself, and get out of here.
Our heroine's infant son became sick with a mysterious ailment before the start of the story. Outwardly appearing as a progressive mass of green skin boils and errant follicles, the disease baffled numerous doctors and specialists. The child has joined his mother in Dr. Phage's Hospital, although his location is within the Problem Vault, inside the heavily-fortified Maternity Ward.
---
The Commentators
Through the gibbering chaos in your subconscious, a single plea rises above the rest, echoing around you like the wisdom of a ghostly mentor…

> USE THE CHEESE
The myriad of unseeable, intangible entities that gained access to Fern's mind when she was admitted to the hospital; since then, they have become an important part of her decision-making process. Furthermore, because the protagonist's story is told (primarily) in Second Person, the narrative more-or-less invites the Commentators to think of themselves as her. Ostensibly, they provide helpful guidance. In reality, a significant number of the voices are either mischievous, antagonistic, anarchic or provide a silly Greek Chorus instead.
They belong to a class of telepathic beings referred to throughout the zones as "Buzzers".
---
Mysterious Presence
Mysterious Presence: >Check the Garbage, Fern.

Wait... was that, uh... them? It didn't feel like the same voices... and it didn't feel like you. ...You check the garbage.
Commentators come and Commentators go within Fern's mind. Then, unexpectedly, starting in the middle of Phase One, Chapter Three, Fern began hearing a new kind of voice issuing guidance in her brain. One which didn't quite sound like any Commentator...
---
Alternate Ferns
Dr. H. M. Phage, T. E.: Omnizonal WHAT?! That's a junk theory!
Different versions of Fern Green from other zones. Though the majority of them aren't even human, there's a definite 'parallel dimension' similarity they all share. One by one, each of these ladies debut in pages 182
, 183
, and 187
through 190
of the webcomic.
---