Main Character Index | The Mother And Her Son | Companions Of The Mother | The Hospital Staff | The Hospital Patients And Visitors | Burgrr Inc. Personnel | The Abyss | The Morgue | The Library | The Cafe | Inert Sub-Concept Vessel MG-0908-BN/SK/HL-3900438093990 | The Worms | The Parliament | The Dolphins | Unaffiliated Entities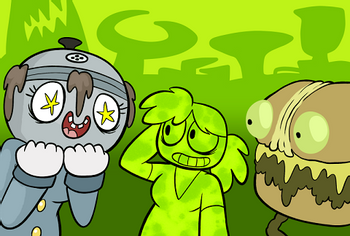 Covers all employees of the Burgrr Inc., restaurant franchise. They are known to other Zones as the Recombinators.
---
open/close all folders
Harmburger
It's a hamburger. Or maybe it's a cheeseburger. Whatever. Things squirm in its rancid, dribbling ground beef. Its unblinking eyeballs bulge hungrily. It's such a ludicrous sight you almost don't notice the blood-stained cleaver.
This rotting assembly of meat, wheat products, and vermin is employed as a chef at the hospital's cafeteria. Though he might look simple, he's surprisingly agile with a meat cleaver.
---
BBQ Girll
Fern: ...What kind of "materials?"
An anthropomorphic barbecue grill with corporate cheer and spirit to spare. She appears to manage the Burgrr facility adjacent to(?) the hospital's cafeteria.
---
Double Doors(?!?!)
Double Doors

: There's only one way out of here with that thing, and you're prooobably not gonna like it near as much as I am.

It's really really funny to me.
The pair of doors leading into the hospital's cafeteria, which can speak directly into the protagonist's mind. It's witty and generally friendly, though it does push the cafeteria's meals a tad aggressively. Its name is )(_)(.
---
Stone Slab
For information about this employee, please click here.
The Redheaded Employee / "Miss"
Miss: How you holding up, anyway?

Fern: "Holding up?"

Miss: Wwweeeee don't really get all that many... human being people lately. Not since home got all, you know.

The young lady makes a breathy mouth sound and gesticulation representative of something exploding.
A young redheaded human woman, working as a Burgrr cashier, alongside Stone Slab.
---
Dr. Everton Morteus Balmer
For information on this employee, click here.
Vending Machine
For information about this employee, please click here.