Main Character Index | The Mother And Her Son | Companions Of The Mother | The Hospital Staff | The Hospital Patients And Visitors | Burgrr Inc. Personnel | The Abyss | The Morgue | The Library | The Cafe | Inert Sub-Concept Vessel MG-0908-BN/SK/HL-3900438093990 | The Worms | The Parliament | The Dolphins | Unaffiliated Entities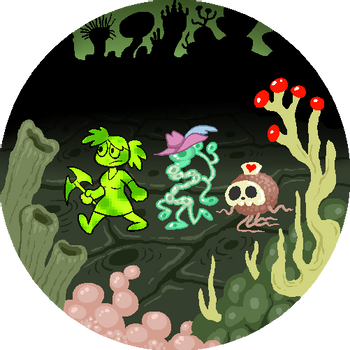 This page deals with beings who have seen fit to follow and support Fern for any amount of time as a teammate of hers in her journey to find her son and save the multiverse.
"Minions" are friends of Fern whom she carries around in her personal inventory. "Comrades" are not carried in Fern's inventory.
---
open/close all folders
Comrades
Maya Celia
Celia: A challenging venture indeed! No wonder you dared seek my legendary expertise! Your resolve is almost admirable, for a mere worm!

Celia's Unvoiced Thoughts: Balmer's really getting desperate... this must be bigger than I thought.

Fern: Right! Yeah! He did suggest I find some sort of "community" about East of here, do you know what he could have meant?

Celia: Of course! I know it well! Alas, you will never find a more loathsome nest of riffraff and knavery. You have chosen your companionship wisely!

Celia's Unvoiced Thoughts: Guess he's sick of sending his own goons off to die...
An adventurous clump of mycelium that Fern encounters while traversing through the "woods" of her own rotting corpse, who quickly takes interest in joining her on her journey! Fern's first companion.
---
Dr. "Staph" Staphanie Celia (née Coccus)
Staph: It's not just every cycle that the whole world steps into your clinic.
Fern's second companion: a grandmotherly medic bacterium she finds at the Bacteria Village. When Fern enters her clinic, Staph's proficiency as a healer allows her to recognize her newest patient as more than just another microbe. Staph sees that Fern is nothing less than the 'world' she's always lived on.
---
All Therapists Are Muggles: Inverted. Whenever Fern turns especially emotional, Staph will always do her best to talk her through a situation. Mostly she succeeds. Nonetheless, since one's a bacterium and the other's a human woman, certain cultural differences will arise.

Staph

: Oh no, don't apologize, dear! I'm sure we're

all

stricken,

this place is gorgeous!

And the

fragrance...

I can

scarcely believe

what I'm smelling!

BFG: When Ascended, Staph uses "Reverse Healing", which takes the form of a gigantic 1911 pattern pistol summoned from thin air.
Bunny-Ears Lawyer: Averted, she's the only doctor in the comic who's actually competent, though this probably has to do with only having one form of life to treat.
Came Back Strong: Trichia kills her, but she is brought Back from the Dead by a corrupted variant of Balmer's sterilizing formula, temporarily at the strength of a Physical God due to the pool overloading her conceptual signature.
Character Level: During the Biovessel arc, she is level 15.
Creepy Good: Staph is sincerely committed to Fern's physical and emotional wellbeing. She would gladly sacrifice any number of her own hearts for the sake of her "world". Nonetheless, there can be no doubt that if Fern were to die in spite of all her best efforts, Staph would feast upon her corpse like it was a platter of barbecued ribs.
The Cutie: Is a bacterium and still manages to pull this off.
Deflector Shield: In fights, Staph has the 'Resist' ability, allowing her to curl up into an impenetrable ball for one combat turn.
Establishing Character Moment: When Fern walks into her clinic, Staph instantly recognizes her as "multicellular animal life", and prescribes pure antiseptic and a cloth dressing for a cut she has. This puts her light years ahead of almost all her contemporaries at the Hospital in terms of giving medical aid to humans.
Face Death with Dignity: In the presence of seemingly certain death, Staph catapults straight to the final phase of the Kübler-Ross model without a blink at any of its preceding stages.
First-Name Basis: Just "Staph," for the most part. Not "Dr. Coccus" or even "Dr. Staph."
Foil: To Doctor Phage. He's a virus, she's a bacteria. He treats many different zones and therefore lacks knowledge of treating humans, she only works on one small town and does have human medicinal knowledge. He's self absorbed and egotistical, she's humble and extremely kind hearted.
Furry Reminder: Finds Magatha's dead body appetizing. She is a decomposer after all.
Happily Married:

She married Celia at one point after the Corpse World story arc, and after Fern's soul got shoved into what her broken-necked corpse eventually became, both of them are ecstatic to be reunited with her again.

Interspecies Friendship: With Fern, her other two companions, and Magatha.
Irony: Staphtococcus is a nightmarish disease-causing bacteria, responsible for everything from streppe throat to necrotizing fasciitis. Staph is The Medic of the party, and a licensed physician.
Life Drain: Inverted; she's capable of sending life points of her own to heal injured companions.
Mega-Microbes: She's a bacterium.
The Medic: Staph is one of the purest examples of this trope. Not only is she the all-around finest physician in the webcomic to date, but she refuses to attack enemies. Why? Because unlike the Hospital doctors, Staph swore to 'do no harm' to others, and with her, the Hippocratic Oath is no hypocritical oath.
Nice Girl: One of THE sweetest-natured beings in the webcomic.
The Nose Knows: Don't let the mask fool you; Staph doesn't have eyeballs. Instead, she smells the world around her.
Punny Name: On Staphylococcus, a kind of bacteria.
Sesquipedalian Loquaciousness: Is prone to being needlessly verbose, prompting Celia to chastise her.
Stone Wall: You'd probably never suspect such a short, grandmotherly healer like Staph of being this, but her jaw-dropping 30 hearts allows her to endure quite a lot. For context; Celia and Fern both have 6 hearts. Maggie has 4.
Technical Pacifist: On one hand, Staph has no offensive capabilities because of her do-no-harm oath. On the other, she's willing to make herself a living power source for combative comrades of hers.
White Mask of Doom: Like all the other bacteria in her village, she wears a skull mask. She's a goodhearted lady, though, so no actual doom from her.
Maggie
Maggie: Hold yer horseflies, lemme buzz the place...

Fern: "Buzz" the place? We're not making and/or murdering someone again are we?

Maggie: Naw, nothin' that fancy! The local dipterites'll just shoot me a rough approximitation o' the residency. Just a moment...
A wizardly maggot girl who nearly matches Fern in height, Maggie served as an apprentice to Magatha for a long time. Things changed the day Fern and her comrades sought guidance from Maggie's teacher at her home, and Magatha underwent transmigration in a vast swarms of dipterites, midway through her conversation with the woman. Maggie found her lot thrown in with Fern and became her third companion. Maggie has the unique power to control small swarms of dipterites.
---
Diptworth
Diptworth: OH, WOW, HEY THERE! YOU'RE PRETTY MUCH MY MOM! WOW, THANKS FOR HAVING THE IDEA OF ME AND ALL, EXISTING'S REALLY SOMETHING ELSE! WHAT CAN I DO FOR YA, WHILE I'M STILL A THING??
Fern's fourth, short-lived companion
. Regarded himself as the son of both Fern, (for being her "brainchild") and Maggie, (for performing the prestidigitation necessary to actually bring him into being.) At the time, Fern and her companions simply needed a way of enticing a particularly formidable pack of worms to relocate themselves. Diptworth happily complied with his green mother's plan at once, over all her horrified protests.
---
Staphellie
Staphellie: "Ice" to meet you! But I'm afraid your "goose" is cooked!
Celia, Staph, and Maggie were in a fight against an Immensely monstrous Thing. When they had weakened it enough in regular combat, they decided there was only one way to make sure it wouldn't come back.
---
Staphelia
Staphelia: We are QUEEN DOCTOR STAPHELIA, Captains of the vessel now designated FRN-1! ...Please verify peaceful intention or submit to termination and absorbtion by a superior force! Thank you!
A fusion of Celia and Staph. Isaac encounters her in Burgrr, Inc.
---
Isaac the Eyeslob
UUUU... CANNNN... MMMMMMMM........ FINK... FINKAAA.... OH!!! OHH!!! U CAAAAAAN...... TELL!!! U CAN DO A TELL!!! TELL A GREAMN HOW 2 NO WAHT A MEENMAN DONED DID!!!!!!!!!
This slob was born at the end of one of Jay's life cycles; one where the man was beset with an injury to his left eye. He has knowledge of some drastically important deed Jay performed in the past. He felt duty-bound to inform Fern about this deed of Jay's, and sought Fern out. Eventually, he was able to find her, and joined her party. Over time, Fern grew fond enough of him to give a name: Isaac.
He still hasn't yet told Fern whatever it was Jay did.
---
Willis Tori
Willis: Hey, Mom. I'm gonna run off with some some strange adult from the gray zone who's impersonating you to approve dangerous surgeries and can swallow me whole.

Dr. Circula Tori: That's nice, dear. Mom's busy now. You have fun.
The diminutive, neglected six-and-a-half spiraling-old (around 9 to 11 years old in human years) son of Circula Tori. Even though Fern infiltrates his mom's office with one of Circula's misplaced ID cards, Willis quickly warms up to Fern, so he decides to follow her and help protect her and guide her along her way.
---
Dr. Magdolene
Magdolene: Just ain't feelin' myself lately...somethin 'bout maggots...pretty sure I need me a few.
An amnesiac skull laying on a bed within the Plank Maze. She would ask anyone who wandered into her room to bring maggots to her. Fern was the one who would eventually fulfill her wish, revealing her to be a piece of Maggie.
She normally works in the Hospital's surgical ward, functioning as the Anthropomorphic Personification of Biodebridement Therapy
, meaning that she cleans necrotic tissue from patients.
---
Chip
The Hospital's current dominant AI personality, Chip acts as a sort of
Mission Control
for Fern and her party. Read more about him
here.
Minions
Kidney Stone Baby
You can't help feeling terrible right now, even for killing a giant kidney stone in self defense, but its young are already back to giggling at one another as they chew on what used to be their mother. Morbidly fascinated by the disturbing scene, you almost jump as something brushes your foot. You get an overpowering feeling that the tiny thing wants to come with you, for whatever reason. This seems to be confirmed by its happy cooing as it is picked up and put into your tote bag, followed by a loud, cartoonish snoring. It fades as the bag goes wherever it goes when you're not paying attention to it.
Technically, one could argue this was the actual first being to join Fern, not Celia. But the story treats the Kidney Stone Kid as a Pokemon-esque "minion,"
◊ which she can send to attack enemies on her behalf.
---
Ramblin' Evil Colorectal Polyp
The second "minion" which Fern carries in her inventory, who formed a fast friendship with the Kidney Stone Kid.
---
Antibiotic Ointment
Antibiotic Ointment: Hi! I negate malady-type combat damage to an assigned party member. Malady-based opponents may sustain recoil damage.
Originally a minion of Dr. Man's; the Antibiotic Ointment became Fern's third minion.
---