Main Character Index | The Mother And Her Son | Companions Of The Mother | The Hospital Staff | The Hospital Patients And Visitors | Burgrr Inc. Personnel | The Abyss | The Morgue | The Library | The Cafe | Inert Sub-Concept Vessel MG-0908-BN/SK/HL-3900438093990 | The Worms | The Parliament | The Dolphins | Unaffiliated Entities
Covers everyone who hails from the Library.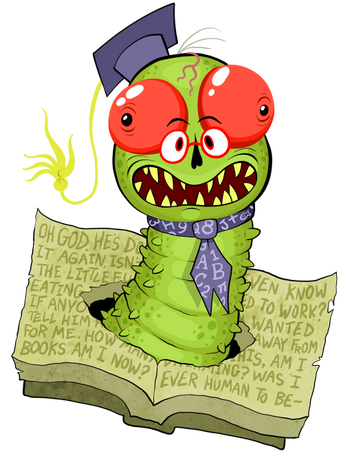 ---
open/close all folders
Professor Lexicovermus
Professor Lexicovermus: For no charge at all, I'll letcha nice morsels pick out ONE fiiine item from your ever-growin' shelf here at our faaantabulous intrazonal omnipotentual library! Whatever ya pick out, I can pass on to anybody else ya like! Even this savory green protagonator ya seem to enjoy pushin' around lately! Plenty-a things she don't know yet in all them tasty files n' journals n' whatnot! You pick it out, she gets to read it! Better choose reeeeal careful-like! Next time might be life n' death, ya never do know!
In addition to their ability to guide and direct Fern's actions, the Commentators have access to a most uncanny library
full of special supplemental reading material. Personnel files, blogs... even prose stories, all relating to other characters Fern has met. Fern isn't able to access any part this library, herself, (apart from material she, herself, has collected in-story.
) Nor are her well-meaning Commentators able to share any of this library's information to her through commentary.
All that changed in the middle of hunting for the anomaly within the Inert Vessel. Fern and her team stumbled upon a strange book, containing this bibliophilic fellow from The Library. He addresses the Commentators directly and cuts a most unusual deal with them: if they promise to read more books from their own local libraries, he'll allow Fern access to a single item from the Commentators' library. But they have to choose which one.
---