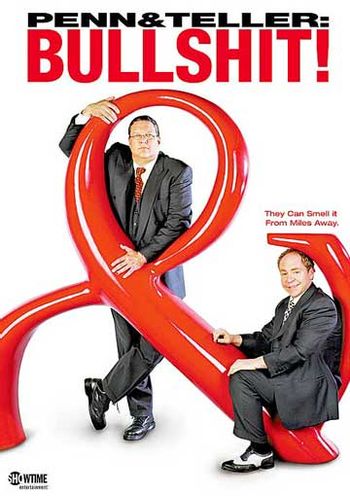 "You'll notice more obscenity than we usually use. That's not just because it's on Showtime, and we want to get some attention. It's also a legal matter. If one calls people liars and quacks, one can be sued and lose a lot of one's money. But 'motherfuckers' and 'assholes' is pretty safe. If we said it was all scams, we could also be in trouble. But 'BULLSHIT', oddly, is safe, so forgive all the bullshit language. We're trying to talk about the truth without spending the rest of our lives in court because of litigious motherfuckers."
— Penn Jillette
Penn & Teller: Bullshit! (or P&T:B.S!), hosted by comedians and stage magicians Penn Jillette and Teller, is a Showtime original series that follows in the footsteps of great men like Harry Houdini and The Amazing James Randi — by debunking popular misconceptions and exposing both liars ("motherfuckers"), quacks ("assholes") and faulty science ("bullshit").
To do this, P & T interview proponents of different views in the fields they debunk, then add facetious voice-overs that mock whichever side they disagree with and introduce the people who make money from it as "assholes". They occasionally throw in some non-scientific experiments and point out official policies, rules, and methodologies of various organizations that point out the hypocrisy of said organizations. Since both Penn and Teller identify as classic liberals ("libertarians"), they never fail to use the show to advocate their viewpoint — but they admit their bias and insist that the viewer should make up their own mind based on the information presented.
The pair tackled a wide variety of subjects (and offered their stances on said subjects) in the show's run, such as:
The Bible: The pair sum up their position with their closing line: "The characters and events depicted in the damn Bible are fictitious. Any similarity to actual persons living or dead is purely coincidental." They also think of the Bible as a terrible source for morality lessons.
Gun Control: Everyone needs the right to have guns to put fear into criminals; if everyone can potentially have a gun on them, more people will think twice before they attempt to mug someone. Everyone should also have the right to keep guns in case the people need to perform an armed uprising against their government. They also claim that current gun control laws do nothing to prevent the sale of guns from the black market — in other words, if the goal is to minimize gun ownership, those laws are actually not doing a very good job of it.
P.E.T.A.: The organization People for the Ethical Treatment of Animals will kill humans to further the cause of animal rights (as the group supports terrorist organizations) and has proven itself hypocritical on a number of key issues. Just to cite one example, one of the high-ranking PETA members, Mary Beth Sweeten, takes medicine for her diabetes — medicine discovered through animal testing, a practice that PETA is supposedly against.
Recycling: Recycling wastes more resources than it saves, and on the grand scale, it harms the environment more than landfills. P & T make exception for the recycling of aluminum (as companies can recycle aluminum far cheaper than they can refine aluminum from raw materials), but note that since private companies can profit from such recycling, they will sort through unsorted bulk trash for aluminum cans, which makes government-funded recycling programs unnecessary.
Wal-Mart: Walmart has become the end result of a capitalist market; they do a lot of good for their employees and help the poor all over America, which makes them unfair targets for the hate that Wal-Mart stores receive.
War on Drugs: While they agree that the youth needs to be educated of the dangers of drug use, they strongly disagree with the government's approach of the situation and the little (if any) success they've had. They focus mostly on marijuana, which has been proven to be nowhere as dangerous as legal drugs like alcohol and tobacco and has several medical benefits.
ESP: Anyone who claims to have psychic powers doesn't have such powers and only wants attention or money; their belief in their self-professed "powers" doesn't mean a damn thing.
This short list gives you an idea of the subjects P & T go after: they target the liars and erroneous sciences that most people believe in, then expose why people benefit from those misguided beliefs (and make fun of everyone in the process). The duo even admitted in the "Recycling" episode that they, and many other people on their staff, believed in recycling (in Penn's own words, "Everybody got a gris-gris"note a voodoo good-luck charm - in context, "Everyone has a pet piece of nonsense they still cling to, despite evidence to the contrary."). The "NASA" episode opened with P & T reading some of their hate mail before they agreed to call "bullshit" on something they cherished.
As the careers of Houdini and the Amazing Randi demonstrate, stage magicians — who know how illusions and "magic" work — can easily expose fake miracles and phony paranormal events better than anyone else. Since they have a familiarity with illusions and the perceptions thereof (particularly in the usage of misdirection to control people's attention), magicians can also deal with things like UFO sightings and psychic photographs without too much issue. These qualities do not make P & T experts in most of what they debunk, however, and the pair often expound their opinions as loudly as possible while they call on an actual expert to help debunk their subject (a tactic they have criticized others for). In the "Secondhand Smoke" episode, when the pair discovered that they used data compiled by an "expert" with significant ties to Big Tobacco, the skeptic community criticized the show and forced them to apologize.
Penn & Teller wanted to put on The Bullshit of "Bullshit!" as the final episode; it would have pointed out their own inaccuracies, presented criticisms of the show, and probably have ended on a call for better critical thinking from everyone. Showtime cancelled Bullshit! after eight seasons before this episode could come to fruition, though.
The "lawyer-friendly" format as laid out in the page-topping quote paid off in the end; nobody ever managed to successfully sue Penn & Teller over the show.
---
Penn & Teller: Bullshit! contains examples of the following tropes:
---
"You don't heal a broken heart by pretending it's not broken."