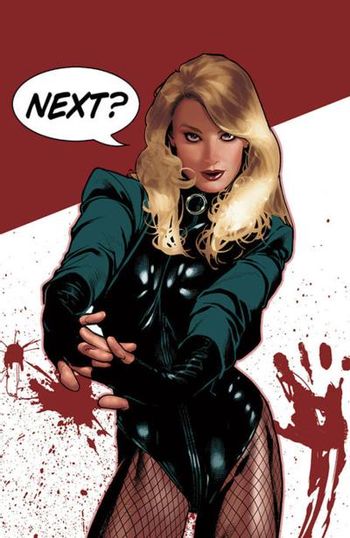 "That's the thing about me. When I open my mouth... it tends to drown out everyone in the vicinity."
— Dinah Lance, Birds of Prey Vol. 2, #1
Black Canary is a Legacy Character crime-fighter, most famous for her leather and fishnets costume, who fights evil with her mastery of multiple martial arts and an ultrasonic scream capable of various effects from rendering people unconscious to demolishing robots and buildings.
Black Canary was created by writer Robert Kanigher and artist Carmine Infantino. She first appeared as a supporting character in Flash Comics #86 (August 1947) where she was seemingly a villain plotting against Johnny Thunder. However, it was quickly revealed that she was actually a hero working undercover to expose criminals. Black Canary became something of a sidekick to Johnny Thunder for several stories, using her superior fighting skills to save the well-meaning but bumbling hero from danger.
By the end of the year, Black Canary proved to be more popular than Johnny Thunder, and his back-up feature became hers in Flash Comics #92 (February, 1948). It was here that her Secret Identity was finally revealed, as was the meaning of her Code Name. Dinah Drake was a raven-haired florist, who used a blond wig and flashy costume as a disguise while fighting crime in her native Gotham City. Her path frequently crossed that of her boyfriend, private detective Larry Lance. She also joined the Justice Society of America and continued to be a part of that team even after their adventures ceased publication in 1951, at the end of The Golden Age of Comic Books.
In The Silver Age of Comic Books, Black Canary was revived in 1963 as part of some of the first Crisis Crossover stories in comics history. The Justice League of America and Justice Society of America — two similar groups belonging to two similar Earths — would join forces to face threats to both their realities. It was during one of these adventures that Larry Lance (whom Dinah Drake had married sometime in the 1950s) gave his life to save Dinah's. Desiring a fresh start, Dinah decided to leave her home-dimension behind to start over on Earth-One. She joined the Justice League of America and — for reasons involving her exposure to cosmic radiation — developed a sonic scream super power a.k.a. "The Canary Cry".
In the early days of The Bronze Age of Comic Books, Black Canary began dating fellow JLA member Oliver Queen a.k.a. Green Arrow. She was a regular part of his adventures with Green Lantern and was developed by writer Dennis O'Neil into a more proactive, feminist character — one who ran her own business, had her own solo adventures and chided Green Arrow for his possessive attitude and referring to her as "his girl". Indeed, she was so much a part of Green Arrow's life that she became a foster mother to his sidekick, Roy Harper a.k.a. Speedy, and it was she who got Roy treatment for his heroin addiction during the infamous "My ward is a junkie?!" incident.
Toward the end of The Bronze Age of Comic Books, in an effort to explain why Dinah Drake didn't appear to be a day over 30 despite being well into her 60s, a Retcon in Justice League of America revealed that the Black Canary we'd been seeing since the end of the Silver Age wasn't Dinah Drake but was actually her daughter, Dinah Laurel Lance!
An Earth-Two Super Villain called The Wizard used his powers to curse the infant Dinah with an uncontrollable scream (yes, yes... A Wizard Did It) and Black Canary asked her old friend Johnny Thunder to use his magical genie pal The Thunderbolt to end the curse. The Thunderbolt was unable to break the spell, but was able to place the infant Dinah as a sort of Human Popsicle in his home dimension until such time as a cure could be found. Years later, during the Crisis Crossover that killed her husband, Dinah Drake was critically injured by the radiation and The Thunderbolt then used his magic to put Dinah Drake's memories in the still-sleeping-but-now-adult body of her daughter (which had since then learned how to adapt to the once uncontrollable scream) and erase everyone else's memories so they wouldn't remember what happened.
This confusing and creepy chain of events would be Ret Conned again not too long after Crisis on Infinite Earths. Now, the Lance family had a relatively normal life together, with the elder Dinah still working as a florist in her Secret Identity and Larry still a private eye. Dinah Drake was also given further motivation for having chosen the path of the vigilante, having tried and failed to follow in the footsteps of her cop father, thanks to the then rampant sexism and corruption of the Gotham City Police Department. But the greatest changes were reserved for the Dinah Laurel Lance who was now a founding member of the Justice League of America and whose sonic super powers were now the result a mutation — a third vocal cord.
As The Dark Age of Comic Books opened, Dinah was still a member of the Justice League, now Justice League International. She briefly adopted a new "modern" costume which was quickly abandoned and is widely regard as being an embarrassment — both by the character and by the artist who designed the costume!
She was still dating Green Arrow, though their difference in ages was reversed, with a 30-something Oliver Queen having started dating a college-age Dinah Lance several years earlier. For most of this period, she was a supporting character in Mike Grell's Mature-Readers Green Arrow book, where — in an effort to limit the usual Super Hero elements of comic books and create a more grounded, realistic story — Grell removed Dinah's Canary Cry in The Longbow Hunters following an extended torture session. She would later dump Green Arrow and — for a time — disappeared into Comic-Book Limbo.
Thankfully, she would return with a vengeance before The Dark Age of Comic Books was over. In 1996, Dinah Lance abandoned her fishnets and wig in favor of shorter hair, a dye job and a Kevlar leotard as one-half of the original Birds of Prey team — the brawn to the brain of Oracle (a.k.a. former Batgirl Barbara Gordon). Conceived by editor Jordan B. Gorfinkel and written by Chuck Dixon, the two would headline a number of mini-series, eventually being given their only monthly title in 1999. At about the same time, a new monthly Justice Society of America title started, simply called JSA, which also featured Black Canary as a member.
Over the next ten years, Black Canary would come to take a more prominent role in The DCU at large. She regained her superpowers after exposure to the alchemical Lazarus Pit (her boyfriend at the time turned out to be the immortal terrorist Ra's Al Ghul) and it healed her injured vocal cords. Shortly after that, she began dating Oliver Queen (Green Arrow) again following his return from the dead. The two would eventually marry and begin to share a title together several years later.
Most agree that it was in 2003 when Gail Simone took over the writing duties on Birds of Prey that Black Canary really began to achieve her full potential as a character. She became the field commander of an expanding Birds of Prey team. She continued her martial arts training, becoming a warrior worthy of the respect of Lady Shiva — one of the greatest martial artists and certainly the deadliest assassin in The DCU. Dinah also acted as a trainer to a number of young heroines and briefly tried to care for Sin — a young girl being trained by the League of Assassins to be their next great warrior. It was also during this period that she rejoined the Justice League of America and become their official team leader.
Things then took a dark turn for Black Canary's life. Following the events of the Justice League: Cry for Justice mini-series, she cut ties completely with her adopted family. She was estranged from her husband, having returned her wedding ring. She also apparently washed her hands of responsibility for Roy Harper, who returned to heroin use following the loss of an arm and the death of his daughter Lian in the Rise of Arsenal mini-series. The one bright side to all of this, from the fan perspective at least, was that Black Canary was now free to star in a new Birds of Prey series written by Gail Simone.
Sadly, this did not last and Birds of Prey was rebooted as part of DC Comics' New 52 line in September 2011, with the team now focusing on Dinah leading a team of anti-heroines while trying to prove herself innocent of a murder charge. The Dinah of the New 52 is Dinah Drake Lance, the original Golden Age character, erasing Dinah Laurel Lance and one of DC's few mother-daughter legacies. She still has the canary cry, though.
After the cancellation of Birds of Prey, Dinah was a guest character in Batgirl until she was spun off into her own self-titled series in June 2015. Now the lead singer of a touring band called Black Canary, Dinah joins them solving mysteries and beating up guys on the road. This series was cast in the same fashion-forward, modernized mold as the "Batgirl of Burnside," and shared a writer in Brenden Fletcher.
Dinah's fortunes truly changed, however, with the start of DC Rebirth in June 2016. As of June 2017, Dinah is a main character in three different titles - Batgirl and the Birds of Prey, Justice League of America (Rebirth) and Green Arrow (Rebirth), where she teamed up with The Emerald Archer to investigate a human trafficking ring and the two fell in love, restoring the classic relationship between the two.
The DC Comics character of Black Canary has starred in four self-titled comic books:
Black Canary Vol 1 (1991-1992) was a four-issue mini-series written by Sarah Byam, with art by Dick Giardano von Eeden. Dinah Laurel Lance is having money troubles with her shop, Sherwood Florist, and her boyfriend, Oliver Queen. When she accidentally runs into Gan "Duke" Nguyen, who is having troubles himself with drug dealing gangsters, she finds herself in a spot of trouble.
Black Canary Vol 2 (1993) was a twelve-issue series also written by Sarah Byam, with art by Trevor von Eeden. Continuing from the mini-series, Dinah Laurel Lance remembers her upbringing, being trained by her father Larry Lance and her "uncle" Ted Grant, as she takes on assassins and murderers in Seattle.
Black Canary Vol 3 (2007) was a four-issue mini-series written by Tony Bedard, with art by Paulo Siqueira. Spinning off of Gail Simone's Birds of Prey run, Dinah is now mentoring and living with Sin, a young girl who was being groomed to be the next Lady Shiva. Now, she has to protect Sin from being manipulated by Merlyn the Dark Archer.
Black Canary Vol 4 (2015-2016) was a twelve-issue series written by Brendan Fletcher, with art by Annie Wu. Dinah Drake has restarted her burgeoning musical career and is now the head of a band named called, well, Black Canary. Made up of Lord Byron on drums, Paloma Terrific on keyboard, and Ditto on guitar, with Dinah as the lead singer, everything is looking up. Except for the former lead singer, Bo Maeve, is pissed and willing to do anything to stop them. And someone is after Ditto for mysterious reasons. And, somehow, Dinah's secret agent ex-husband is mixed up in everything, too.
Film and TV Appearances
Film
Live-Action TV
Smallville introduced her as a conservative radio host in her Secret Identity and a Lex Luthor minion in costume, recruited to stop the "terrorist" activities of Green Arrow. She eventually saw the light and joined the fledgling Justice League. She's played by Alaina Huffman in this version.
Birds of Prey (2002) has Dinah Redmond (née Lance), a teenage runaway from foster care who joins with Helena Wayne and Barbara Gordon in the titular team. Played by Rachel Skarsten, she was reimagined as a metahuman with Touch Telepathy and mild telekinesis, growing in strength during the series' brief run. Her mother Carolyn Lance, played by Lori Loughlin, showed up in one episode, going by the name Black Canary and possessing the Canary Cry.
The CW-produced Green Arrow series Arrow features the character, given her long association with the character of Oliver Queen. The identity goes through more than two hands, each taking different aspects of the comics' Canaries.
Western Animation
---
Black Canary provides examples of:
open/close all folders
In General
Adaptational Modesty: Adaptations vary between given her a leotard or fishnets, but rarely both at the same time due to the needs of being able to perform action scenes. Arrow simply replaces it with a Spy Catsuit, "The Canary" uses a corset with a jacket to still bare some cleavage while "Black Canary" includes a turtleneck. In animation, Canary generally wears gray tights or stockings instead of fishnets, due to the difficulty of animating fishnets.
Badass Normal

Dinah Drake, who earned JSA Membership with no special powers whatsoever.
Dinah Lance, when she didn't have powers, also qualified.
Volume 1
Volume 2
Volume 3
Badass Boast: After Merlyn kidnaps Sin, Dinah goes to Craig, her ex-husband who set up the whole thing and tells him, "Tell me exactly where my daughter is and I won't cripple you for life."
Faking the Dead: Oliver ends up having to fake Sin's death in order to get the League of Assassins to stop from kidnapping her. He doesn't even tell Dinah, so that her reaction can look genuine, but she finds out afterwards.
Volume 4