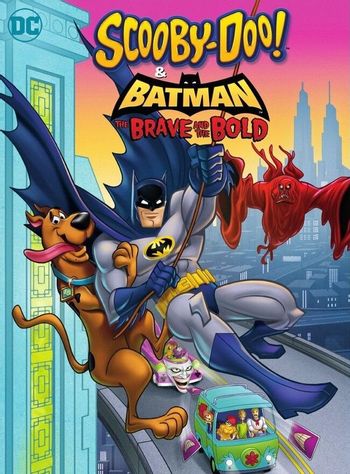 Scooby-Doo! & Batman: The Brave and the Bold is the 27th entry in the Scooby-Doo Direct-to-Video Film Series, released on January 9, 2018. This time, it's a crossover with a DC Comics cartoon, specifically Batman: The Brave and the Bold , which ended back in 2011. The movie involves Batman teaming up with the Scooby-Doo gang when DC villains unite to wreak havoc in Gotham City. A deeper mystery runs through as they have to deal with a new villain called the Crimson Cloak, and also deal with Batman's unsolved case.
The movie also features classic DC villains like the Joker, Catwoman, Harley Quinn, the Riddler, and so forth, alongside heroes like Aquaman, Black Canary, and Plastic Man.
A 12-issue digital comic-book released in 2021-22, The Batman & Scooby-Doo Mysteries, is a Spiritual Sequel to the film, but included character designs from both The Brave and the Bold and The Batman Adventures.
You can watch the trailer here
.
---
The movie contains examples of:
---