open/close all folders
Sidekicks, Supers, and other 'Good Guys'
Eric Needles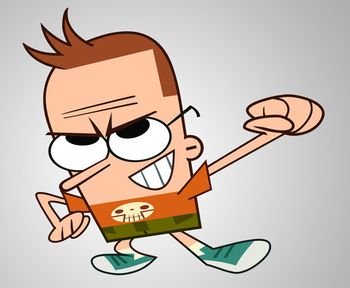 The main character, who was adopted by Maxum Man and has to constantly cover for his Super's mysterious disappearance while trying to become a better sidekick.
Tropes associated with Eric:
Trevor Troublemeyer
Eric's friend, who isn't the brightest in the Sidekick academy.
Tropes associated with Trevor:
Alliterative Name: Trevor Troublemeyer.
All Your Powers Combined: After getting cursed with the powers of his Maxum Man/Master XOX costume in "Halloweenie", Trevor finds out he has both characters' sets of abilities: Super Speed, Flight, and a wide arsenal of guns. Unfortunately, this comes at the expense of also developing both characters' personalities, and causing both sides of his body to start fighting each other.
Anti-Hero: He's constantly changing sides, but even when he's technically a hero he's still extremely irresponsible and selfish.
Bald of Awesome: While it tends to vary, Trevor's usually depicted as bald under his hat, though it doesn't stop him from being badass when he feels like it.
Bald of Evil: On his more villainous days, he falls under this rather than Bald of Awesome.
Big Eater: He'll eat anything, from spoiled salad to hog dogs infused with evil. It's best exemplified at the end of the opening theme: while Eric, Vana and Kitty strike fighting poses, Trevor's licking a plate.
Big Fun: Though it's not immediately obvious that he's overweight unless he's in his underwear, on his better days he's a jolly, funny fat guy.
The Big Guy: He's the largest of the main four, and also the oldest at 14.
Chronic Backstabbing Disorder: He's perfectly happy to betray Eric if it means getting Master XOX's approval.
Cloudcuckoolander: When he isn't being outright stupid, he exhibits some bizarre mannerisms, such as believing his deceased hamster's poop to be a sign of love or thinking the Henchman Challenge involves taking a bath with an ostrich, and that's without getting into his dream world.
Crossdresser: Not normally, but during Kitty's daydream in "Maxum Man Mark 2" of her and Eric getting married, Trevor plays the bridesmaid with requisite pink dress.
Cool Helmet: He wears a Pickelhaube helmet.
Fat Bastard: On his worse days, he's a fat and selfish Jerkass who couldn't give a toss about anyone except himself.
Fat Idiot: No matter what side he's on, Trevor is prone to making incredibly stupid decisions on the drop of a hat, and he's quite padded under his coat.
Fat Slob: An obese teenager who is noted to have poor hygiene and is the main source of Toilet Humor.
Four-Philosophy Ensemble: The Apathetic.
French Jerk: He's French-Canadian descent, and in one episode, he took on a French accent for the sake of mocking Pamplemoose.
Gag Lips: Giant, bulbous lips are just another of his silly facial features.
Gag Nose: He possesses a long and silly-looking nose.
Gasshole: The worst out of the cast.
Gonk: He's not exactly attractive when compared to Eric's adorkableness, Kitty's cuteness or Vana's beauty, what with his long nose, bulbous lips and fat body.
Goofy Print Underwear: He wears psychedelic blue underwear.
The Hedonist: He couldn't give a crap about anything other than his own enjoyment, and on his worst days often resorts to destructive measures in order to get said enjoyment.
Heel–Face Revolving Door: He could be on the side of good with his best friend Eric... or he could be on the side of evil, trying to make Master XOX proud. It depends on how he feels at the time.
Heterosexual Life-Partners: With Eric.
Immune to Mind Control: Since he lacks a "Hypo-Smarticus" part in his brain, the Ga-Ga goggles don't affect him.
Informed Flaw: According to the official website, he and Kitty apparently have a Friend Versus Lover rivalry regarding Eric. Not only does this not come up in the show itself, the two actually get along perfectly well.
Iron Butt Monkey: While not as much as Eric, he tends to suffer a lot of slapstick, though it really affect him much, if at all.
Jerk with a Heart of Gold: Trevor may be an utter Jerkass, but he can be surprisingly loyal to his friends: on his better days, he's perfectly happy to help his best friend Eric when he needs it, even when Trevor himself doesn't benefit in any way. He also really does, if begrudgingly, love his father Mr. Troublemeyer, even if he Can't Spit It Out.
Meaningful Name: Troublemeyer sounds similar to "troublemaker", which describes Trevor in a nutshell.
Missing Mom: His mother has never been seen in the series itself, though a Funpak short showed Mr. Troublemeyer hooking up with a woman that could be Trevor's mother in a flashback.
Nice Hat: His Pickelhaube helm, of course. He loves it so much, he'll even wear it while swimming.
Odd Friendship: When she's not being annoyed by his antics, Vana actually gets along quite well with Trevor, if their conversation while inside a giant monster in "A Monster Headache" is anything to go by.
The Pig-Pen: He's been noted to stink badly by several characters, and he's often seen picking his nose, farting, pooping, belching and vomiting.
Punny Name: His surname is a play on the term "troublemaker".
The Slacker: Since he has no interest in being a sidekick to a hero, he's more interested in having fun and wasting time than doing anything productive.
The Sociopath: He's prone to doing incredibly destructive and selfish things without remorse. He admits in "Shopping Spree" that he has no idea what guilt is.
Token Evil Teammate: He wants to be a villain, in stark contrast to his friends' heroic aspirations.
Who Even Needs a Brain?: Once, while playing with a blender, he stuck it inside his nose, which lead to his brain getting torn out, leaving him a drooling vegetable. He reverted back to normal by the next scene.
Vana Glama
Eric's (one-sided) love interest.
Tropes associated with Vana:
Kitty Ko
Vana's friend, who has a secret crush on Eric that she's terrible at hiding (yet constantly succeeds).
Tropes associated with Kitty:
Asian and Nerdy: She's Asian, and incredibly smart and good with technology.
Maxum Brain
Maxum Man's computer, and the guardian of Eric while Maxim Man is gone.
Tropes associated with Maxum Brain:
Maxum Man
The Super that adopted Eric and suddenly disappeared.
Tropes associated with Maxum Man:
Golly Gee Kid
Maxum Man's former sidekick, who is now the school janitor.
Professor Pamplemoose
The cruel-hearted headmaster of the Sidekick Academy, a teacher at said Academy, and arch nemesis of Trevor's father.
Tropes associated with Professor Pamplemoose:
Alan Amazing
The most popular and handsome student at the Sidekick Academy.
Major and Not-So-Major Villains
Mr. Troublemeyer/Master XOX
Trevor's dad turned super villain.
Tropes associated with the two:
Drillum Shakesbread
A unicorn-like creature who made Eric look like a fool in a school play.
Tropes associated with Drillum Shakesbread:
Neutrals
Mandy Struction
The youngest member of "The Destructions", a family of villains (later anti-heroes). She has feelings for Eric, but her parents forbid her from pursuing relationships with Good Guys.
Sensei Jimmy:
A Sidefu master that made Eric look like a fool in a Sidefu tournament.
Tropes associated with Sensei Jimmy: