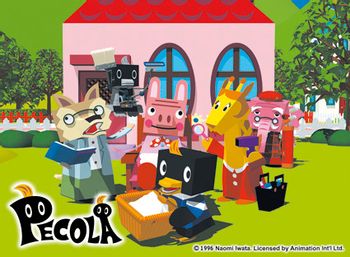 Pecola is a CG kids' anime produced between Yomiko Advertising and the world-famous Canadian animation studio Nelvana. It is based on a series of children's picture books by artist Naomi Iwata, who is also known for creating Gregory Horror Show.
On the shores of Crescent Bay is a town full of Funny Animals rendered in cube shape, appropriately named Cube Town. Living there is Pecola, a young penguin that constantly gets into trouble despite his heart of gold. His friends include a nerdy mouse named Little Chu a.k.a. Chewy, a fox named Rudy, and a female penguin named Coco.
The show ran for 26 episodes with 52 segments lasting 11 minutes each from 2001 to 2002. It aired on TV Tokyo, but many also remember it from its time on Canadian television, where the Nelvana-produced English dub was shown on Teletoon. Like many other Nelvana series, it appeared in the United States on Qubo, but also briefly aired on Cartoon Network in the early 2000s.
Not to be confused with a similar sounding hololive Virtual Youtuber with a similar sounding name (Usada Pekora).
---
Tropes:
---