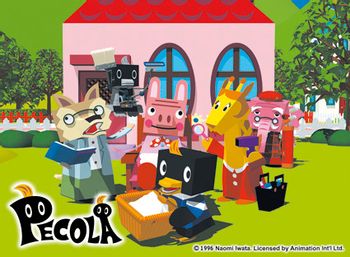 Pecola is a CG kids' anime.
On the shores of Crescent Bay is a town full of Funny Animals rendered in cube shape, appropriately named "Cube Town." Living there is Pecola, a young penguin that constantly gets into trouble despite his heart of gold. His friends include a nerdy mouse named Little Chu a.k.a. Chewy, a fox named Rudy, and a female penguin named Coco.
The show ran for 26 episodes with 52 segments lasting 11 minutes each.
---
Tropes:
---