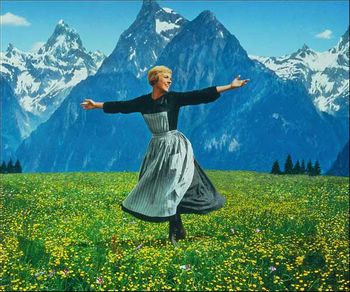 "My heart will be blessed with the sound of music, and I'll sing once more."
The Sound of Music is the famous musical by Rodgers and Hammerstein, based on the story of the Trapp Family Singers
. The musical was inspired by an earlier, now largely forgotten German movie adaptation of the book and was made into a movie in 1965, with Julie Andrews as Maria and Christopher Plummer as the Captain. In 1991, the book was again independently adapted in a 40 episode anime as part of the World Masterpiece Theater series. A live broadcast of the original stage production starring Carrie Underwood and Stephen Moyer aired on NBC in 2013, the first live television presentation of a musical since Cinderella (Rodgers and Hammerstein) in 1957. ITV followed suit in 2015 with its own live broadcast, starring Kara Tointon and Julian Ovenden.
Features nuns, Those Wacky Nazis, and not the Austrian national anthem; and has inspired a great many pop culture references and pastiches. The film is virtually unknown in Austria itself, which is odd considering the English-speaking world knows Austria as "that country from The Sound of Music" (that or "the country where Mozart is from"). The exception being the city of Salzburg (which is, ironically, also Mozart's hometown), and mostly because of the tourists constantly talking about The Sound of Music.
The musical follows Maria Rainer, a young postulant from Nonnberg Abbey, as she is sent to be a governess to the seven children of retired Navy Captain Georg von Trapp. She soon discovers that the captain not only runs a tight ship, but also cannot bear to be reminded of his wife, meaning that he spends a lot of time in Vienna with Elsa Schraeder (she is a Baroness in the film, but only "Frau Schraeder" in the stage show), with whom he has struck up a romance. As a result, the children are rather rebellious and disdainful of any governesses (who were, as befitting authority figures of the time, rather strict). Maria is, however, kind towards them, and easily befriends the lot, teaching them songs and letting them frolic around the Austrian countryside. Captain von Trapp is rather taken aback, but soon rediscovers his pent-up happiness and begins to fall in love with Maria, who still hasn't worked out her own emotions. A brief trip back to the Abbey — and a cluebat expertly wielded by the Reverend Mother — convinces her to go with the flow, and she returns and marries Georg.
Unfortunately the Anschluss happens while the two are on their honeymoon and when they return Georg is "asked" to accept a command in the new German navy. Being strongly opposed to Hitler, the family resolves to leave Austria for Switzerland using the pretext of attending a local folk music festival for cover. But the Nazis are not so easily bamboozled and the von Trapps will not get away quite that easily...
---
These are a few of my favorite tropes:
---