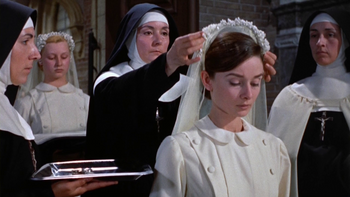 The Nun's Story is a 1959 film directed by Fred Zinneman, starring Audrey Hepburn in the role she was born to play: a Belgian nun.
The film opens in 1930 with Gabrielle van der Mal (Hepburn), the daughter of a distinguished Belgian surgeon, leaving the secular world behind and joining a convent in Bruges, where she takes the nun's name of "Sister Luke." Gabrielle/Luke goes through her postulancy and novitiate, often struggling with the demands of spiritual life. After a stint in a Belgian mental hospital she is sent to the Belgian Congo, where she serves as a nurse alongside handsome, cynical Dr. Fortunati (Peter Finch). Sister Luke's dedication to nursing and her pride in her skills gradually grows into a major conflict with her life as a nun, which demands dedication to the spiritual above all else. This conflict grows even starker when Sister Luke returns to Belgium just in time for Those Wacky Nazis to take the place over in 1940.
Adapted from the novel of the same name by Kathryn Hulme, this movie scored eight Academy Award nominations, although Ben-Hur won most of the trophies. Hepburn lost Best Actress to Simone Signoret for Room at the Top.
---
Tropes:
---