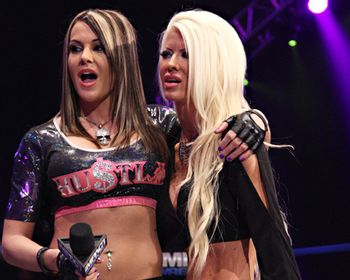 "Cleansing the world. One ugly person at a time."
The Beautiful People was a stable of professional wrestlers in TNA. The stable formed in late 2007 and originally consisted of Angelina Love and Velvet Sky with Cute Kip (Billy Gunn) as their manager/bodyguard. Madison Rayne would later replace Kip as the group's third member in mid-2009. Love left the stable at the end of 2009 and was replaced by Lacey Von Erich. The group would disband in 2010, but the original two have occassionally reunited. They held the TNA Knockouts Championship belt and the TNA Knockouts Tag Team Titles simultaneously. Their characters were originally portrayed as heel Alpha Bitches whose mission was to cleanse TNA "One ugly person at a time," but have also served as faces at various points, most recently in mid-2015 to combat The Dollhouse.
In 2019, Angelina and Velvet resurfaced once again… not in Impact Wrestling, but rather in Ring of Honor, reforming their alliance with a new protégé in Mandy Leon under the title of The Allüre.
CLEANSING THE WIKI, ONE UGLY TROPE AT A TIME