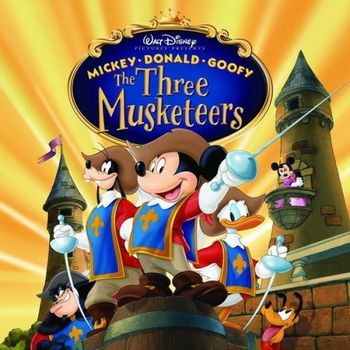 A 2004 Direct to Video feature from Disney that for once isn't a sequel to a theatrical film or a TV episode compilation. As the name suggests, it's the stars of the Classic Disney Shorts in the roles of The Three Musketeers, or at least a story similar in nature. At 68 minutes, it is the longest fully-animated non-interactive sustained story that Mickey and Donald have ever starred in.note Goofy has starred in two feature films based on the TV series Goof Troop.
Mickey Mouse, Donald Duck and Goofy are three janitors who dream of becoming musketeers, but Mickey's size, Donald's cowardice and Goofy's intelligence (or lack thereof) are handicaps from their goal. However, they get their chance when Princess Minnie demands bodyguards from Captain Pete. Since said captain is planning to take over the kingdom, he decides to promote the three, hoping they'll be bungling enough not to ruin his plans.
The story is told by the Troubador, a singing turtle who is supposedly narrating it on live television. (Though not given a real name in the film, Word of God has it that the Troubador is an updated version of 1930s Disney character Toby Tortoise.)
Considering it's a DTV movie, it's actually quite an improvement on previous sequels which were mostly excuses to try and kick off (bad) television series.
A world based on the film, called Country of the Musketeers, appeared in Kingdom Hearts 3D: Dream Drop Distance, making this the first direct-to-video Disney movie to appear in the Kingdom Hearts series.
---
This movie contains the following tropes.
Call-Back: During the first fight with the Beagle Boys, one of them slice through Mickey's musketeer uniform, revealing his trademark outfit underneath. Cue Mickey making his well-known stock pose before cut to the next frame. Donald is also shown wearing his trademark sailor suit under his uniform when

he decides to quit being a musketeer.

Changed My Mind, Kid:

Donald stops being a coward and goes to help Goofy save Mickey

after hearing the Troubadour berate him.
Heroic BSoD: A very brief bout. Already struggling with his cowardice, Donald is ready to give up upon learning Pete set them up to fail. After being saved from the dungeon, Mickey also laments they're not real Musketeers. Goofy snaps them out of it.
High-Heel–Face Turn: Hilariously spoofed with Clarabelle Cow who defects after Goofy woos her.
Would Hit a Girl:

Mickey, Donald and Goofy pile on Daisy Duck, mistaking her for a bad guy.
In the comics adaptation, an earlier scene has Mickey tell Donald about recent threats to the kingdom. It seems "Prince Gimlet" was murdered by a royal waitress with an hors d'oeuvres knife. Hapless Daisy appears to be about to pull off a similar crime.

You Must Be This Tall to Ride: When Mickey is locked in a Drowning Pit by Pete, the dungeon has a sign well above Mickey's head that reads "You must be this tall to survive this dungeon".
---