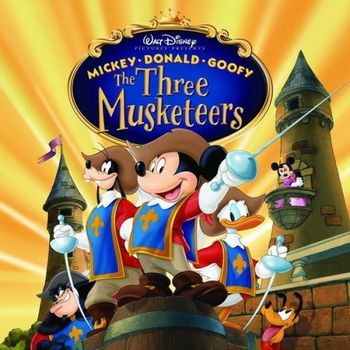 A 2004 Direct to Video feature from Disney that for once isn't a sequel to a theatrical film or a TV episode compilation. As the name suggests, it's the stars of the Classic Disney Shorts in the roles of The Three Musketeers, or at least a story similar in nature. At 68 minutes, it is the longest fully-animated non-interactive sustained story that Mickey and Donald have ever starred in.note Goofy has starred in two feature films based on the TV series Goof Troop.
Mickey Mouse, Donald Duck and Goofy are three janitors who dream of becoming musketeers, but Mickey's size, Donald's cowardice and Goofy's intelligence (or lack thereof) are handicaps from their goal. However, they get their chance when Princess Minnie Mouse demands bodyguards from Captain Pete. Since said captain is planning to take over the kingdom, he decides to promote the three, hoping they'll be bungling enough not to ruin his plans.
The story is told by the Troubador, a singing turtle who is supposedly narrating it on live television. (Though not given a real name in the film, Word of God has it that the Troubador is an updated version of 1930s Disney character Toby Tortoise.)
A world based on the film, called Country of the Musketeers, appeared in Kingdom Hearts 3D [Dream Drop Distance], making this the first direct-to-video Disney movie to appear in the Kingdom Hearts series.
---
This movie contains the following tropes.
---