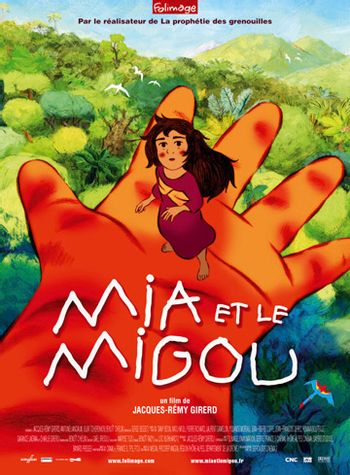 Mia and the Migoo (original title Mia et le Migou) is a 2008 France/Italy animated movie. Winning EFA award for best animated feature film in 2009.
It's about a tan-skinned, long-haired (but not for long) girl named Mia and her quest to find her father Pedro, a laborer who has been trapped in a landslide at a disaster-plagued construction site on a remote tropical lake. Mia seems to feel his plight and embarks on an adventure to save him. Meanwhile, the brash hotel promoter is alarmed by the discovery of a huge footprint and other incidents on the site. At the same time, the man behind the construction, Jekhide (slicked-back black hair, fancy white suit and a devil's grin) journeys with his financial backers to sell the project. And he was forced to take his son Aldrin with him. The story is not complicated and revolves around a very classical theme of man vs nature, and is considered quite Anvilicious by many a reviewer.
But my God it looks BEAUTIFUL. Where movie stands out it its animation style. It uses bright strong watercolours and pastels. In a way, some of the scenes in this film are more beautiful than in Miyazaki's because of this artistic choice. Much effort was put into making Mia and the Migoo into a visually appealing experience. On top of the pastel/watercolour work, all vehicles and technology appear to have been animated with CG, making them look sharper and slightly out of place in nature (which they are).
---
Tropes:
---