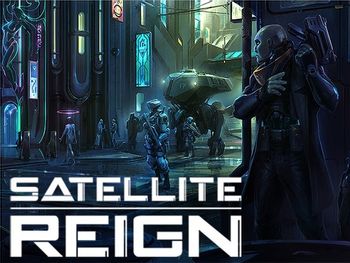 Satellite Reign by 5 Lives Studios is a Real-Time Strategy game with Wide-Open Sandbox and RPG Elements. It is a Spiritual Successor to the original Syndicate games, with the producers being Bullfrog veterans who had worked on the originals and were unhappy with the 2012 FPS. It was funded through
Kickstarter. A playable beta was released November 18, 2014. It was given the Steam Early Access treatment on December 11, 2014. On July 10, 2015 it reached content-completeness and a release teaser
was released. The game itself came out on August 28, 2015. Updates continue afterwards, though; on November 26, 2015
, it was announced that co-op multiplayer is on the way. This became a reality on July 15, 2016.
The future. Mega Corps de facto rule the world, keeping the poor downtrodden with the iron fist of corporate security and the middle class comfortably apathetic, feeding the rich who live in the lap of luxury. Yet among all of them, one stands out: Dracogenics. With their revolutionary ResTech technology, death is now optional: if your body dies, your brain can be copied and downloaded to a fresh clone body. Needless to say, Dracogenics proprietary technology and absolute control of it gives them incredible power over the world, and CEO Steven Dengler is even worshipped as a god by some.
Cue the robbery: a specialist team, led by a commander at a computer, watching from a stealthy drone, infiltrates Dracogenics' home city. They've been hired by a mysterious benefactor with the goal of navigating the city, subverting Dracogenics control, and taking control of the network of ResTech satellites, before putting a bullet in Dengler's head. How they do that is up to you.
The first main difference from Syndicate is the presence of a Character Class System. Unlike the originals, where there were no fixed roles and you could equip your Agents however you like, Satellite Reign has four distinct types:
The second main difference is that instead of having a fixed mission structure you choose from, your Agents get dropped into the city and you can choose to do missions at your own pace in your own way, sandbox-style.
This videogame contains examples of the following: