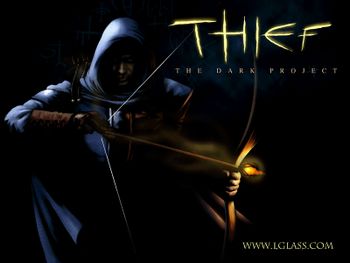 "Ye shall not rob from the house I have built, or commit any theft or unrighteousness, lest ye be struck down and driven into the earth forthwith, and the land of the heathen consume you."
—The Book of The Stone
Thief: The Dark Project is a 1998 first-person stealth game, and the first of the Thief series. It was designed by Looking Glass Studios and published by Eidos Interactive.
It begins with Garrett as a young street urchin being found by an organization called the Keepers, who taught him in the ways of stealth and balance before he left the organization to pursue a career as thief. He soon finds himself entangled in a conflict between the forces of order and chaos.
The following year, Thief Gold was released, adding three new levels and a host of bugfixes.
Along with Metal Gear Solid (released the same year), it is regarded as one of the first video games to pioneer the modern stealth genre. It was also among the earliest codifiers of the Immersive Sim genre. See Dishonored for the Spiritual Successor lead by Harvey Smith.
---
This game provides examples of:
---