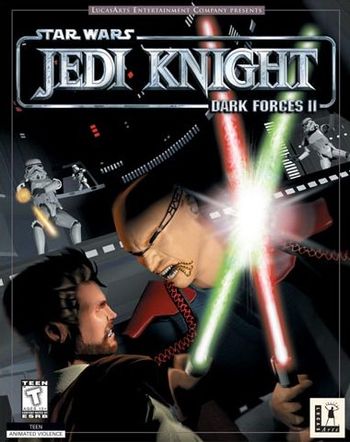 Star Wars: Jedi Knight – Dark Forces II
(1997) was the first game of the
Dark Forces Saga
to feature first-person lightsaber battles. This story takes place after the events of the original trilogy. Here, Kyle learns of his Force potential and receives his own lightsaber, once owned by a Jedi Master named Rahn, whose spirit occasionally guides him in dreams and visions. He follows a lead to the Dark Jedi Jerec, with the intent
to avenge his father's murder
. Jerec seeks for a mysterious
Valley of the Jedi
that legend tells has monumental power, providing additional incentive to stop him. Part of the feature is a light side/dark side progression, where your actions (kill innocents or protect them) and choices and uses of Force power dictate which side you will lean to. There are two endings, light side and dark side.
Word of God
(and future games) say that the light side ending is
canon
. Live action cut scenes moved the plot along, elevating the game to an almost movie-like experience (
albeit with daytime-soap-opera-level acting
).
The game received an Expansion Pack in 1998, Jedi Knight: Mysteries of the Sith, telling some of Kyle's story after he has become a full Jedi Knight. The player soon takes control of Kyle's "reciprocal apprentice" (as in, they're teaching each other), Mara Jade (who originated in The Thrawn Trilogy and married Luke Skywalker in the later Star Wars Legends canon), as Kyle goes off to find what may be the remnants of a Sith temple. He disappears from all contact, however, and you have to track him down, only to discover him skirting dangerously close to the dark side. After the events of this game, Kyle swears off the life of a Jedi and returns to being a hired mercenary (though now one working for the New Republic, at least).
---
The main game contains examples of following tropes:
---
The Mysteries of the Sith expansion contains examples of following tropes:
---