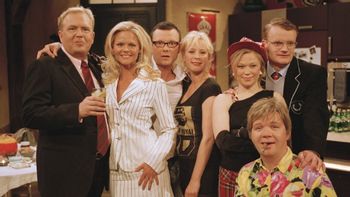 Langt fra Las Vegas (Far Away from Las Vegas) is a Danish sitcom series running from 2001 to 2003, lasting 53 episodes. The series is about Casper Christensen, played by the real Danish comedian Casper Christensen who works at the fictional TV station Jump Start with his close friend, the Butt-Monkey and sports journalist Kenny Nickelmann; their boss, the super perverted Niels Buckingham; the slightly mentally-handicapped and childish cameraman Robert Dølhus; the impulsive and somewhat weird culture journalist Kim Dorowski; the Only Sane Woman secretary Lisa Bremer Harris, and later in the series, Casper's Tsundere girlfriend Liva Eberhart, who works as chief communications officer.
The series initially follows the quirky everyday life at Jump Start with Casper's attempts to score women when he is single or get along with his two girlfriends Anne (in season 1) and Liva (seasons 2-5) as a subplot. From season 2 onward, Casper's female relations are made the focal point, while the work at Jump Start mostly loses its importance to the plot and only provides the majority of the funny moments of the series.
Langt fra Las Vegas is noted for being the only successful traditional sitcom on Danish television. It also at times spoofs the genre with the quirky characters typical for the genre turned up to eleven and the name "far away from Las Vegas", implying that this is not your American sitcom.
---
Tropes:
---