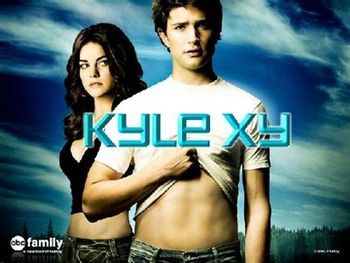 As part of a new wave of television shows that debut during the early summer, Kyle XY is a modern-day sci-fi show built around the title character of Kyle that aired 2006-2009. In the first episode, Kyle (Matt Dallas) is a mute, naked, wide-eyed teenager with no memory and no belly button found wandering out of the woods and into the Puget Sound area of Washington state. After a short stay at a juvenile delinquent center, social worker and psychiatrist Nicole Trager (Marguerite MacIntyre) sees a benign personality in Kyle that doesn't belong there, so she obtains permission to provide a type of foster care with her own family.
Her family is hesitant at having a stranger around, but Kyle shows a certain affection for them and his simple honesty despite not saying a word wins them over. At the end of the first episode, Kyle says his first words to his surrogate family and their story begins, but not without him having strange traits like preferring to sleep in the bathtub.
The rest of his new family consists of patriarch Stephen Trager (Bruce Thomas), a brother in Josh Trager (Jean-Luc Bilodeau) who is convinced Kyle is an alien, and Lori (April Matson) as a big sister who shows him the nuances of teenage life. Kyle quickly gains a crush in the literal Girl Next Door Amanda Bloom (Kirsten Prout) and a best friend in Declan McDonough (Chris Olivero), who has an on/off relationship with Lori. Also included is a shadowy stalker Tom Foss who knows where Kyle is from.
Over time, Kyle gathers an array of impressive abilities that no human should have. It appears that all of these abilities are a result of using far more of his mind then anyone else. He learns entire languages and memorizes the encyclopedia in minutes. He is capable of instantaneously solving graduate level calculus. He jumped off a roof without any harm and recreated a .jpeg image after briefly seeing the base computer code.
While it doesn't take too long for the mystery to be solved, there are other problems surrounding it, not the least being that there is someone else exactly like him, Jessi (Jaimie Alexander).
Airing on the ABC Family network, part of the success of the show comes from the impressive advertising campaign, including viral marketing and several obvious sponsors. Critical reception has been very warm, with a lot of praise going out to actor Matt Dallas for a tone-perfect performance as the title character.
The series concluded with its third season, leaving a myriad of questions unanswered, in true Kyle XY style. Word of God did, however, say a few things about where the show would have gone had it continued for a couple more seasons.
---
This show provides examples of:
90% of Your Brain: Specifically, Kyle

(and later Jessi)

uses around 50% of his brain, which is why he is so gifted and intelligent.
* Birds of a Feather: Kyle and Jessi are both naïve but super-strong and intelligent with mysterious backgrounds. Josh and Andy are both slackers who love video games.
Blithe Spirit: Kyle's innocent naivete, kindness, and intuitive intelligence allows him to disrupt the dysfunctional status quo of the Trager family and their various friend groups.
Buffy Speak: Lori: "I could see the sparkage in your eyes."
Can't Get Away with Nuthin': Josh smokes pot only a couple of times and his parents come down on him. Hard. Even more bizarrely, the pot he was smoking belonged to his parents.
Changeling Fantasy: Subverted at the end of the first season when the Kyle supposedly found his real parents. In fact,

he was grown in a lab, the parents are actors, and Kyle goes along with the plan to protect his adoptive family, a situation which lasts a whole episode and then requires Kyle to make up another story for why he's returned.

Characterization Marches On:

Hilary was an outstanding example of this. When we first meet her in Season One, she starts out as an unlikeable an Alpha Bitch, but as time goes on, she gradually evolves into a much better person, genuinely repentant for her past misdeeds, and actually becoming one of the most likable characters by the time of the final season.
Similarly, Declan, who went from being a jealous jock with a dislike for Kyle to his best friend and confidant.
Darker and Edgier: The series got progressively darker as it went along, but Season 3 marked a definite shift.
Distaff Counterpart: Kyle gets one in Season 2; Jessi is a girl with an identical background to him.
Eerie Pale-Skinned Brunette: Jessi has this kind of look, and is eerie because she was raised to be violent and has a sinister background.
Important Haircut: Lori cuts Jessi's hair near the end of season 2 when

Sarah, who has shorter hair, comes

and Jessi

leaves her "father", Brian Taylor

. Lori even utters the line, "Once we do this, there's no turning back."
Lovable Alpha Bitch: Hillary is a self-identified "slut" who is happy to bully unpopular kids, but she gets more likable as the series goes on, showing genuine caring for Lori, Josh, and Kyle. That being said, she does get a nasty Character Check in season 2 in which her jealousy of Jessi's powers leads her to be appallingly mean to her and try to get her to jump off a building.
Love Triangle: Kyle/Amanda/Charlie, Lori/Declan/Jessi, Declan/Lori/Mark, and Amanda/Kyle/Jessi.
---