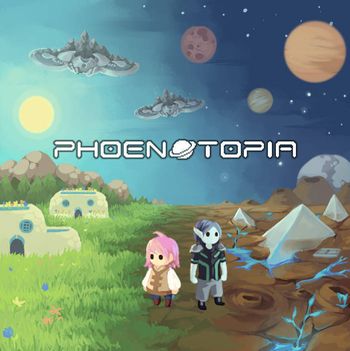 Phoenotopia
, previously known as
Legend of Stone Hero
, is a 2D action-adventure game made by Quell.
By the creator's admission
, the game was largely inspired by
Cave Story
and
The Legend of Zelda
series.
Centuries ago, aliens invaded Earth and nearly destroyed humanity, but a weapon known as the "Phoenix" was developed in their final hour and completely wiped out the invaders. Unfortunately, they were too late to save Earth; some moved to underground shelters to await its natural restoration, while others left the planet for dead and searched for a new home in space. Today, Earth has recovered, and the descendants of the former group of humans live in quasi-medieval kingdoms on the surface. Gale, a young villager in one such kingdom named Castland, goes to the woods to bring the children home for dinner... narrowly escaping aliens abducting the entire village. Being the oldest one left behind, Gale is tasked with finding aid in both looking after the kids and rescuing the adults.
It can be played for free here.
A remake, Phoenotopia : Awakening, was released for the Nintendo Switch on August 20, 2020 and for the PlayStation 4 on July 1, 2021.
---
This game provides examples of:
---