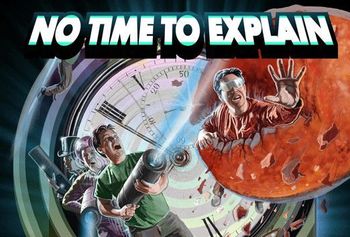 "I am you from the future! There's no time to explain! I need you to- OH GOD MY SPINE"
— Future You
No Time To Explain
is a platformer created by tinyBuild, in which You must rescue your future self who barges in while you're dancing, tells you to come with him, and then gets captured by a giant crab using a beam cannon. Things only get weirder from there as You go throughout several strange worlds and meet alternate versions of You, whom you must team up with to save the world.
Currently has two seasons in its full release on Steam, which received an Updated Re-release in 2015.
---
This work provides examples of: