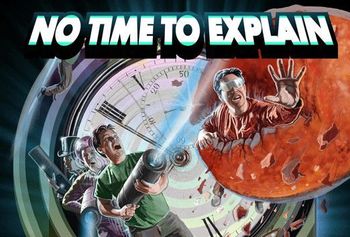 "I am you from the future! There's no time to explain! I need you to- OH GOD MY SPINE"
— Future You
No Time To Explain
is a platformer created by Tinybuild Games, in which you must rescue your future self who barges in while you're dancing, tells you to come with him, and then gets captured by a giant crab using a beam cannon. Things only get weirder from there.
Currently has two seasons in its full release on Steam, which received an Updated Re-release in 2015.
This work provides examples of: