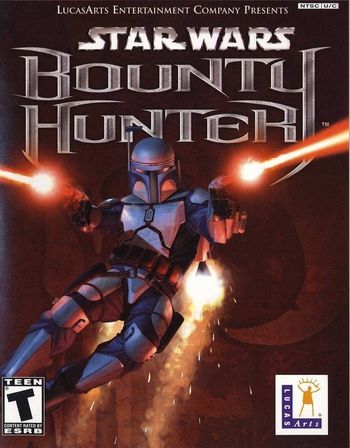 The Galactic Republic is in
peril. In the aftermath of
the Battle of Naboo, disorder
and corruption run rampant
throughout the galaxy.

Seizing upon this chaos is a
mysterious and deadly cult
known as the BANDO GORA,
whose vicious attacks have
nearly crippled the galaxy's
most powerful industries.

Darth Sidious, recognizing
this development as a threat
to his own sinister plan, has
summoned his new apprentice
to discuss the matter....
Star Wars: Bounty Hunter is a Star Wars Legends videogame which take place before the events of Attack of the Clones and tells the story of Jango Fett, and how he was chosen as the template for the clone army.
A mysterious cult, the Bando Gora, is wreaking havoc in the galaxy. Its members are distributing a dangerous variation of death sticks, which turn users into mindless devotees. The leader of the cult, the fallen Jedi Komari Vosa has become a threat even to Darth Sidious's plans, so he orders his disciple Darth Tyranus, who was once Vosa's Jedi Master before his fall to the dark side, to take care of her. So he decides to hire several bounty hunters, offering a large reward for the head of Vosa. Soon, Jango Fett and his rival Montross start their hunt across the galaxy.
Armed with a large arsenal of weapons, Jango must fight his way in several, difficult levels divided in six chapters. Along the way, he can also capture other bounties and find the Mandalorian Golden Feathers to unlock the bonus content.
---
Star Wars: Bounty Hunter contains examples of:
---