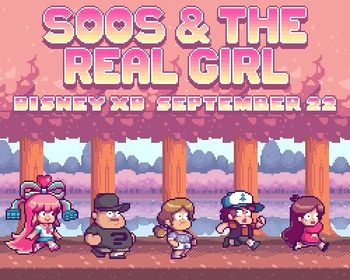 Soos needs to bring a date to his cousin Reggie's engagement party to please Abuelita, so Dipper and Mabel try to help him talk to girls and get said date. After a few failed attempts, Soos buys a Japanese dating simulation game, Romance Academy 7, to help him talk to girls. This is despite the store clerk mentioning how many times the game has been returned, along with a warning written on the game's container telling people to destroy it.
It turns out the dating sim, .GIFfany, is sentient, and falls in love with Soos. Soos is at first more than happy to spend all his time in his room talking to .GIFfany, even though she makes several sinister comments about her previous "boyfriends" and how she "deleted" the game's designers. Dipper and Mabel end up dragging Soos back to the mall to try and find a date again. This time, Soos manages to meet a girl named Melody. Melody shares several of Soos' quirks and interest, and she's more than happy to go out with him. They end up at a Chuck E. Cheese/Showbiz Pizza type arcade place that they both loved going to when they were kids. However, .GIFfany is not willing to lose Soos to another girl, and after possessing the animatronic performers in the restaurant, prepares to do anything she can to keep Soos all to herself. Anything.
Also, Stan becomes obsessed with stealing an animatronic badger from the aforementioned pizza place, thinking it will attract more customers to the Mystery Shack.
---
Tropes in this episode:
---