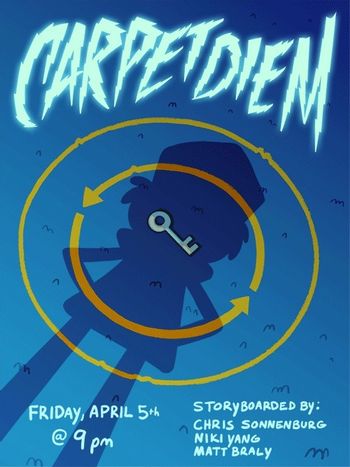 Dipper and Mabel have gotten into some rather tight tensions lately. Mabel has been having Candy and Grenda over for sleepovers nightly, forcing Dipper to sleep outside. After one such sleepover, Dipper demands that Mabel stop. They go to the reasonable (read: wants everything on TV to fight) Grunkle Stan to settle the affair. As Grunkle Stan declares that there is nothing that they can do, Soos finds a mysterious room in the shack. Dipper and Mabel begin fighting over who gets the room.
Grunkle Stan declares that he will give the room to the biggest kiss-up to him. Dipper is confident that he will get the room, and rubs his socks on the carpet in the room, as a mode of relaxation. However, Mabel catches him, and the two's argument causes their hands to make contact, causing a release of static shock... that causes the two to enter each others' bodies. Apparently, the carpet has body-swap powers that causes bodies to swap if they touch. They take advantage of this to sabotage each others' attempts to get the room.
Meanwhile, Waddles and Soos wind up swapping bodies. Waddles-In-Soos manages to meet an attractive tourist, while Soos-in-Waddles is almost eaten by Old Man McGucket.
Back at the Shack, Candy and Grenda come over for another sleepover, and Dipper-in-Mabel is traumatized by the fact they are going to read age innapropriate romance novels. Mabel-in-Dipper is caught spying on Dipper-in-Mabel, Candy, and Grenda by Grunkle Stan, who reads "him" a book on puberty. ("Goodbye, childhood.") Mabel-in-Dipper then calls out Stan, causing Dipper to win the competition. Mabel then seems to hand Dipper the key, but locks herself in there. To break down the door, Dipper-In-Mabel tells Candy and Grenda to give Mabel-in-Dipper a makeover. One electric shock later, and the status quo is restored.... until Candy decides to test the carpet herself, touching Dipper.
Meanwhile, Waddles-in-Soos, Soos-in-Waddles, Deputy Durland, Sherrif Blubs, and Old Man McGucket (who was about to eat Soos-In-Waddles) wind up in the room, and rampant body swapping ensues. However, it is all sorted out, and everyone winds up back in his/her correct body, but Dipper and Mabel still fight over the room. After a brief skirmish over the room key, they both realise that neither of them wanted to move out of the attic. Mabel surrenders the room to Dipper, but he winds up moving back into the attic before the first night is over, due to the sheer loneliness of the situation (both feel lonely that night). Dipper ultimately gives Soos (who is confused over the fact that he is engaged) the room.
---
Tropes in this episode:
---