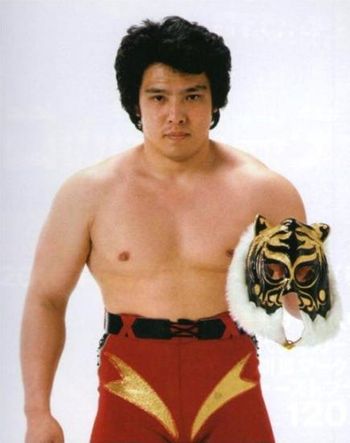 "Seeing Tiger Mask for the first time as a kid had an amazing impact on my heart. Jumping and flying, all his movements were so beautiful... I was completely blown away."
Satoru Sayama (born November 27, 1957) is a Japanese Professional Wrestler, promoter and Mixed Martial Arts trainer, best known for his work as Tiger Mask. He debuted in 1976 for New Japan Pro-Wrestling, but he was sent abroad to Mexico, where he gained fame, and also trained with the legendary Karl Gotch. Later he moved to Britain, where he learned other martial arts and wrestled as "Sammy Lee", with his gimmick being a cousin of Bruce Lee. After his return to Japan, he was chosen to play the Tiger Mask character, based on the protagonist of the manga series. He redebuted under the masked and became the founder of the junior heavyweight wrestling, introducing the lucha libre style in Japan along his own abilities. After some years of stardom, in which he had legendary feuds with Dynamite Kid and Kuniaki Kobayashi, he left New Japan in protest for Antonio Inoki's irregular monetary management. He founded the Tiger Gym, a martial arts dojo, and shortly after was convinced by NJPW defectors to return to wrestling and join them in Universal Wrestling Federation. There Sayama adopted the "Super Tiger" moniker and helped to create the shoot-style wrestling along names like Akira Maeda and Yoshiaki Fujiwara. However, he had a falling out with Maeda and some others wrestlers and left to form Shooto, the first Mixed Martial Arts company in history. He acted as promoter and trained many future MMA stars, also doing a second return to pro wrestling by request of Inoki. After breaking up with Shooto due intern problems, he freelanced in pro wrestling indies like Michinoku Pro Wrestling and UWF International, and collaborated with Inoki in his Universal Fighting-Arts Organization. He ended founding a martial art, Seikendo, which derived into his own promotion, Real Japan Pro Wrestling.
---
"Go, Go, Trope List"