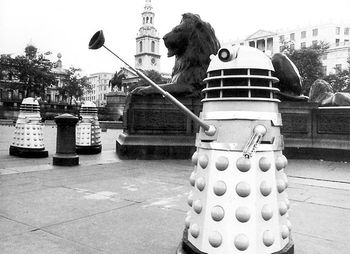 "We are the masters of Earth!"
— A Dalek
The one where Barbara runs over some Daleks. Also the one where Susan says farewell.
Written by Terry Nation. This six-episode serial first aired from November 21 to December 26, 1964.
Episodes: "World's End", "The Daleks", "Day of Reckoning", "The End of Tomorrow", "The Waking Ally", "Flashpoint".
---
After the runaway success of "The Daleks" in season one, the Green Blobs in Bonded Polycarbide Armour are back. And they've invaded Earth.
It's the future — some point after 2164 — but our heroes don't know that yet. They've landed the TARDIS in London, and take a while to notice that it's become a post-apocalyptic Crapsack World. Susan investigates, and manages to simultaneously twist her ankle and drop half a bridge on the TARDIS, leaving them stuck in place for a while.
When Susan and Barbara wander off a bit, they're taken in by La Résistance, led by wheelchair-bound Dortmun, who explains what's going on. Ten years ago, the Daleks brought a plague to Earth. Then war. Then slavery. Then conversion into mindless robomen. These are later Dalek models than the ones the Doctor found on Skaro, and they're stronger as well. Barbara immediately sets to work in La Résistance's kitchens, and decides to fight the Daleks as best as she can. Susan befriends a soldier named David Campbell. Meanwhile, Ian and the Doctor are treated to a more intimate encounter with the Daleks, and find out that the Daleks are mining into the core of the Earth (in Bedfordshire of all places).
It turns out that they are planning to plant a bomb in the Earth's core which will hollow out the planet, so they can replace the core with an engine and pilot the planet around like a spaceship.
Ian rigs up a barrier in the mineshaft which detonates the bomb prematurely, conveniently destroying the Dalek mothership and most of the Daleks in the process, not to mention creating a new volcano in Bedfordshire. Barbara and the Doctor imitate Daleks and command the Robomen to attack their pepperpot masters. Susan has meanwhile fallen in love with David Campbell, and is absolutely torn between the choice of staying with her grandfather and making a life of her own rebuilding Earth. The Doctor catches on quickly, mumbles an excuse, goes into the TARDIS and vworps off before Susan can protest.
It was adapted as Daleks' Invasion Earth: 2150 A.D., the sequel to Dr. Who and the Daleks. Susan returned in "The Five Doctors", and her fate on future Earth would eventually become the main plot of season four of the Big Finish Doctor Who New Eighth Doctor Adventures.
Tropes
---
What do you get when you cross a Dalek platoon with a truck?
---