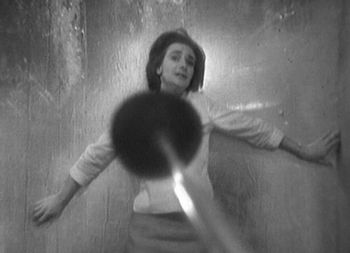 The only interest we have in the Thals is in their total extermination!
— A Dalek speaks the one word that will forever linger as their go-to phrase.
The one with the magic death whirlpool, the debut of everybody's favourite xenophobic salt shakers, and the Hail Mary pass that prevented early cancellation.
In only the second story, the Doctor's most iconic enemies are born. Originally intended as one-shot villains, the Daleks prove so popular that they were the main enemy of over 20 further stories and secondary villains in a few more.
In their first outing, we meet them on the planet Skaro, a dead world poisoned by radiation. The Daleks live in their city, while the other natives of the planet, the Thals, live in the petrified forests around. The Thals are Perfect Pacifist People, and prove lethally gullible to the Daleks' deceptions until the Doctor and companions persuade them that they need to fight for their freedom and they attack the city.
Ian and Barbara are still very upset at having been kidnapped by the Doctor, and downright angry when the Doctor pretends that the TARDIS can't fly home just so he can go and investigate the Dalek city. Then, when they escape, they leave the TARDIS component he sabotaged behind and have to go back for it.
The Daleks are entirely dependent on static electricity drawn through the metal floors of the city, and when the power is turned off and the Daleks fall lifeless, one is heard to intone "this is the end of the Daleks..."
Susan gets mildly traumatized a few times over but eventually learns how to be brave, Ian puts his Chronic Hero Syndrome to good use, and Barbara fancies one of the Thals and, in what will turn out to be a rare sight for Classic Who, gets in a good snog by the end.
N.B.: This story is also referred to as "The Mutants", one of its working titlesnote But is more often referred to as "The Daleks", to avoid confusion with the 1972 serial of the same name, and was often referred to in older sources as "The Dead Planet", after the title of the first episode. It was adapted for film as Dr. Who and the Daleks, starring Peter Cushing.
---
Tropes
---