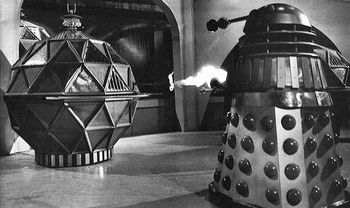 "Don't just stand there and scream, you little fool, run!"
— Ian, to Vicki, speaking for a nation.
The one where a Dalek gets sand in its britches. Or lack thereof.
Using the Space/Time Visualiser (a souvenir from last week's "Space Museum"), the Doctor and friends watch The Beatles, then discover that there's a Dalek time machine on their tail.
In a chase through time and space, the TARDIS with the Daleks in hot pursuit lands on the desert planet Aridius, on top of the Empire State Building, on the deck of the Mary Celeste — the appearance of the Daleks causes the crew to abandon ship — and a fairground haunted house. Despite good intentions, Team TARDIS fails to do anything at all to help any of the people they meet during this journey, although they do amuse a guy from Alabama.
They eventually end up on the jungle planet of Mechanus, where a group of robots called Mechanoids take the travellers prisoner. They were sent fifty years earlier to build a city ready for a human colony to arrive and take possession. The colonists never showed up, but the Mechanoids continue to defend the city in readiness. The Doctor and companions meet Steven Taylor, a traumatised human astronaut who has been the Mechanoids' prisoner for two years. (And who's played by the same actor as aforementioned Alabama guy.)
The Mechanoids and Daleks battle and mutual destruction ensues, with the Mechanoids getting a landslide victory. Meanwhile, the Doctor and his friends decide to escape by lowering themselves down 1500 feet from the prison using nothing but a length of cable. After sending Vicki down first (who's shaking and screaming and generally not a fan of heights), Barbara and Ian soon follow, but Steven runs back inside to rescue his only true friend: a stuffed panda bear named Hi-Fi.
After the Daleks all die, Ian and Barbara decide to use the rather more reliable Dalek time machine to get home to 1960s London. The Doctor is very offended by their decision, but Vicki convinces him to help his friends regardless. The two teachers make it back home (albeit two years after they left), blow up the Dalek ship and proceed to traipse about London, playing with pigeons and statues and police boxes, overjoyed.
Steven Taylor stows away on the TARDIS, and is not discovered by the Doctor until the following serial.
---
This serial holds the record for most companions in a single story in Classic Who, an honour it shares with "The Daleks' Master Plan" if you count Bret. It was surpassed by the Tenth Doctor story "Journey's End" in New Who.
The Mechanoids reappear 40 years later, in the Big Finish Doctor Who audio play "The Juggernauts".
---
Tropes
---
I shall miss them. Yes, I shall miss them. Silly old fusspots. Come along, my dear, it's... time we were off..