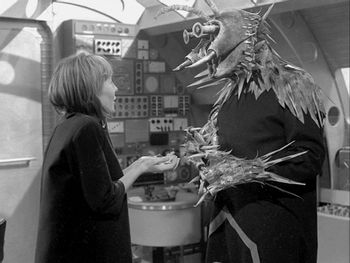 You're sorry for me aren't you? I'm perfectly all right, you know. I don't care if nobody ever comes. I'm fine. I'm perfectly all right!
— Vicki, who is not all right
The one where the TARDIS Team plays Scooby-Doo.
Written by David Whitaker. This two-episode serial first aired from January 2-9, 1965.
Episodes: "The Powerful Enemy", "Desperate Measures".
---
The Doctor, with Ian and Barbara still in tow, arrives on the planet Dido some time in the 25th century. The planet is home to a crashed Earth spaceship, with two survivors on board: the paralysed Bennett and the young orphan Vicki. Both are fearful of a native monster called Koquillion, who has apparently killed the other members of the expedition.
Ian and Barbara soon run into Koquillion, and the Doctor explains that despite Koquillion's spiky exterior, the natives of the planet are extremely friendly. This one isn't, though, but before the Doctor can investigate, he and Ian are unceremoniously placed in a Death Trap. With a rabid beast lurking below.
While they escape, Barbara is hidden by Vicki, and tries to come up with a plan. Vicki keeps trying to reassure her new friend that a plan won't be necessary, since the rescue crew is due to arrive in a few days. But Barbara doesn't want to wait that long and goes off to find her friends, shooting the rabid beast in the process... only to discover that it was Vicki's tame pet, the only close friend the girl had left in her life.
The Doctor mediates between a very distraught Vicki and his humans, and decides to have a good long talk with Bennett. He finds out that Koquillion is in fact Bennett in disguise (he's not really paralysed, of course), and he has killed the other crew members in order to conceal a murder he committed earlier. He's also been killing the native Dido People, and believes he has in fact wiped them out — but a confrontation with two Dido People causes him to fall to his death from a high cliff. The Dido People have had enough of outsiders for a very long time, so they make sure the rescue team never arrives. It doesn't need to, since the Doctor misses Susan so much that he agrees on taking Vicki along.
Tropes
Unbuilt Trope: The story is a deconstruction of the show's whole modus operandi. The TARDIS team land on a planet where a young woman, Vicki, in a crashed spaceship is waiting to be saved by a rescue vessel, while also being kept prisoner by an alien named Koquillion who has killed the rest of the crew. Barbara murders the young woman's pet monster, assuming it was trying to eat her, and talks to the other survivor of the crash about dealing with Koquillion, only for him to point out that they have nothing to gain from doing that, as the rescue ship is already coming. This culminates in Vicki telling the three travellers that they have no right to go around landing on other people's planets assuming they know exactly what to do when they aren't living there and have no real idea what's going on or if their attempts to fix it are just making everything worse, that she hates them, and that they should all just leave. It is all fixed in the end, but only because the Doctor had already visited the planet previous to the story, and listens to Vicki's point of view while still questioning things she's too entrenched in her own ways to question herself, and because the natives of the planet eventually take matters into their own hands and deal with Koquillion. Furthermore, Koquillion isn't an alien at all; he is the other survivor who invented a phony alien plot to cover up his murder of the rest of the crew.
You're Insane!: The Doctor tells Bennett this during their confrontation.
Zeerust: Apparently tape recorders will still be in use in the 25th century.
---