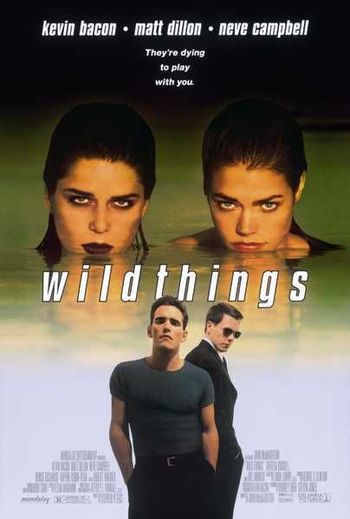 Wild Things is a 1998 erotic thriller film directed by John McNaughton, starring Matt Dillon, Kevin Bacon, Denise Richards, Neve Campbell, and Bill Murray. In some countries the film was released as Sex Crimes or Sexcrimes.
The film starts with Sam Lombardo (Dillon), a high school guidance counselor in Blue Bay, Florida, being accused of rape by Kelly Van Ryan (Richards), one of his students. Ray Duquette (Bacon) and his partner are assigned to the case. The charges appear to be unsubstantiated until Suzie Toller (Campbell) comes forward and says Lombardo raped her too. Lombardo hires low-rent lawyer Ken Bowden (Murray) to represent him and seems sunk until Suzie admits she and Kelly made up the charges to get revenge on Lombardo for past wrongs. Sam is awarded $8.5 million in a settlement with Kelly's mother and suddenly everyone wants a piece. The movie devolves into a scheme of epic proportions.
There were three Direct to Video sequels, which largely followed the same basic plot as the original, though the sex scenes were racier:
Wild Things 2 (2004)
Wild Things: Diamonds in the Rough (2005)
Wild Things: Foursome (2010)
Not to be confused with the 2015 UK game show of the same name.
This movie contains an enormous amount of unexpected plot twists. Beware of spoilers!
---
This movie contains examples of:
---